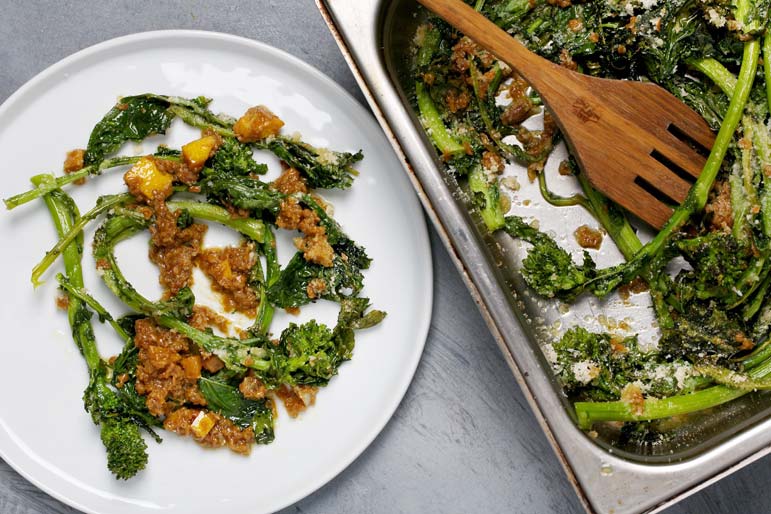 I don't miss many things from my meat- and seafood-eating days, but I do miss anchovies. Not because I want to pluck them straight from the can or jar, but because crushing them into a paste and adding them to sizzling garlic and onion is a fine way to bring depth to a tomato sauce. And because, well, bagna cauda.

If you have no idea what those two words mean, I'll excuse you. They're Italian for, literally, "hot bath," but that undersells this traditional combination of anchovies and a ton of garlic slow-cooked in olive oil and used as a dip for vegetables. The fact is, bagna cauda (pronounced BAHN-ya COW-da) is more than a dip; it's a sauce and a dressing, and it works wonders on everything I've ever tried it on.

Obviously, when I stopped eating seafood (with one little exception), bagna cauda became off-limits. Until I saw that in California, chef Jeremy Fox's new book, "On Vegetables," he includes a recipe for a version that uses miso instead of anchovies, a brilliant strategy he devised when he was cooking at the now-defunct vegetarian restaurant Ubuntu in Napa Valley. He also spikes his bagna cauda with a pinch of crushed red pepper flakes and some chopped lemon, but it's the miso that makes the biggest bang, offering up the same sort of salty umami that the anchovies bring.

The recipe makes 2 1/2 cups, more than five times the amount you need for this treatment on roasted broccoli rabe. Trust me, this isn't a problem.

ROASTED BROCCOLI RABE WITH MISO BAGNA CAUDA
SERVINGS: 4 to 6 (makes 2 1/2 cups miso bagna cauda)
The Italian sauce bagna cauda (literally, "hot bath") is a go-to dip for vegetables; this version uses miso in place of the traditional anchovy. The recipe calls for you to spoon it on simply roasted broccoli rabe. It makes much more than you need for just that use, but it is extremely versatile: Set out a bowl of it along with raw or steamed vegetables for dipping at a party, or drizzle it on anything you'd like, including scrambled or hard-cooked eggs or even pasta.
MAKE AHEAD: You will have miso bagna cauda left over, which can be refrigerated for up to 2 months. Make sure to keep its surface covered with oil, and bring to room temperature before serving.
Red miso, available in Asian markets and in some supermarkets, is the most intense variety and works best here, but you can substitute the mellower yellow or white miso, which have been fermented for a shorter time. Adapted from "On Vegetables," by Jeremy Fox (Phaidon, 2017).
(Buy it at a 38% discount by clicking here)
Ingredients
For the miso bagna cauda
• 1 lemon, seeded and diced (rinsed and unpeeled, or preferably organic/unwaxed)
• 1 cup extra-virgin olive oil
• 4 1/2 tablespoons red miso (may substitute yellow or white miso; see headnote)
• 8 cloves garlic, grated or finely chopped
• 1/2 teaspoon crushed red pepper flakes
For the broccoli rabe
• 1 pound broccoli rabe (may substitute broccolini, small broccoli heads or cauliflower)
• 1 tablespoon extra-virgin olive oil
• 1/4 teaspoon fine sea salt
• 1/4 cup plain bread crumbs, preferably fresh
• 1 tablespoon grated Parmigiano-Reggiano cheese (optional)
Steps
For the miso bagna cauda: Fill a medium saucepan with about 2 inches of water and set it over medium heat. Once the water starts to bubble, reduce the heat to medium-low so that the water is barely bubbling around the edges. Set a metal bowl so it fits snugly over the saucepan; in it, combine the diced lemon, oil, miso, garlic and crushed red pepper flakes, stirring to incorporate. Cover the bowl tightly with heavy-duty aluminum foil. Cook for about 45 minutes, checking/maintaining the water level as needed, to form a sauce that looks like it has separated. Uncover and cool to room temperature. The yield is 2 1/2 cups.
For the broccoli rabe: Meanwhile, preheat the oven to 450 degrees.
Toss the broccoli rabe with the oil and salt on a rimmed baking sheet. Roast until it is fork-tender and browned on the edges, 10 to 15 minutes.
Arrange the roasted vegetables on a platter. Spoon 1/3 cup of the miso bagna cauda over them. Sprinkle with the bread crumbs and Parmigiano-Reggiano, if using. Serve warm or at room temperature.
Nutrition | Per serving (based on 6, using 1/3 cup miso bagna cauda): 110 calories, 3 g protein, 8 g carbohydrates, 8 g fat, 1 g saturated fat, 0 mg cholesterol, 210 mg sodium, 0 g dietary fiber, 1 g sugar