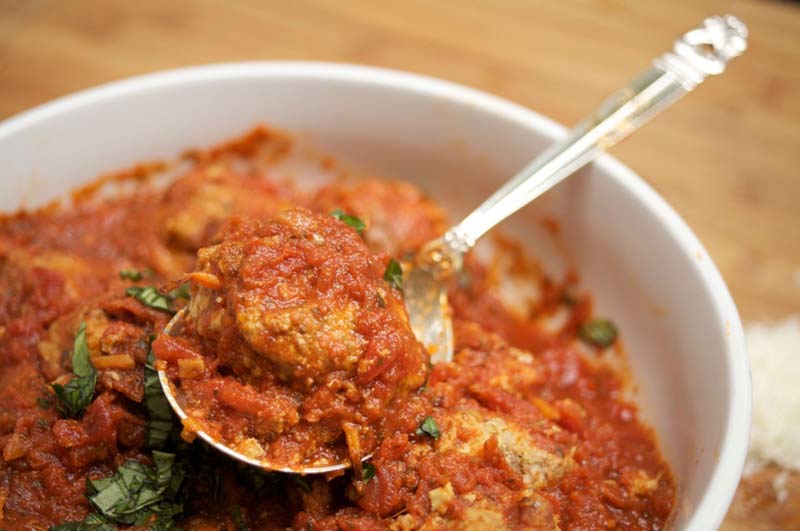 Meatballs seem to be one of those dishes that are as appropriate for children as they are for adults. They're universal comfort food. Different styles of meatballs come to us from around the world -- witness the Swedish variant, Mexico's albondigas, India's koftes and France's boules. They all use ground meat and are rolled into balls. From there the meatball varies according to different tastes and available ingredients.
Vegan Parmesan cheese, Dijon mustard, herbs and a rich tomato sauce give these airy and fluffy meatballs a Mediterranean touch. A mixture of veal and turkey instead of beef lightens these unusual baked meatballs, and much of their flavor and moistness comes from shredded carrot and zucchini that replace the usual fat or cream. Make sure to shred or grate the carrot and zucchini very finely, and taste the zucchini to make sure it isn't bitter.
This tomato sauce is so good it's worth making ahead and even freezing it. The sun-dried tomatoes give it a rich body, and the red wine adds an assertive depth of character. If you don't have time to make up the sauce just use a good quality marinara sauce and add some thyme and basil. Serve these meatballs alone, with your favorite pasta, or on a baguette with the tomato sauce spooned over them.
This recipe can also be adapted to a meat loaf. Form the mixture into a large loaf shape, place it in a baking pan, and bake it for 1 hour at 400 F. For extra flavor, spoon over some of the sauce while the meat loaf is cooking.

LIGHT MEAT BALLS WITH DOUBLE TOMATO HERB SAUCE
SERVES: 8 to10 (about 30 meatballs)
2 tablespoons olive oil
1 medium onion, finely chopped
2 garlic cloves, minced
2 medium carrots, peeled and finely shredded
1 medium zucchini, finely shredded
1 pound lean ground turkey
1 pound lean ground veal
1/3 cup fine dried bread crumbs
2 large eggs
1 large egg white
1/4 cup finely chopped parsley
1/4 cup freshly grated vegan Parmesan
2 tablespoons Dijon mustard
1 teaspoon finely chopped fresh rosemary or 1/2 teaspoon dried
1/2 teaspoon finely chopped fresh thyme or 1/4 teaspoon dried
1 teaspoon salt
1/4 teaspoon pepper
3 cups Double Herb Sauce (see recipe below) or favorite good-quality Marinara sauce
2 tablespoons finely chopped parsley, for garnish
1. In a medium skillet over medium heat, heat the oil. Add the onions, and saute them for about 7 to 10 minutes, stirring frequently, until they're soft and translucent. Add the garlic and saute for another minute. Add the carrots and zucchini, blending with the onion mixture, and cook for about 2 minutes.
2. Transfer the cooked vegetable to a large mixing bowl. Let cool. Add the remaining ingredients, except the sauce. Blend well, using a large spoon, potato masher or your hands to mix all the ingredients together.
3. Preheat the oven to 375 F. With your hands, gently roll the mixture into meatballs about 1 1/2 inches in diameter. Place them on a large baking sheet that has been lined with aluminum foil. Bake the meatballs for 35 minutes. Meanwhile, heat the tomato sauce.
4. To serve, arrange the meatballs in a serving dish and spoon the hot sauce over them. Serve immediately.
Advance preparation: Can be prepared 1 day ahead through step 3 and refrigerated. Reheat in a 350 F oven for 20 minutes, occasionally basting with tomato sauce. The cooked meatballs can also be frozen.
DOUBLE-TOMATO HERB SAUCE
This reworking of the classic marinara sauce includes both canned and sun-dried tomatoes for extra-rich flavor. This thick home-style sauce is equally good on pasta, pizza, meatballs or eggs.
MAKES: about 2 quarts.
One 3-ounce package dry-packed sun-dried tomatoes
2 tablespoons olive oil
1 medium onion, finely chopped
1 medium carrot, peeled and finely chopped
1 celery rib, finely chopped
One 28-ounce can crushed tomatoes
One 14-ounce can tomatoes, diced
2 garlic cloves, minced
1 cup full-bodied red wine like Chianti or Merlot
2 cups water
1/4 cup finely chopped parsley
1 teaspoon finely chopped fresh thyme or 1/2 teaspoon dried
1/4 cup finely chopped fresh basil or 2 tablespoons dried
Salt and pepper to taste
1. Place the sun-dried tomatoes in a small mixing bowl and pour boiling water over them. Let them steep for 5 minutes. Drain the softened tomatoes and reserve.
2. Heat the oil in a large nonaluminum pot over medium heat. Add the onion, carrot and celery, and cook until soft, stirring frequently to prevent burning, about 10 minutes. Add both the canned tomatoes and the softened sun-dried tomatoes, the garlic, wine, water and herbs. Partially cover and reduce the heat to medium-low. Simmer for 1 1/2 hours, stirring occasionally. Add salt and pepper.
3. Puree the mixture in the pot with a hand blender or in a food processor fitted with the metal blade until the sauce is a fine puree with no large pieces of tomato. You may need to add more water for a sauce-like consistency since the sun-dried tomatoes provide extra thickness. Taste for seasoning, adding more salt and pepper and herbs it desired. Serve hot.
Advance preparation: Can be prepared up to 5 days in advance, covered, and refrigerated. It also can be frozen in small containers for up to 2 months.
Comment by clicking here.
Diane Rossen Worthington is an authority on new American cooking. She is the author of 18 cookbooks, including "Seriously Simple Holidays," and also a James Beard award-winning radio show host.