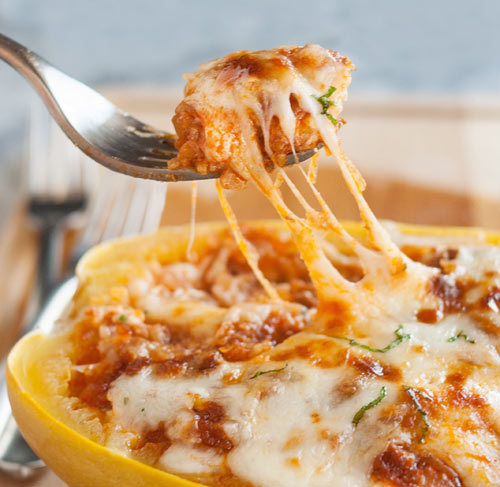 If you've never experienced the magic that is spaghetti squash, this is the recipe to kick off your new fall obsession. It's called spaghetti squash for a reason, after all, and these tender strands of squash make a remarkable stand-in for our favorite pasta dishes.
In this recipe, the mild-tasting squash is getting a lasagna makeover. Mozzarella, ricotta, meat sauce -- the works. It's a bowl of hot-baked goodness that you get all to yourself, no sharing required.
I won't lie to you: Spaghetti squash is really not the same as actual spaghetti. You won't be able to fool yourself or your family members into thinking they're eating the real thing.
Still, spaghetti squash has its own merits. It's very mild-tasting -- none of that "squashy" flavor that some don't like. It also has a very unique texture that's easy to love. Where most squashes get very soft after cooking, strands of spaghetti squash become tender, but stay distinct. In a sauce like this one, they add heartiness and substance without screaming "Squash!"
This recipe uses two medium-sized spaghetti squashes to make four very generous servings. Come hungry. You can also make this in a 2-quart casserole dish; you lose the fun of eating from a squash, but it makes smaller serving sizes and dealing with leftovers a little easier. Everything can be prepped and assembled the night before you plan to eat, just increase the time in the oven to give the refrigerated fillings time to warm through.
Whether your aim is more veggies or fewer carbs or just a new go-to recipe for your weekly meal plan, this recipe is a sure bet.

Lasagna-Stuffed Spaghetti Squash
MAKES 4 very generous servings
5 pounds spaghetti squash (2 medium-sized squash)
1 teaspoon olive oil
1 yellow onion, diced
2 to 3 cloves garlic, minced
1 pound vegan ground beef
1 1/2 teaspoons salt, divided
1 (15-ounce) can crushed tomatoes
2 cups ricotta, whole or 2 percent
1/4 cup roughly chopped parsley
1 cup shredded mozzarella
Chopped parsley or basil, to garnish
Preheat the oven to 400 F. Cut the squashes in half and scoop out the seeds. Lay them cut-side down in a roasting pan or other baking dish, and add about an inch of water. Roast for 45 to 60 minutes, until soft when poked with a fork. Transfer to a cooling rack until cool enough to handle.
While the squash is roasting, warm the olive oil in a high-sided skillet or saucepan over medium-high heat. Stir in the onions and cook until translucent, 5 to 8 minutes. Stir in the garlic and cook until fragrant, 30 seconds. Add the ground beef and 1 teaspoon of salt. Cook until well-browned, breaking up the beef into small crumbles, 5 to 8 minutes. Stir in the crushed tomatoes and bring to a simmer. Continue simmering the sauce until the squashes are ready, 5 to 20 minutes. Taste the sauce and add more salt if desired.
Use a fork to shred the inside of the squash, leaving about a half-inch of squash left in the shell. Mix the shredded squash into the tomato sauce. In a separate bowl, mix together the ricotta cheese, the parsley and 1/2 teaspoon of salt.
Wipe out the roasting pan and arrange the squash shells inside, like bowls. Divide half of the ricotta mixture between the shells, using a spoon to spread the ricotta evenly over the bottom of the shells. Divide half the tomato sauce between the shells, spooning over top of the ricotta. Top with another layer of ricotta and tomato sauce.
At this point, the shells can be covered and refrigerated for up to 24 hours. Add an extra 10 minutes to the cooking time.
Bake the shells for 15 minutes at 400 F. Sprinkle the mozzarella over the tops of the squashes and bake for another 15 to 20 minutes, until the cheese is bubbly and browned in spots. (For a more golden top, run the squashes under the broiler for a minute or two.)
Sprinkle parsley or basil over the tops and serve immediately. Leftovers will keep for 1 week in the fridge.
Recipe Notes
Casserole Version: Instead of stuffing the squash shells, this can be baked casserole-style in a 2-quart (8x8-inch) baking dish. Layer 1/3 of the tomato sauce into the dish, followed by 1/2 the ricotta and another 1/3 of the sauce. Top with the remaining ricotta and the tomato sauce. Bake for 15 minutes and then sprinkle with mozzarella. Bake another 15 to 20 minutes, until bubbly.
Comment by clicking here.
Emma Christensen is recip for TheKitchn.com, a nationally known blog for people who love food and home cooking. Submit any comments or questions to kitchn@apartmenttherapy.com