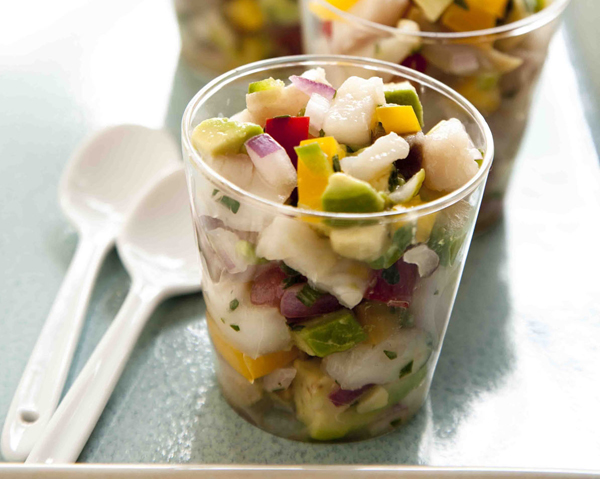 What's better than a glass of wine along with a tantalizing bite to go with it?

Ceviche is one of my favorite "no-cook" summer dishes, perfect for when it's just too hot to think about turning on a stove. This cold preparation of fish or that "cooks" the raw seafood with an acidic marinade of citrus juice is really more a chemical process that turns the fish opaque. Here the author suggests using easily accessible snapper, sea bass or flounder. Prepare this with the freshest fish you can find, and have your fishmonger fillet and skin the fish for you

This version is particularly flavorful with a combination of lemon and lime juice, chili, bell peppers, tomatoes, capers and green olives. Diced avocado tempers the heat and provides a creamy component to the other textures. Remember to start this six hours before you wish to serve it.

Serve in short glasses, martini glasses or on a pretty platter. If you have seafood forks, use them. This ceviche is perfectly paired with a crisp and well-chilled Muscadet or Sauvignon Blanc.

FISH AND AVOCADO CEVICHE
SERVES: 6 to 8
1 1/2 lb skinless fish fillets such as red snapper, sea bass or flounder, cut into 1/4-in cubes

3/4 cup fresh lemon juice

3/4 cup fresh lime juice

1/2 red onion, finely diced

2 green/spring onions, white and tender green parts, trimmed and finely minced

1/2 cup seeded and diced red bell pepper/capsicum

1/2 cup seeded and diced yellow bell pepper/capsicum

1 jalapeno chili, seeded, deveined and minced

1/2 cup diced plum tomato

1 tablespoon capers, rinsed and drained

1/4 cup finely chopped green olives

2 tablespoons chopped fresh flat-leaf parsley

Dash of hot-pepper sauce

2 teaspoons extra-virgin olive oil

Kosher salt and freshly ground black pepper

2 ripe Hass avocados, pitted, peeled and cut into 1/4-in cubes

.
1. Put the cubed fish in a nonreactive bowl and pour the lemon and lime juices over it. Mix well, cover, and let marinate in the refrigerator for about 6 hours. Stir occasionally.
2. In a bowl, combine the red onion, green/spring onions, bell peppers/capsicums, jalapeno, tomato, capers, olives, parsley, hot-pepper sauce, olive oil, and salt and pepper to taste, and stir to mix well. Cover and refrigerate for about 6 hours.
3. Just before serving, drain the fish, discarding the liquid, and transfer to a large bowl. Add the pepper mixture and the avocado to the fish and mix well. Taste and adjust the seasoning, if necessary. Serve at once
Comment by clicking here.
Diane Rossen Worthington is an authority on new American cooking. She is the author of 18 cookbooks, including "Seriously Simple Holidays," and also a James Beard award-winning radio show host.