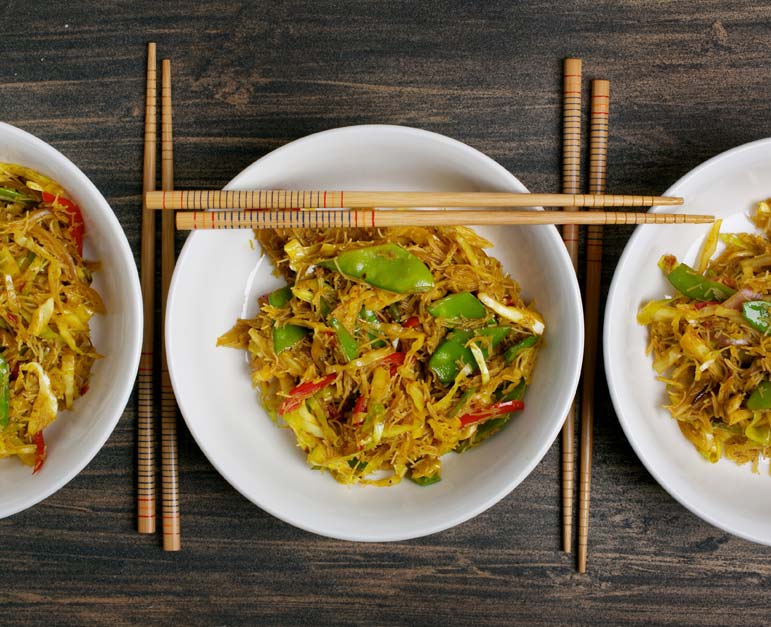 Curried Singapore Noodles was my standard order - until it wasn't.

Once my favorite Chinese restaurant closed and a few others failed to live up to the standard, I struck it off my list.

It appears that cookbook author Susie Middleton has cracked the flavor code. The recipe comes from her new "Simple Green Suppers," whose title signifies vegetarian.

(Buy it at a 44% discount by clicking here or order in KINDLE edition at a 36% discount by clicking here)

The sauce and seasoning ingredients were already in my pantry. I did have to carve into a heavy head of green cabbage, but because that's a vegetable with a shelf life of several weeks, I know I'll use it up for a slaw, a quick skillet salad or grill. And I'll be making these noodles again.

CURRIED SINGAPORE NOODLES WITH STIR-FRIED VEGGIES
4 to 6 servings
Serve with a starter bowl of warm miso soup.
Ingredients
2 tablespoons low-sodium soy sauce (may substitute tamari)
1 tablespoon mirin
1 packed tablespoon dark brown sugar
1 tablespoon water
4 ounces vermicelli rice noodles
One 1-inch piece fresh ginger root
1/4 head green cabbage (13 or 14 ounces)
1/2 large red bell pepper
1/2 medium red onion
3 or 4 ounces fresh snow peas
2 tablespoons grapeseed or vegetable oil
Kosher salt
2 teaspoons Asian chile garlic paste
2 teaspoons curry powder, preferably Madras

Steps
Bring a deep saucepan of water to a boil over high heat.
Meanwhile, whisk together the soy sauce, mirin, brown sugar and water in a bowl.
Add the noodles to the pot; remove from the heat and let sit for 3 minutes while you peel and grate the ginger.
Drain the noodles. Use your clean hands to tear or separate them into 5 or 6 clumps.
Cut the cabbage into very thin slices. Seed the bell pepper, then cut the flesh into thin strips. Cut the red onion into very thin slices. String the snow peas, as needed, and cut in half on the diagonal.
Heat the oil in a large nonstick skillet or wok over medium-high heat. Once the oil shimmers, add the cabbage, red bell pepper, red onion and snow peas (to taste). Season lightly with salt and stir-fry for 3 to 4 minutes, until the vegetables are lightly browned yet still somewhat crisp.
Add the ginger, chile-garlic paste and curry powder; stir-fry for 30 seconds or so, until fragrant and the veggies are evenly coated.
Reduce the heat to medium-low; add the cooked rice noodles and stir-fry until well incorporated. The noodles should pick up some of the curry color.
Add the soy sauce mixture and stir-fry for a few seconds. Taste, and add a bit more salt, as needed.
Divide among individual plates or wide bowls. Serve warm.
Nutrition | Per serving (based on 6): 160 calories, 3 g protein, 25 g carbohydrates, 5 g fat, 0 g saturated fat, 0 mg cholesterol, 300 mg sodium, 3 g dietary fiber, 6 g sugar