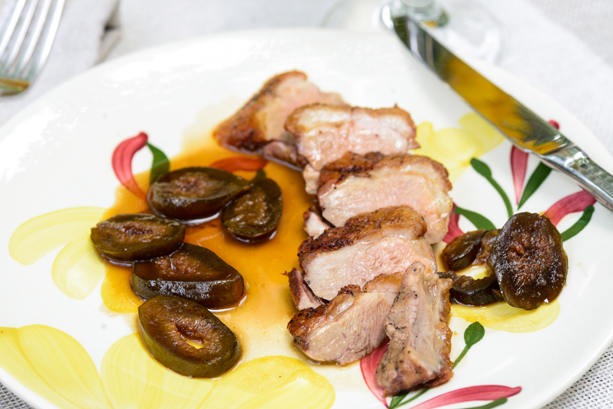 Fig season is all too brief, but this is a preparation that takes well to jarred/canned figs in syrup - and even dried/dehydrated figs, in a pinch (see VARIATION, below). The dish feels like a splurge on a weeknight, but it's easy to assemble and provides a nice change of pace, poultrywise. Champagne vinegar and sugar form the backbone of a quick pan sauce, which is then enriched with pan drippings and margarine.
In testing, we found a variety of duck breast sizes at grocery stores, so you'll need to adjust the cooking times accordingly. Figure the oven time for a 1-inch-thick duck breast (including skin) will be about 6 minutes. It's best to use an instant-read thermometer for monitoring the meat.
Serve with roasted, smashed fingerling potatoes or roasted Brussels sprouts.
,,MAKE AHEAD: You'll probably have some leftover sauce, which can be refrigerated in an airtight container for up to 3 days or frozen for up to 1 month. It will taste great on poached or sauteed chicken.
Adapted from "Essential Emeril: Favorite Recipes and Hard-Won Wisdom From My Life in the Kitchen," by Emeril Lagasse with Pam Hoenig (Oxmoor House, 2015).

CREOLE DUCK BREAST WITH SWEET AND SOUR FIGS
SERVINGS: 2
Ingredients
• 1 or 2 skin-on duck breasts, fresh or defrosted (10 to 14 ounces total; see headnote)
• 1/2 teaspoon salt
• 1/4 teaspoon freshly ground black pepper About 6 jarred/canned figs in syrup (may substitute 8 dried figs; see headnote and VARIATION, below)
• 1/2 cup champagne vinegar
• 1/4 cup sugar
• 8 ounces Abita Turbodog or other stout beer
• One 3-inch cinnamon stick
• 2 tablespoons unsalted margarine

Steps

Preheat the oven to 400 degrees.
Use a sharp knife to score shallow cuts in a crosshatch pattern on the skin side of the duck breasts. Season on both sides with the salt and pepper.
Meanwhile, heat an ovenproof skillet over medium heat for 1 minute, then place the duck breasts in the pan, skin side down. Cook for 10 to 15 minutes (the lesser amount of time if using small/thin breasts), reducing the heat as needed to keep the skin from scorching (instead of browning evenly). Spoon most of the rendered fat from the pan into a heatproof bowl; strain and reserve for another use; this step also will help keep the skillet from spitting at you.
Use tongs to invert the duck breasts in the pan, placing them skin side up, then transfer to the oven; roast for 3 to 6 minutes, depending on the thickness of the breasts. (The internal temperature of the meat should register 165 on an instant-read thermometer.)
Meanwhile, drain the figs and cut them into thin slices.
Combine the vinegar and sugar in a small saucepan over medium-high heat; cook, stirring, until the mixture comes to a boil and the sugar has dissolved. Add the sliced figs and stir to coat; reduce the heat to low and cook for 2 minutes or until the figs have just softened. Remove from the heat.
Use tongs to transfer the duck breasts to a cutting board to rest for 5 minutes, skin sides up. Pour off all but about a tablespoon of rendered fat from the skillet, then place the skillet over medium heat. Add the beer and the cinnamon stick; cook for 5 minutes, stirring once or twice, then add the fig mixture; cook for 2 minutes. Cut the margarine into several pieces, then gradually whisk them in, waiting until each addition has been incorporated before adding another. Remove from the heat; discard the cinnamon stick.
Cut the duck breasts on the diagonal into thin slices. Divide between individual plates. Spoon the warm fig sauce over each. Serve right away.
VARIATION: If using dried figs, discard any stems. Cut the figs into thin slices and place in a bowl. Cover with very hot water; rehydrate while the duck breasts are in the oven, then drain and add to the vinegar-sugar mixture and cook according to the directions.
Ingredients are too variable for a meaningful analysis.
Comment by clicking here.