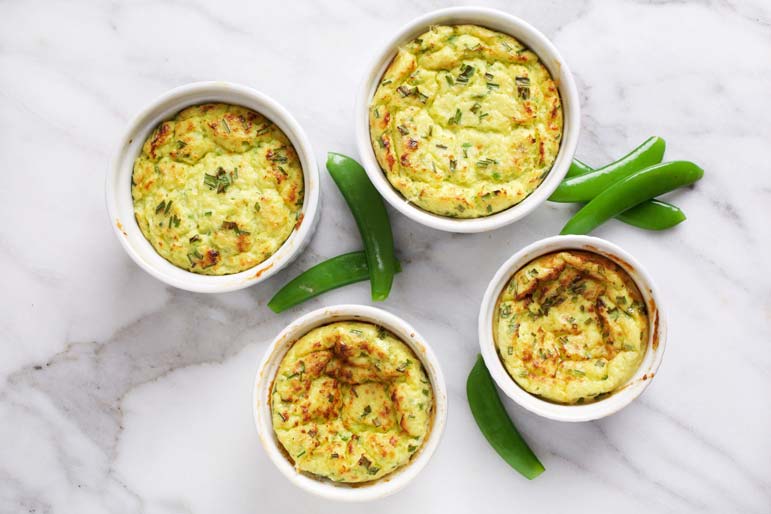 Even when they are not billed as such, the "food-fast" recipes of Jacques Pepin are sure bets for a no-fuss meal.

Here, he uses a minimum of ingredients to create an informal kind of souffle --- no sauce base to cook and no beaten egg whites to fold in.

A blender does the work. Just a little bit of poblano takes the corn and Gruyere cheese to different realm.

The individual souffles will puff up in the oven and deflate a bit once served, but stay fairly firm.

What I like most about this recipe, though, is the way you can customize the individual portion sizes.

Just pour from the blender jar into individual ramekins that match the appetites at your table.

(The ones you see pictured range from 1/2- to 1-cup capacity.)

The smaller ones may get a bit more browned and finish a few minutes sooner, so pull them out of the oven as needed.

Serve them in their dishes or turn them out onto a salad.

"That's it!" as the master chef likes to say.

CORN SOUFFLE
SERVINGS: 4
Easy ways to add heft to the souffle include an after-oven topping of matchsticks of dressed jicama.
Serve with sauteed, minted snap peas or a colorful tomato salad.
Adapted from Jacques Pepin's "Heart and Soul in the Kitchen" (Rux Martin/Houghton Mifflin Harcourt, 2015).
Ingredients
• 1 tablespoon unsalted butter
• 2 large ears fresh corn
• 1/4 poblano chile pepper
• 2 ounces Gruyere cheese
• 3 large eggs
• 1/2 cup half-and-half
• 1/2 teaspoon kosher salt
• 1/2 teaspoon freshly ground black pepper
• 10 stems fresh chives