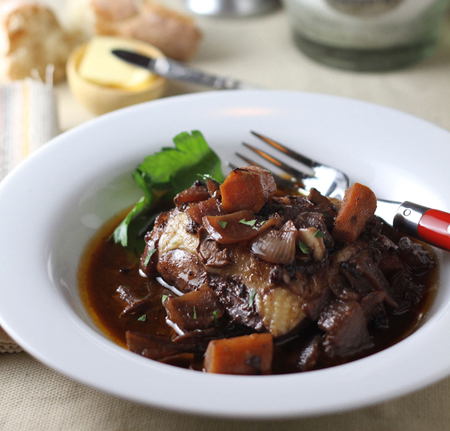 One afternoon, a craving for Coq au Vin (chicken stewed in wine) hit me out of nowhere. I didn't have time to luxuriate over dinner preparations, but I happened to have ingredients that would pass for a classic Coq au Vin -- chicken thighs, dried porcini mushrooms, a red onion, pastrami and red wine.
Is it the French name that makes people, including me, think the dish is going to break their back? It won't. Though some time is usually taken to do things like blanch the pastrami, skim the fat, and reduce the sauce, I pushed things a bit. In just over thirty minutes, dinner was served. Much of that 30 minutes is when the dish is simmering, so you can set the table, start a load of laundry, read an article, or just stare into space.
Imagine: Coq au Vin could be your new go-to meal.
It is possible to make this dish with any part of the chicken; I like the thighs because they are succulent and nestle into a pot nicely. If you have fresh mushrooms and want to make a very traditional version of the dish, add them to the sauce before reducing, just as is written for the dried mushrooms. Pearl onions are what you'll usually find in Coq au Vin, but they require a few extra steps, so for something equally tasty and not nearly as laborious, use any larger onion, or even a few shallots.
Coq au Vin is usually served over wide egg noodles, but I like it with a few hunks of baguette and good margarine. Roasted potatoes also make a good side dish.

30-MINUTE COQ AU VIN
Serves 6-8
6-8 large chicken thighs (about 3 pounds), skin on
Kosher salt
Freshly ground black pepper
3/4 cup (about 1 ounce) dried wild mushrooms
1/2 cup (about 4 ounces) 1/2-inch cubes pastrami or vegan bacon
1 large onion chopped into 1/2-inch pieces
2 medium carrots, cut into large bite-size pieces
5 large cloves garlic, peeled and gently smashed
2 tablespoons tomato paste
3 cups dry, fruity red wine (zinfandel, burgundy)
1 cup chicken stock
2 bay leaves
4 whole sprigs fresh thyme
6-8 whole sprigs fresh parsley, to garnish
Lightly sprinkle the chicken on all sides with salt and pepper. Set aside.
Place the dried mushrooms in a small bowl and pour enough boiling water over to just cover.
Over medium heat in a 4-6 quart (large enough to accommodate the chicken) deep skillet or Dutch oven with a lid, brown the pastrami, about 5-7 minutes. Add the onions and cook another minute, until onions begin to soften. Turn the heat up to medium-high, add the chicken, skin side down, and cook, turning the pieces as they brown on each side, about 10 minutes total. Drain off any excess fat.
Add the carrots, crushed garlic, tomato paste, wine, chicken stock, bay leaves, and thyme. Lower the heat, so that the liquid just barely simmers. Cover and cook about 20 minutes, or until chicken is cooked through and an instant-read thermometer reads 160 F.
Remove the chicken pieces to a platter. Skim any excess fat off the top of the liquid. Remove the mushrooms from their liquid and add them to the pot. Pour the mushroom liquid through a fine sieve or cheesecloth into the pot. Turn the heat up to boil the mixture and cook until the sauce is reduced by a third to a half, depending on how much time you have. Remove the bay leaves and thyme.
A few minutes before serving, put the chicken pieces back into the sauce to re-heat. Serve each chicken thigh topped with a ladleful of sauce, garnished with chopped parsley leaves and/or a whole parsley sprig. A crusty piece of bread is a nice way to soak up the sauce.
Comment by clicking here.
Sara Kate Gillingham-Ryan is a writer for TheKitchn.com, a nationally known blog for people who love food and home cooking. Submit any comments or questions to kitchn@apartmenttherapy.com