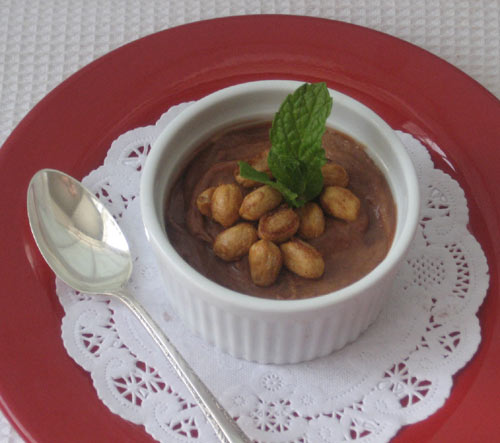 Chocolate, caramel and nuts! Is there a more celestial trinity when it comes to desserts? That's the winning combination in Chocolate Caramel Mousse with Candied Peanuts, a delectable recipe.
This mousse is simple to prepare and holds up well for a couple of days in the fridge. A rich dark caramel sauce made with sugar and water is enriched with butter and cream. Next melted dark chocolate is added, and finally whipped cream folded in. Candied peanuts (easily assembled by coating the nuts in egg white and brown sugar, then baking them) make an unusual garnish. Rich and indulgent.

CHOCOLATE CARAMEL MOUSSE WITH CANDIED PEANUTS
SERVES 8 with small portions.
1/2 cup (3 3/4 ounces) dark chocolate morsels

1 cup granulated sugar

3 tablespoons water

1 1/2 cups heavy cream, divided

3 tablespoons unsalted butter

1/8 teaspoon salt and pinch freshly ground black pepper

1/2 cup plus 2 tablespoons candied peanuts (recipe follows)

Mint sprigs for garnish, optional
Place chocolate in the top of a double boiler or stainless steel bowl set over a pot of simmering water. Stir occasionally until chocolate has melted and is smooth. Remove and set aside in a warm place.
Combine sugar and water in a small saucepan over medium high heat. Stir just until mixture begins to boil and sugar is dissolved. Continue cooking, without stirring, until mixture reaches 360 F (dark caramel stage) on a candy thermometer and turns a dark amber color. Immediately remove caramel from heat and whisk in 3/4 cup of the cream, butter, salt and pepper. (Be careful, as mixture will bubble up.) Set caramel aside until it reaches room temperature, about 10 minutes. Stir melted chocolate into the cooled caramel.
Whip remaining cream until medium peaks form. Fold cream, in thirds, into the chocolate caramel mixture. Refrigerate the mousse until well chilled, about 2 hours. Spoon mousse into 8 small dessert cups or ramekins. Garnish each serving with some candied peanuts and, if desired a mint sprig.

.
Candied Peanuts
Makes about 2 cups
1 large egg white, at room temperature
2 1/2 cups lightly salted peanuts
3 tablespoons light brown sugar
Preheat oven to 225 F. Lightly coat a rimmed baking sheet with vegetable cooking spray.
Whisk egg white by hand in a medium bowl until foamy. Fold in nuts, stirring to coat well. Sprinkle brown sugar over nuts and stir to combine. Spread nuts in an even layer on sheet. Bake 1 hour, stirring occasionally, or until nuts are golden brown and lightly toasted. Cool on sheet, then store in airtight container for up to 1 week.
Comment by clicking here.
Betty Rosbottom is a food writer, cookbook author and former culinary school director.