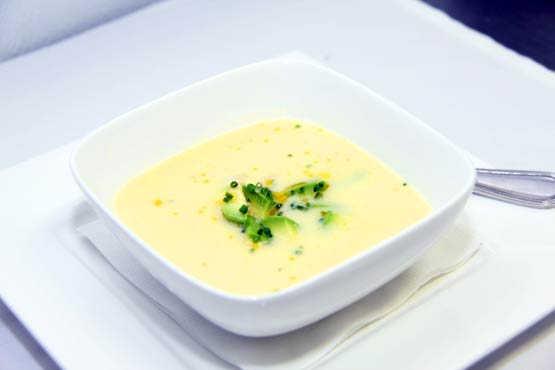 One of the most highly anticipated treats of late summer is fresh corn. When I see Brentwood corn, I buy it. It's sweet, tender and pairs wonderfully with all types of blueberries, lime and avocado.
Corn is high in starch and carbohydrates but it's also a good source of Vitamins B1, B5 and C, folate, dietary fiber, phosphorus, manganese and protein. I use white and yellow corn interchangeably. White seems a bit sweeter and yellow has a rounder flavor, if that makes sense. Corn should be cooked as soon as possible after it has been picked. It's particularly good in fritters, pancakes, succotash and salads. If you eat it on the cob, try squeezing lemon or lime juice over it and dipping it in something spicy like smoked paprika or chili powder.
Another way to enjoy it is with crumbled Mexican Cotija cheese. Slather the hot cobs with mayonnaise and dip it in the cheese. Messy, but good.
Corn also makes an excellent soup. I got the idea for this recipe on a recent visit to the delightful SolBar restaurant in Calistoga, California. I got a kick out of the menu, which divided dishes into two categories: healthy and indulgent. The soup of the day was a chilled corn soup with no cream in it. It was vegan, and absolutely delicious. I was intrigued.
I did a little experimenting to recreate the soup, and I discovered that you can get maximum flavor by keeping ingredients to a minimum. The optimal amounts of salt and lime will vary depending upon how sweet the corn is. The sweeter the corn, the better the soup!
Note: I use a conventional blender, but I have a feeling that if you use a Vita-Mix you will get even better results.

CHILLED CORN SOUP WITH AVOCADO
SERVES 4
6 ears of fresh shucked corn, yellow or white
2 limes
Salt to taste
1 avocado, pitted, peeled and diced
Remove the corn kernels from the cob using a chef's knife.
Place the corn in a saucepan with enough water to cover and bring to a boil.
Simmer until the corn is tender, just a couple of minutes, no longer.
Strain the corn out of the water, reserving the water, and place it in a blender.
Puree the corn with enough water to give it a smooth texture.
Strain the corn puree through a strainer and add some of the reserved water to achieve the desired consistency.
Squeeze the limes into the soup and salt to taste.
Chill the soup and serve with a garnish of avocado.
Comment by clicking here.
(Amy Sherman is a San Francisco-based writer, recipe developer, restaurant reviewer and all-around culinary enthusiast. She blogs for Epicurious, Bay Area Bites, Frommers.com and Cooking with Amy.One for the Table is Amy Ephron's online magazine that specializes in food, politics and love. http://www.oneforthetable.com/.)