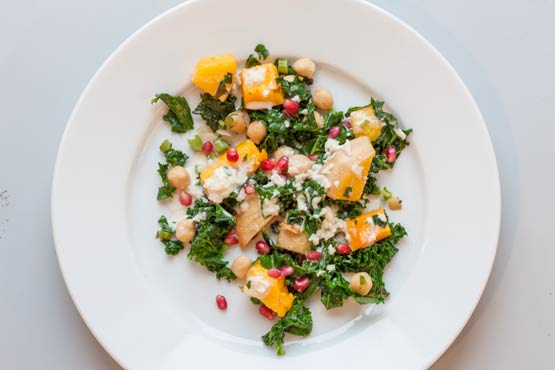 Behold the winter salad. What makes it so special?
It features heartier ingredients than those delicate salads of summer, for one thing. And with some exceptions, it's not typically all raw. But the most important quality of the salads of winter might be the same as the salads of any other time of year: They feature seasonal produce.
This goes without saying - doesn't it? - but I'm not about to slice some imported-from-Mexico tomatoes or California strawberries for a February dinner. No, winter is when I want salads of roasted root vegetables or winter squashes, sauteed hearty greens, cabbages, apples and the like. Sometimes with grains, naturally.
The simplest combinations are often the best. That's what attracted me to a refreshingly short recipe in the roasting-pumpkin chapter of Tom Hunt's book, "The Natural Cook." Like so many other cookbook authors out of England (Nigel Slater, Hugh Fearnley-Whittingstall, Yotam Ottolenghi, Diana Henry), Hunt seems to intuitively get the vegetable-focused-cooking thing.
(Buy it at a 32% discount by clicking here.)
His salad's appeal extends beyond its taste, even though that in itself is enough of a selling point. It features a delightful combination of colors: deep orange from the squash, forest green from the kale, flashes of garnet from the pomegranate seeds. With a drizzle of ivory-colored (and pungent) tahini-lemon-garlic dressing, it's just plain gorgeous.

SQUASH WITH CHICKPEAS, KALE, POMEGRANATEAND TAHINI DRESSING
2 or 3 servings
MAKE AHEAD: The salad can be refrigerated in an airtight container for up to 4 days, preferably without the dressing and the pomegranate seeds. The dressing and the roasted squash can be refrigerated (separately) for up to 1 week.
Ingredients
For the salad
• 1 medium butternut or other winter squash of your choice, scrubbed well (1 1/2 pounds total)
• 1 teaspoon plus 1 tablespoon extra-virgin olive oil
• 1/2 teaspoon fine sea salt, or more as needed
• 6 ounces kale or other winter greens, stalks thinly sliced and leaves coarsely chopped
• 1 clove garlic, chopped
• 1/3 cup pomegranate seeds (arils; from 1/2 small pomegranate)
• 3/4 cup home-cooked or no-salt-added canned chickpeas, drained and rinsed
For the dressing
• 1 tablespoon tahini
• 1 clove garlic, minced
• 1 tablespoon fresh lemon juice
• Pinch fine sea salt, or more as needed
• 2 tablespoons water
Steps
Preheat the oven to 350 degrees.
Cut the squash in half lengthwise. Scrape out the seeds and strings, reserving the seeds for another use, if desired. Cut the flesh into large wedges about 1 inch thick. (Discard the peel, if desired.) Place on a rimmed baking sheet, drizzle with 1 teaspoon of the oil and sprinkle with 1/4 teaspoon of the salt. Bake until fork-tender, 30 to 40 minutes.
Heat the remaining tablespoon of oil in a large skillet fitted with a lid over medium heat. Add the kale stalks and cook, stirring frequently, until they soften, 2 to 3 minutes. Add the kale leaves and garlic, cover, and cook for another 2 minutes, until the kale wilts a bit. Stir in the remaining 1/4 teaspoon of the salt, taste and add more salt as needed. Remove from the heat.
To make the dressing, stir together the tahini, garlic, lemon juice and salt in a small bowl. Add the water 1 tablespoon at a time, whisking until the dressing is the consistency of heavy cream. Taste, and add more salt as needed.
Cut the baked squash into bite-size pieces. Add to the pan of kale along with the chickpeas, tossing to incorporate.
Divide the salad among individual plates, scatter with pomegranate seeds, drizzle with the dressing and serve.
Nutrition | Per serving (based on 3): 270 calories, 9 g protein, 42 g carbohydrates, 11 g fat, 2 g saturated fat, 0 mg cholesterol, 480 mg sodium, 10 g dietary fiber, 10 g sugar
Comment by clicking here.