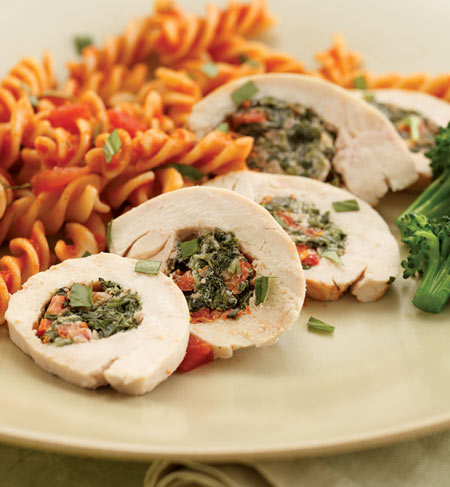 Perfect for entertaining, these chicken cutlets are stuffed with spinach, sun-dried tomatoes, walnuts and just enough cream cheese to hold the filling together.

Make a double batch and freeze half the roll-ups (individually wrapped in plastic), then just defrost and bake as you like.

Serve topped with fresh diced tomatoes or marinara sauce and a sprinkling of chopped fresh basil.

CHICKEN FLORENTINE ROLL-UPS
Serves: 8
Active Time: 30 minutes
Total Time: 1 hour 5 minutes
1 (10-ounce) package frozen chopped spinach, thawed and squeezed dry
1/2 cup vegan cream cheese, at room temperature
1/3 cup thinly sliced soft sun-dried tomatoes (see tips)
1/4 cup finely chopped toasted walnuts (see tips)
3/4 teaspoon salt, divided
3/4 teaspoon freshly ground pepper, divided
1/8 teaspoon garlic powder
8 4-ounce chicken cutlets (about 2 pounds total; see tips)
1/2 cup dry white wine
Preheat oven to 375 F. Coat a 9-by-13-inch (or similar-size 3-quart) baking dish with cooking spray.
Mash spinach, vegan cream cheese, sun-dried tomatoes, walnuts, 1/4 teaspoon each salt and pepper and garlic powder with a fork in a medium bowl until well combined.
Place chicken cutlets on a work surface. Sprinkle both sides with the remaining 1/2 teaspoon each salt and pepper. Place about 2 tablespoons of the spinach mixture in the center of each cutlet. Roll up the chicken around the filling and secure each roll-up with 2 toothpicks; place in the prepared pan. Pour wine around the roll-ups. Cover the pan with foil.
Bake until an instant-read thermometer inserted into the thickest roll registers 165°F, 30 to 40 minutes. Slice with a serrated knife and serve.
To Make Ahead: Prepare through Step 3 and refrigerate for up to 1 day.
Recipe Tips:
Look for soft sun-dried tomatoes (not packed in oil) in the produce section of most supermarkets. If you can only find dry (and hard) sun-dried tomatoes, soak them in boiling water for about 20 minutes before using.
To toast whole nuts, spread on a baking sheet and bake at 350 F, stirring once, until fragrant, 7 to 9 minutes. To toast chopped, small or sliced nuts, cook in a small dry skillet over medium-low heat, stirring constantly, until fragrant and lightly browned, 2 to 4 minutes.
If you can't find chicken cutlets for this recipe, you can start with regular boneless, skinless chicken breasts and pound them until they are thin. Start with four 10- to 12-ounce chicken breasts, remove each tender and cut each breast in half into 2 roughly equal portions for eight 4-ounce portions. Place the chicken between pieces of plastic wrap. Pound with a rolling pin, meat mallet or heavy skillet until flattened to an even thickness, about 1/2 inch.
Recipe Nutrition:
Per serving: 212 calories; 9 g fat (3 g sat, 2 g mono); 73 mg cholesterol; 5 g carbohydrate; 0 g added sugars; 26 g protein; 2 g fiber; 402 mg sodium; 424 mg potassium.
Nutrition Bonus: Vitamin A (89 percent daily value), Magnesium (16 percent dv)
0 carbohydrate servings.
Exchanges: 1 vegetable, 3 lean meat, 1 fat
Comment by clicking here.