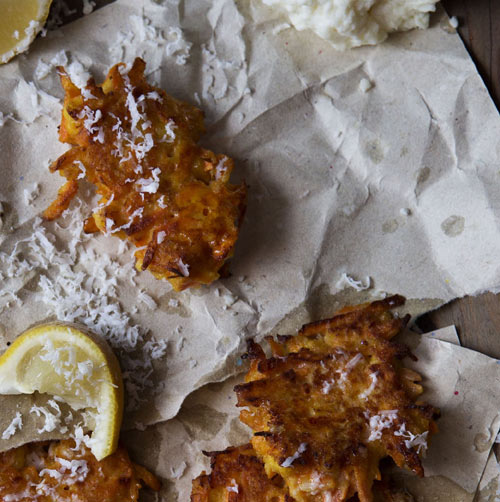 Fact: I enjoy everything Venetian. A region filled, on one hand, with rolling hills and elegant mountains, and, on the other, with historic canals, lagoons and the sea. Sandwiched between the sea and hills are the provinces of Verona and Vicenza. Here, all of Veneto's elements come together to create a beautifully wondrous area for locals and an even better one for tourists who look for varied cuisine.
Carrot frittelle is a traditional antipasto all over the region of Veneto, where they will substitute the carrots for any firm vegetable depending on the season. A savory side dish, carrot frittelle translates to carrot pancakes or fritters. Serve these as a snack with a glass of wine prior to dinner as the brilliant northern Italians do.
I cooked these carrot frittelle sans vino for Mehmet Oz, MD, last fall while on my book tour promoting "America Farm to Table: Simple, Delicious Recipes Celebrating Local Farmers." He loved everything about them, from the vitamin A content to the healthier olive oil used for frying. I'm convinced that, above all of the health benefits, Dr. Oz enjoyed this recipe for the very reason I do: the tangy richness of coarsely grated feta cheese combined with the flavor of sweet, earthy carrots.
In this recipe, I recommend using two cheeses: caciotta and goat's milk feta. But you could substitute local cheeses from wherever you like. Look for a crumbly cheese that will make the flavor somewhat pungent, such as Italian ricotta salata, blue cheese or even Mexican cotija.

CARROT FRITTELLE WITH FETA CHEESE
MAKES: 32 to 36 frittelle
5 large carrots
Kosher salt and freshly ground black pepper
4 large eggs, beaten
1/2 cup panko bread crumbs
1/4 cup rye flour
3 tablespoons grated caciotta cheese or Pecorino Romano
1/4 cup extra virgin olive oil
8 ounces goat's milk feta cheese or regular feta, coarsely grated
1 lemon, cut into wedges
Shred the carrots in your food processor using the finest grating disk, or on the finest holes of a box grater. Place the shredded carrots in a large bowl and season with salt and pepper. Add the eggs, panko bread crumbs, rye flour and caciotta; stir to combine.
In a 10- to 12-inch nonstick saute pan, heat the oil. Add the carrot mixture, 1 tablespoon at a time, and cook until each fritter is golden brown on both sides. Transfer the fritters to serving platter and repeat until you have used all the carrot mixture. Sprinkle with feta and serve with lemon wedges on the side.
Comment by clicking here.
Mario Batali is the award-winning chef behind twenty-four restaurants including Eataly, DelPosto, and his flagship Greenwich Village enoteca, Babbo.