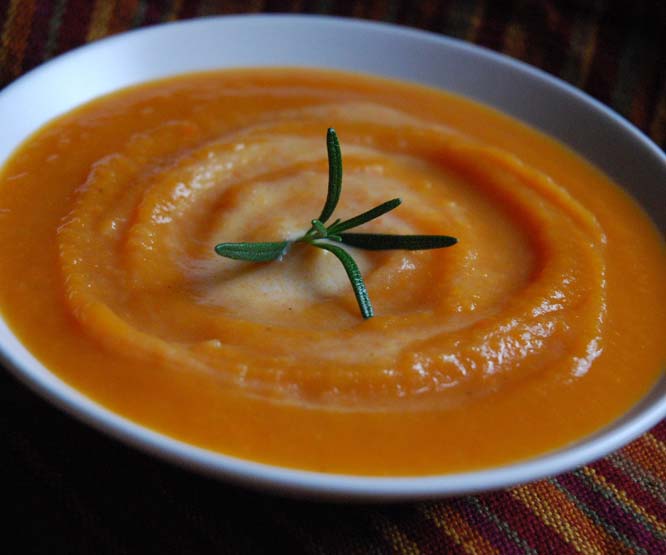 The glitter of the holidays is gone and now we head into the dead of winter. Vegetables are scarce, and my creativity has been spent. But dinner still needs to be served. So why not make use of winter's finest root vegetables? Carrots, potatoes and onions -- oh yeah!

Carrot Bisque will delight even the pickiest eater and impress the gourmet at your table, too. But after all the hours cooking in December, you'll be glad it takes only 30 minutes from start to finish. Your waistline will love it, too, as it is very low in fat.

Carrots are the predominant flavor, and of course the color is stunning. Feel free to add any other veggies you have in the bin: peppers, sweet potatoes and celery are all delicious additions. For a richer taste (and a higher calorie count), use half-and-half or whole cream. I hope you enjoy!

Suggested Menu
• Carrot Bisque
• Spinach salad
• Wheat crackers
CARROT BISQUE
PREP, Start to finish: Less than 30 minutes
YIELDS: 6 servings (about 1 cup each)
1 quart vegetable broth

2 cups water

1 large (1 pound) russet potato

8 medium-large (1 1/2 pounds) fresh carrots

1 small onion

1/2 cup 2 percent or whole milk

1/4 teaspoon ground ginger

1/4 teaspoon ground nutmeg

1 teaspoon garlic powder

Salt and white pepper to taste
In 4-quart or larger Dutch oven or soup pot, combine broth and water. Bring to a boil over high heat. While broth is heating, peel and cut the potato, carrots and onion into bite-size pieces and add to the pot as you chop. When all the vegetables are in the pot, reduce heat to medium-high and cook for 10 more minutes, or until the largest vegetable pieces are tender.

Remove from heat. Using a handheld immersion blender (see Cook's Note), process the soup until smooth. Stir in milk, ginger, nutmeg and garlic powder, and adjust seasoning with salt and white pepper to taste. Serve immediately.

(Cook's Note: If you don't have an immersion blender, divide the soup into portions and use a blender to process until smooth.)

Approximate values per 1 cup serving: 126 calories, slightly less than 1 g fat (slightly less than 1 g saturated), 2 mg cholesterol, 3 g protein, 28 g carbohydrates, 5 g dietary fiber, 703 mg sodium.
Alicia Ross is is the co-author of "Desperation Dinners!" (Workman, 1997), "Desperation Entertaining!" (Workman, 2002) and "Cheap. Fast. Good!" (Workman, 2006).