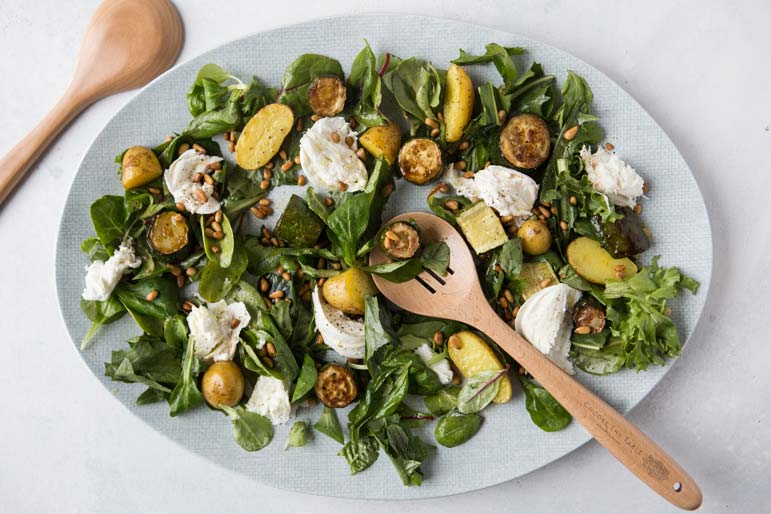 Just the look of this salad is enough to make you want to dig right in, isn't it? It features the interplay of warm and cool, roasted and toasted, soft and crisp.

There's minimal prep work and one-pan ease for the oven-browned chunks of zucchini and tender yellow-fleshed potatoes. I especially like the mix of different greens: Dandelion greens, mache and basil work well here, but keep the combination of watercress, purslane and butter lettuce in mind for another time.

You don't even have to make a dressing - drizzles of extra-virgin olive oil and sherry vinegar do the trick.

ROASTED ZUCCHINI, POTATO AND MOZZARELLA SALAD
If you buy the puff pastry a day in advance, you can let it defrost in the refrigerator.
Dufour frozen puff pastry is available at Whole Foods Markets and at some Balducci's stores.
SERVINGS: 4
Ingredients
• 8 ounces fresh mozzarella
• 2 or 3 medium zucchini (11 to 14 ounces total)
• 1 pound small Dutch gold or Yukon Gold potatoes
• 3 tablespoons extra-virgin olive oil
• 1/2 teaspoon kosher salt, plus more as needed
• 1/2 teaspoon freshly ground black pepper, plus more as needed
• 1/4 cup pine nuts
• About 12 ounces mixed greens, such as watercress or dandelion, plus mache (lamb's lettuce; about 6 cups total)
• 1/4 cup packed basil leaves
• 2 tablespoons sherry vinegar (may substitute red wine vinegar)
Steps
Preheat the oven to 400 degrees. Let the mozzarella come to room temperature.
Meanwhile, trim the zucchini, then cut crosswise into 1 1/2-inch-long rounds or half-cylinders. Cut the potatoes into halves or quarters, depending on their size.
Place the vegetables on a rimmed baking sheet. Drizzle with 2 tablespoons of the oil and season with the salt and pepper, tossing to coat and making sure the cut sides are facing down. Roast for 20 to 25 minutes, until tender. When you turn the zucchini pieces and potatoes over, they should be nicely browned on the cut sides.
While they're in the oven, toast the pine nuts in a small, dry skillet over medium-low heat for a few minutes, shaking it to avoid scorching, until they are fragrant and golden brown. Let cool.
Arrange the greens on a platter. Tear the basil leaves, letting them fall on the greens. Season lightly with salt and pepper. Add the roasted zucchini and potatoes and toasted pine nuts. Cut or tear the mozzarella, arranging dollops of the cheese around the platter.
Drizzle the salad with the vinegar and the remaining tablespoon of oil. Serve right away.
Nutrition | Per serving: 420 calories, 17 g protein, 29 g carbohydrates, 29 g fat, 10 g saturated fat, 40 mg cholesterol, 380 mg sodium, 5 g dietary fiber, 4 g sugar