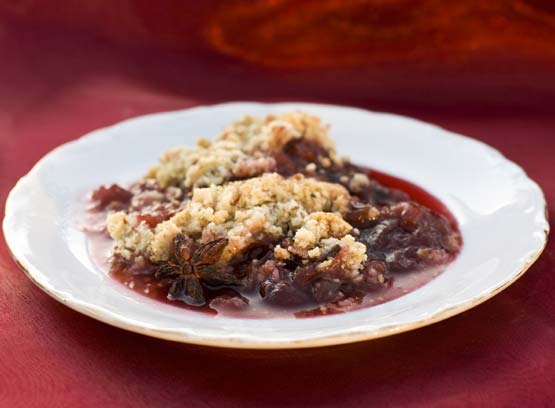 Fruit that has a short season is especially addictive. Every year I wait for the first blueberries -- I never buy the imported ones off season -- and soon a parade of blueberry pies, muffins, shortcakes, cobblers and pancakes is emerging from my kitchen. Last year I even started making blueberry jam right before the season was finally over.
In New York City, where I live, blueberry season is fairly long, since we have blueberries first from the south, then New Jersey, and from Maine and Michigan, consecutively over several months.
American cultivated, or high bush, blueberries are the ones you'll find at the supermarket and farm stand during their short season. Low bush or wild blueberries thrive in New England and are the variety that are harvested and used throughout Europe. The difference is mainly one of size, high bush blueberries being large, sweet and juicy, while the low bush berries are tiny and tart.
This easy crumb cake takes full advantage of blueberries' sweet, slightly spicy flavor and their ability to melt to a jam-like consistency between the cake and crumb topping. Equally short-seasoned sour cherries make a tasty alternative if you can find them.

BLUEBERRY CRUMB CAKE
Makes one 9 x 13 x 2-inch cake, about 24 2-inch squares
Crumb topping:
• 2 cups all-purpose flour (spoon flour into dry-measure cup and level off)
• 1 teaspoon baking powder
• 1/3 cup sugar
• 1/3 cup light brown sugar
• 1/2 teaspoon cinnamon
• 1/4 teaspoon nutmeg
• 12 tablespoons (1 1/2 sticks) unsalted butter, melted
Cake batter:
• 16 tablespoons (2 sticks) unsalted butter, softened
• 1 1/2 cups sugar
• 3 large eggs
• 2 teaspoons vanilla extract
• 2 1/2 cups unbleached, all-purpose flour
• 2 teaspoons baking powder
• 3 egg yolks
• 1/4 cup milk or buttermilk
• 1 quart blueberries, rinsed, picked over and dried
One 9 x 13 x 2-inch pan, buttered and lined fully (bottom and sides) with parchment or foil
1. Set a rack in the middle level of the oven and preheat to 350 F.
2. For the crumbs, mix the flour, baking powder, sugars, cinnamon and nutmeg in a bowl. Melt the butter and stir it in evenly. Rub the mixture to coarse crumbs by hand. Set aside.
3. In a large mixer bowl, beat the butter and sugar until soft and light. Add the eggs one at a time, beating smooth after each addition. Beat in the vanilla.
4. Stir together the flour and baking powder and stir add to the batter in three additions, alternating with the yolks and milk, beginning and ending with the flour. Spread the batter evenly in the prepared pan.
5. Scatter the blueberries evenly over the batter, pressing them in gently, then scatter the crumb topping over the berries.
6. Bake the cake until batter is firm, the crumbs are well colored, and the tip of a knife inserted into the center of the cake emerges clean, about 40 minutes. Cool the cake in the pan on a rack. Cut the cooled cake into 24 (3-inch) squares. Remove the squares from the pan to a platter.
Serving: This a great breakfast or coffeecake and also transports well, right in the pan, to a picnic.
Storage: Wrap the cooled cake in plastic wrap and keep it at room temperature. Freeze for longer storage. Defrost cake and bring it to room temperature before serving.
Variations:
Cherry Crumb Cake: Substitute 3 cups pitted sour cherries for the blueberries.
Plum Crumb Cake: Substitute 2 pounds prune plums, rinsed, pitted, and quartered, for the blueberries. Make rows with the plum quarters on the batter, keeping them cut side down.
Comment by clicking here.
Nick Malgieri, an award-winning author and the former Executive Pastry Chef at Windows on the World, is a 1996 inductee into Who's Who of Food and Beverage in America.