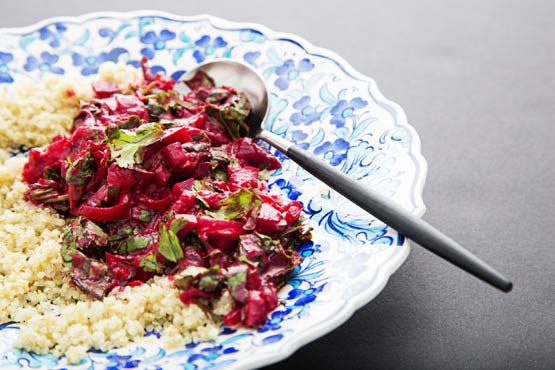 What I like about duck breast - the faint liver-y flavor of the meat graced with well-seasoned and crisped skin - is paired here with a quick pan sauce built upon a dark-fruit jam. The "lacquered" part of the original recipe called for the duck breast to be brushed with the sauce and returned to the oven for a bit, but in the interest of not overcooking the breast meat, we're content to do the kind of rapid-fire pan basting you see chefs do on television.
Speaking of temperature, we're starting the meat in a cold pan instead of placing it on a preheated surface, to get the fat rendering process going.
Fresh duck breasts in smaller weights are more widely available in supermarkets these days, so that's why the recipe calls for either 1 large breast or 2 smaller ones. Even if you use the small ones, you'll still be able to strain and reserve some rendered duck fat for other recipes.
You'll need an instant-read thermometer.
Serve with celery root (celeriac) puree.

BEET, TOMATO AND COCONUT CURRY
SERVINGS: 2 to 3
Ingredients
• 1 large onion
• 5 small vine-ripened tomatoes (14 to 16 ounces total)
• 2 large cloves garlic
• One 1 1/2-inch piece fresh ginger root
• 4 small raw beets (10 to 11 ounces total, trimmed)
• 1 small jalapeno or serrano chili pepper (see headnote)
• 1 heaping teaspoon solid coconut oil
• Handful cilantro stems
• 1/2 lemon
• 1 teaspoon ground ginger
• 1 teaspoon ground cumin
• 1 teaspoon ground coriander
• 1 teaspoon ground turmeric
• Pinch ground cinnamon
• 2 cardamom pods
• 3 whole cloves
• 1/2 cup water
• 3/4 cup low-fat coconut milk
Steps
Cut the onion in half, then into very thin half-moon slices. Cut the tomato into small dice. Mince the garlic. Peel and grate enough ginger to yield 2 teaspoons. Scrub the beets well (or peel them), then cut them into small dice. Stem and seed the chili pepper, then cut it lengthwise into very thin strips.
Melt the oil in a large saute pan over high heat. Stir in the onion to coat; cook for about 6 minutes, stirring often, until golden and softened.
Meanwhile, coarsely chop the cilantro (tender leaves and stems). Squeeze juice from the lemon half into a small bowl (at least 2 tablespoons).
Reduce the heat to medium; stir in the garlic and fresh ginger; cook for 2 minutes, then add the jalapeno or serrano chili pepper, ground ginger, cumin, coriander, turmeric, cinnamon, cardamom and cloves, plus the tomatoes and the water. As soon as the mixture starts to bubble at the edges, add the beets, stirring to incorporate. Cover and cook for 10 to 12 minutes or until the beets are fork-tender.
Uncover and stir in the coconut milk, cilantro and lemon juice; cook for 2 minutes, then turn off the heat. Let sit for 5 minutes (for the flavors to meld). Fish out and discard the whole spices before serving, if desired, or at least tell your fellow diners to be on the lookout for them.
Nutrition | Per serving (based on 3): 160 calories, 4 g protein, 23 g carbohydrates, 6 g fat, 5 g saturated fat, 0 mg cholesterol, 95 mg sodium, 6 g dietary fiber, 13 g sugar