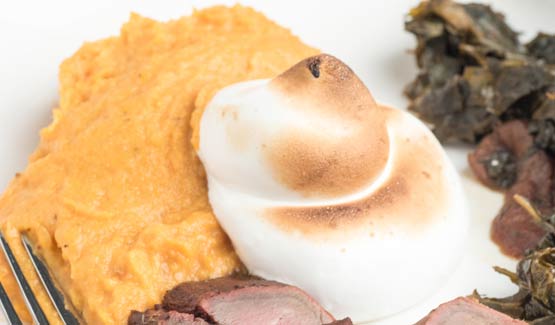 'It's way easier to get drugs than a good greasy bean," Travis Milton says, taking a deep drag on his cigarette. And that causes the chef a lot of headaches.
For one, greasies are his favorite beans, whether you cook them old-school, stewing them within an inch of their lives, or use a more modern technique such as steaming to show off the sweet, fat kernels inside.
But the elusiveness of greasies (named for their slick appearance, not their taste) is more than just a personal problem for Milton. Later this year he will open Shovel and Pick, an Appalachian restaurant, in Bristol, Tenn. To turn out elevated versions of the dishes he grew up with.
And so this spring, Milton is sowing 10 acres with greasies and other heirloom beans, cowpeas, creasy greens (a type of field cress), Candy Roaster squash, goosefoot (an Appalachian cousin of quinoa), blackberries, huckleberries and more. What he doesn't use at his restaurant he will pickle and preserve, or share with other chefs who also are committed to promoting Appalachian cuisine. It's all part of Milton's grand plan to use food to ignite economic development in the region and end, once and for all, the pervasive stereotype of Appalachians as a bunch of toothless hillbillies.
No small feat, especially when the response to the term "Appalachian cuisine" is either "huh?" or an exaggerated eye-roll at the idea of another cadre of chefs trying to cash in on a regional cooking fad.
In fact, Appalachian food has at least as much of a claim on "cuisine" as California (which no one would dare challenge).
The foods of central Appalachia -- a region that stretches from southern Ohio and West Virginia to Tennessee -- constitute America's own cucina povera, as rich and unexplored in the American culinary scene as Tuscan food was in the 1980s.
William Dissen, a native West Virginian and owner of the Market Place restaurant in Asheville, N.C., calls it the "backbone of Southern cooking." It's a scrappy, intelligent way of cooking that, out of necessity, embraced preserving, canning, fermenting and using every part of the animal long before all that was trendy.
There are leather britches, beans that are strung up whole to dry, then brought back to life with water and a smoky ham hock. There is vinegar pie, a mountain version of the South's lemon chess pie, with vinegar providing the acid in place of expensive or hard-to-find citrus. "There's real beauty in these dishes," says Milton. "They yield amazing flavors, the flavors of a subsistence culture. A humble pole bean tastes like a pot roast. You work with what you have because you have to eat."
The idea is catching on. Last fall, scholars, chefs and activists hosted an Appalachian food summit in Abingdon, Va., to examine how the region's food heritage can boost local economies.
In February, the James Beard Foundation hosted its first-ever salon for Appalachian chefs. (Full disclosure: This reporter served as a moderator at the event.) A few weeks later, the Blind Pig, an Asheville supper club, hosted Milton and five other chefs for a dinner called Appalachian Storytellers. Milton served smoked venison, drizzled with a sauce made of malted sassafras and black birch syrup, and smoked collard greens. The event hosted 140 people and sold out in a day.
'AN ORIGINAL IDENTITY'
Ask most people what they think Appalachian food is, and their answer - if they have any idea at all - will probably be corn bread and pinto beans. Food that is cheap enough to fill a belly before a day in the coal mines and bland enough to suit the tastes of the Scotch-Irish who settled the area.
That, says Ronni Lundy, author of the forthcoming book "Victuals: An Appalachian Journey, With Recipes" (Clarkson Potter, August 2016), betrays a gross misapprehension about the region and its food, which is far more complex.
The Cherokee originally inhabited the area. Freed slaves congregated there because it was one of the few places they were permitted to live. The English and Germans arrived along with the Scotch-Irish in the early 1800s, and Hungarians and Italians came after the Civil War to work in the mines. Some stayed for a generation or two and moved on, while some settled permanently. "Appalachia is more of a melting pot," says Lundy. "That's visible in our foodways."
Take corn. It was first grown in Appalachia by the Cherokee; the tribe taught new settlers how to soak the kernels in water mixed with ash, then grind it to make a dough. Leather britches, also known as shuck beans, are also thought by many to be the product of a Native American drying technique, though Lundy says the method might have been brought over by the Germans, along with their passion for fermenting. Sauerkraut is common in many Appalachian households, but fermentation also was used on native beans and to make sour corn, a much-loved dish. "You take an old technique, add a new ingredient and you get a totally original food," Lundy says.
But Appalachian cuisine is derived as much from the culture of the mountains as from its ingredients. Perhaps here more than in any region in the United States, families carefully saved seeds, preserving heirloom varieties that vanished quickly in areas where commercial seeds were widely available. In 2011, researchers at Slow Food's RAFT Alliance documented 1,412 distinctly named heirloom foods in the region, including more than 350 varieties of apples, 464 varieties of peas and 31 kinds of corn.
Locals subsidized what they were able to cultivate with the bounty in the woods around them. And there is plenty to forage: Southern and central Appalachia are acknowledged as the most biodiverse regions in North America. Their ramps and wild mushrooms are famous. Less well known are plants such as wild ginger, which tastes of spearmint and black pepper; ginseng; sumac; and spicebush, a wild variety of allspice.
The short growing season in the mountains put a focus on preservation of all kinds: smoked meats, pickled vegetables, fruit turned into jams and jellies. Many families were poor, so little was wasted. Denny Trantham, a division chef at U.S. Foods who cooked at the Appalachian Storytellers dinner, says his grandmother would make blackberry dumplings out of leftover biscuit dough and jam that hadn't quite set. (He made it for the dinner exactly the way she would have, with one exception: He substituted high-fat European butter for lard.) "This is an original identity," says Trantham. "You can't get it on Amazon. You have to have been a part of it."
'TAKING THE NEXT STEP'
Milton grew up in Castlewood, a town of about 2,000 in Southwest Virginia. His grandparents owned the Village Restaurant, which Milton describes as a little greasy spoon that served burgers, red-eye gravy, country ham and shuck beans. Milton spent much of his childhood in the kitchen; when he was as young as 3, his mother would plunk him in a high chair and let him peel potatoes with a dull butter knife while she waited tables. In summer, he'd sit under a big oak tree in his grandparents' yard and snap beans to be canned or dried.
At family dinners, there were all the dishes that Milton now evangelizes: venison, sour corn, "kilt" lettuce (wilted with bacon grease), leather britches and creasy greens. There were always plenty of pickles, many of which showcased the mix of ingenuity and frugality in Appalachian cooking. (For example, Milton's grandmother always added a few Red Hots candies to her pickled peaches in place of expensive cinnamon sticks.) For dessert, there were dumplings, pie and stack cake, a cake of as many as five layers slathered with apple butter.
When he was in his early teens, Milton's family moved to Richmond. He worked on cars and as a radio DJ (on-air name: Albino Love Machine) and taught high school English before settling on cooking as a career. At 24, he landed his first job as a sous-chef at Bottega, an Italian restaurant in Richmond. He hadn't gone to culinary school, so Milton used his vacations to apprentice at America's top restaurants.
It was during a few days at WD-50, an avant-garde restaurant in New York, that Milton had an epiphany about cooking Appalachian food. He was making PB&J "tablets" when he mumbled aloud that all he really wanted was a greasy bean. "Why would you want a bean covered in grease?" another cook shot back. It was a turning a point. "I realized that I wanted to cook everything that I had tried to distance myself from: the [foods of the] hillbilly, the hick, the redneck," he said.
A few years later, Milton took a job at Comfort, a Richmond restaurant that showcases Southern cooking, where the owner gave him the freedom to experiment. He made Kentucky frogs' legs and chicken wings glazed with Mountain Dew barbecue sauce. He also started making vinegars from all manner of things: turnip greens, honeydew melon, even Cheerwine, a North Carolina soda pop, which he in turn used to make cheeky vinegar pie.
"Travis understands that you can't extract the cuisine from the culture," says John Fleer, the chef-owner of Rhubarb in Asheville and widely acknowledged as the one who ignited interest in mountain cuisine when he was chef at Blackberry Farm in eastern Tennessee. Fleer compares Milton to Sean Brock, who has become a powerful evangelist for Southern ingredients. "Travis is taking the next step. He's giving cultural context to the stories of food."
Milton looks like what hipsters try to emulate with their trucker caps, plastic-framed glasses and burly beards. He is rarely without his Virginia Is for Lovers cap or a jean jacket covered with patches, including one of the Kellogg's Corn Flakes logo and one of Paul Stanley of the band Kiss. And like many chefs these days, he has an arm full of tattoos.
Among other things, there is a greasy bean, of course; a bunch of watermelon radishes; a stalk of rhubarb, which Milton used to munch on raw as a kid; and a German Johnson tomato, his grandfather's favorite.
Behind the Technicolor vegetables is a cloud of black. "It shows all the beautiful things coming out of coal country," Milton says. "It's not me wearing my heart on my sleeve. It's my plan for Appalachia."
A RETURN TO SALT
Can food help ignite economic development in the twilight of coal? There are hopeful signs. Milton's restaurant, which he hopes to open later this year, is one. There also are efforts to bring back authentic Appalachian products: heirloom apple orchards, which were razed for strip mining, to make cider; "Virginia-style" whiskey; and salt.
Yes, salt. Before timber, before coal, salt was the major industry in central Appalachia. Brine was drawn up from deep within the ground, the remnants of the Iapetus Ocean, which covered the region 470 million years ago. In 1846, West Virginia had more than 50 saltworks and was the largest salt-producing area in the country.
One producer was J.Q. Dickinson. Founded in 1817, it was the last to close its doors, in 1945. Three years ago, seventh-generation members of the family, Nancy Bruns and her brother Lewis Payne, reopened the saltworks along the Kanawha River, southeast of Charleston. They draw the brine from the same spots but have committed to a more eco-friendly, if less efficient, way of drying it. Instead of heating it with wood or coal fires, they place the brine in trays in a glass sunhouse and let it evaporate naturally.
The result is a chunky, clean crystal that makes food pop. When Brock tasted it for the first time, he called Bruns and asked whether he could buy it by the truckload.
Production remains limited, though. In its first year, J.Q. Dickinson turned out just 400 pounds of salt. This year, the company aims to make 14,000 pounds. But that's still a fraction of the 8,000 pounds per day that was once produced.
The revival of local salt was the focus of a film shown last month at the Appalachian Storytellers dinner. The crowd was a mix of pedigreed Appalachians and culinary thrill-seekers - two necessary ingredients in Milton's recipe to revive the region and its food.
Treva Johnson, 78, grew up eating leather britches and creasy greens that she foraged with her grandmother. The dinner was an opportunity to taste them again. (The creasy greens, served as a puree on heirloom grits, didn't quite match her memories. "It was wrong but also exciting," she said.) Lisa Gamble, 35, had never heard of leather britches before the dinner. "Now," she said, "I want to eat them every day."


COLLARD LEATHER BRITCHES
6 servings
This dish uses an old Appalachian technique of preserving leafy greens and pole beans by drying them over the embers of a fire. Chef Travis Milton says the process gives these collards an umami-like pork roast flavor. Here, he has added dried apple slices to highlight his own Arkansas culinary heritage.
You'll need kitchen twine.
MAKE AHEAD: The bundles of collard greens need 2 to 3 days' drying time. Adapted from Travis Milton, chef of the upcoming Shovel and Pick in Bristol, Tenn.
Ingredients
• 5 bunches collard greens (1 1/2 pounds)
• 2 tablespoons butter
• 3 packed cups dried apples
• 8 cups homemade or no-salt-added vegetable broth (see related recipe)
• 2 cups water, or as needed
• 1 to 2 tablespoons kosher salt
• 1/2 to 1 tablespoon freshly ground black pepper
Steps
Rinse each bunch of collards individually and thoroughly, making sure to dry them completely with paper towels. Use the kitchen twine to re-tie each bundle, then string all the bundles together on a single line, leaving 2 to 3 inches of space between each bundle.
Hang them in a warm, dry place for 2 to 3 days, depending on the humidity. They're done once the leaves are very brittle and dry.
Use clean kitchen scissors to cut the collards into pieces, holding them over a large bowl as you work; a lot of them will crumble in your hands, which is totally okay; just make sure you are able to save all the crumbles. (If the stems don't seem completely dry, don't use them.)
Heat the butter in a medium stockpot over medium heat. Once it has liquefied, stir in the dried apples; cook for about 20 minutes or until they begin to caramelize slightly around their edges. Watch closely and stir often; they can burn easily.
Add the dried collards and crumbles, stirring to incorporate, then pour in the broth. Cook for 11/2 to 2 hours, stirring three or four times every hour. Add some or all of the water as needed if the collards or apples start to look dry.
Stir in the lesser amounts of salt and pepper; wait for a few minutes, then taste and add some or all of the remaining seasoning, as needed.
Serve warm or at room temperature, with just enough of the collards' cooking liquid to keep them moist.
Nutrition | Per serving: 200 calories, 4 g protein, 40 g carbohydrates, 5 g fat, 2 g saturated fat, 0 mg cholesterol, 660 mg sodium, 8 g dietary fiber, 31 g sugar
SWEET POTATO 'CASSEROLE'
8 to 12 servings
A meringue that's served alongside creamy, cheesy sweet potatoes makes this modern, although chef Travis Milton says the dish is a mashup inspired by desserts his great-grandmother made.
He likes to use a culinary torch to lightly toast the meringue; that is optional. Malt syrup is available at MOM's Organic Market and some other natural foods stores.
MAKE AHEAD: The sweet potato mixture can be cooked, cooled and refrigerated up to 3 days in advance. The meringue can be refrigerated several hours in advance.
Adapted from Travis Milton, chef of the upcoming Shovel and Pick in Bristol, Tenn.
Ingredients
For the sweet potatoes
• 6 large sweet potatoes (about 5 1/2 pounds total)
• 3/4 cup (6 ounces) sweetened condensed milk
• 2 tablespoons plain goat cheese
• 1 1/2 cups heavy cream
• 2 tablespoons malt syrup (see headnote)
• 2 teaspoons kosher salt
• 1 tablespoon unsalted butter, at room temperature
For the meringue
• 4 large egg whites
• Generous 2 cups (9 ounces) confectioners' sugar
Steps
For the sweet potatoes: Preheat the oven to 400 degrees.
Poke the sweet potatoes in a few places with the tip of a sharp knife. Place them on a baking sheet; bake for 45 minutes to an hour, until tender. While the potatoes are cooling, combine the sweetened condensed milk, goat cheese, cream, malt syrup, salt and butter thoroughly in a saucepan over medium heat. stirring or whisking until the mixture is heated through and well combined.
Once the potatoes are just cool enough to handle, discard the skins and let the potato flesh fall into a large mixing bowl. Use a whisk or a handheld electric mixer to beat on low speed as you gradually add the saucepan mixture to the bowl. (If the mixture is stringy, you may wish to run it through a food mill.) The sweet potatoes should become lightened and fluffy. Cover, or transfer to an airtight container and refrigerate until ready to use (up to 3 days).
For the meringue: Combine the egg whites and confectioners' sugar in the bowl of a stand mixer or handheld electric mixer. Beat on low, then on high speed until shiny, stiff peaks form.
To serve, spoon a helping of the blended sweet potatoes on each plate, then dollop some of the meringue alongside. Toast the surface of the meringue with a culinary torch, if desired.
Nutrition | Per serving (based on 12): 460 calories, 8 g protein, 77 g carbohydrates, 15 g fat, 9 g saturated fat, 50 mg cholesterol, 380 mg sodium, 6 g dietary fiber, 21 g sugar
Comment by clicking here.