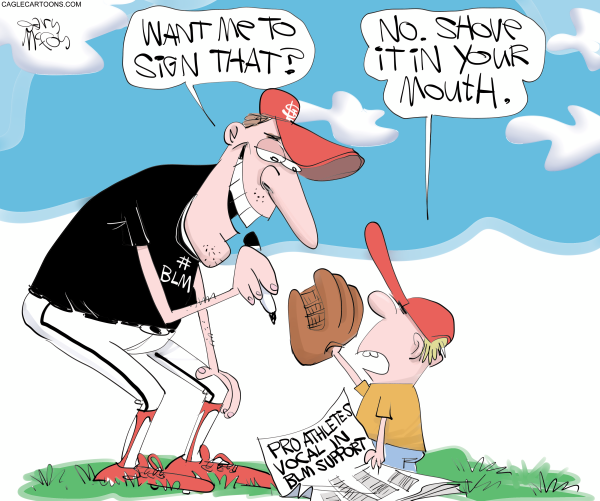 To say that TV viewer ratings were down for the NBA finals would be the biggest understatement since Custer said, "I think they're friendly Indians." According to one source, viewership wasn't just down, it fell through the floor.
As I write this the ratings for games 6 and 7 have not been published, but some are estimating a whopping 69% drop over last year! The reason? Clearly many traditional sports viewers tune in to watch a game, and not be lectured by multi-millionaire players who shove social justice "wokeness" down their throats.
Months ago, after I saw how the NBA, NFL, and MLB embraced and supported the pro-Marxist, anti-American, anti-family hate group, Black Lives Matter, I knew I was through watching those sports. Lots of people felt the same as I did evidently, because total sports viewership has been down.
But diehard Laker fans were out in full force last Sunday night following their team's championship win against Miami. These "sports fans" "celebrated" by rioting through the streets of downtown Los Angeles destroying more than 30 buildings and stores, setting fire to a city bus, exploding fireworks and throwing bottles and other projectiles at police, injuring at least 8 officers, some needing medical treatment.
Sign up for the daily JWR update. It's free. Just click here.
LAPD Deputy Chief Vito Palazzolo, who oversees the Central Bureau that includes downtown L.A., was quoted by the Los Angeles Times saying, "It was disappointing to see that last night. With COVID, we were hoping people would stay home. The place was a mess." Palazzolo went on to say that stores were vandalized and ransacked, and motorized scooters were strewn across streets when he left downtown around 4 a.m.
The street riot resulted in at least 76 arrests for suspicion of vandalism, unlawful assembly, and failure to disperse. The mob, which gathered near the Staples Center, numbered into the thousands. Some wore masks, some did not.
LAPD Chief Michel Moore took to Twitter to urge fans to "celebrate responsibly," after the game but surprise, surprise, violence won over. Even though 300 police officers were deployed, they couldn't contain this mob from rioting. So what else is new this year? Street riots have become a way of life it seems, for any reason, at any time. It might be because of a police shooting somewhere, or a sporting event, or just something to do to pass the time on a dull weekend.
By the way, the media hasn't been reporting it lately, but if you haven't heard, Portland is still rioting. At about the same time Lakers fans were going at it on Sunday night, Portland rioters were busy toppling statues of presidents Theodore Roosevelt and Abraham Lincoln and shattering the entrance to the Oregon Historical Society in Portland's South Park Blocks.
Then the mob moved into other areas of downtown, smashing storefronts and engaging in other acts of destruction.
According to The Oregonian, the mob was made up of at least 200 people dressed all in black, carrying shields and wielding nightsticks and other weapons. "As the crowd reached the South Park Blocks, some threw chains or ropes on the Roosevelt statue, a bronze sculpture officially titled "Theodore Roosevelt, Rough Rider," as others took a blowtorch to its base and splattered it with red paint."
"They began to pull until the statue rocked from side to side before falling down at 8:51 p.m. The crowd erupted in cheers as dance music played on a large portable speaker." After that the rioters turned their attention to the statue of Abraham Lincoln, pulling it to the ground and spray-painting it at around 9:00 p.m. Just another lovely evening in downtown Portland, Oregon.
Undoubtedly there are those who wonder why President Trump doesn't stop these riots. Well, the fact is he can't do a thing under our Constitution unless the state and local authorities ask him for help. If the mayors or governors ask for federal assistance, they would get it in a heartbeat. But Democrats run most of these places and they don't want Trump's help under any circumstances.
The same holds true for opening up the pandemic lockdowns. President Trump has no power to order cities and states to open up. Only governors and mayors can do that. You might have noticed that the places that are still in a major lockdown situation are the Democrat run states and cities.
Until our leftist leaders get the message either through the courts, through the ballot boxes, or because citizens have decided to take matters into their own hands, don't expect to see peace in the streets and life getting back to normal anytime soon.
Go Lakers! Burn that bus! Loot that store! Tear down civilization!