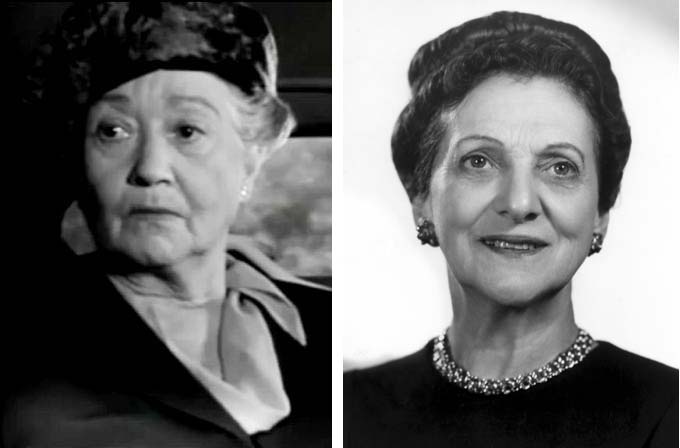 Last week I wrote a Mother's Day column listing classic cinema's famous "good" mothers (e.g. Irene Dunne in "I Remember Mama") and a separate list of "bad" mothers (e.g. Angela Lansbury in "Manchurian Candidate"). That got me to thinking about a couple of actresses that practically spent their entire careers playing mothers on film. One was Beulah Bondi and the other was Fay Bainter.
So even though I wrote a Mothers Day piece last week, I thought I'd write another one, this time in honor of those two wonderful mothers of the silver screen.
Beulah Bondi was born on May 3, 1888, in Chicago, and established herself as a stage actress making her Broadway debut in "One of the Family" on December 21, 1925.
Several other shows followed but it was her performance in Elmer Rice's "Street Scene," which opened at the Playhouse Theatre on January 10, 1929, that made her career and brought her to Hollywood at the age of 43. She made her motion picture debut in 1931 in the movie adaptation recreating the role she had originated on the Broadway stage.
To say she was typecast as mothers would be putting it lightly. She played mostly mom parts for the rest of her life, which was a long one. She portrayed James Stewart's mother in four films: "Vivacious Lady" (1938), "Of Human Hearts" (1938), "Mr. Smith Goes to Washington" (1939), and as Ma Bailey in "It's a Wonderful Life" (1946), She also played Stewart's mother on an episode of his television series, The Jimmy Stewart Show (1971).
She was also the mother of Sylvia Sidney, Anita Louise, Jane Bryan, Bette Davis, Fred MacMurray, Martha Scott, Virginia Grey, Annabella, Eleanor Parker, Rosalind Russell, William Hopper, Tab Hunter, and Robert Mitchum to name but a few.
Bondi's greatest role (as a mother or otherwise) is considered her portrayal in Leo McCarey's Depression-era melodrama "Make Way for Tomorrow" (1937), in which she played a mother abandoned by her children. A four-hankie picture if ever there was one.
Interestingly, even though she so very often played loving mothers and wives, Beulah Bondi never had children and was never married. She died at the age of 92 from complications from an accident, when she broke her ribs after falling over her cat in her home.
Born in 1893, Fay Bainter began as a child performer as a member of a stock company before acting on the Broadway stage in 1912. She appeared in many plays but had her first hit as Ming Toy in "East is West", which established her as a major theatrical star. The show ran from 1918 through 1920. After several more shows, including her outstanding performance in "Dodsworth" (1934-35) of the desperate Fran Dodsworth, the wife opposite Walter Huston as her husband, she got her first motion picture role in "This Side of Heaven" at the age of 41.
Fay's movie "children" included Tom Brown, Mae Clarke, Mary Carlisle, Danny Kaye, Anne Shirley, Ruby Keeler, Jean Parker, Margaret Sullivan, Priscilla Lane, Lola Lane, Rosemary Lane, Lee Bowman, Mickey Rooney, William Holden, Maureen O'Hara, Van Johnson, Butch Jenkins, Van Heflin, Jeanne Crain, Dick Haymes, and Dan Daily.
Interesting that both Bondi and Bainter started on the stage and arrived in Hollwood in their early forties. Unlike Beulah Bondi, however, Fay Bainter was married and had one child, a son. Her husband Reginald Sydney Hugh Venable (1890-1964) was a lieutenant commander in the United States Navy. He was buried at Arlington Cemetery; Fay was also interred there four years later.
These two wonderful character actresses have come to epitomize the all-American mothers in movies and television for decades. They represented the perfect moms, always in the kitchen cooking our meals, always picking up after us, always sympathetic to our problems, and always loving us no matter what.
Actually, that movie image wasn't too far off from what I had as a kid. I was lucky. I hope you were lucky enough to have had the same.
Happy Mothers Day to America's real-life loving moms!
Comment by clicking here.
JWR contributor Greg Crosby, former creative head for Walt Disney publications, has written thousands of comics, hundreds of children's books, dozens of essays, and a letter to his congressman. He's been a JWR contributor since 1999.