Jewish World Review Dec. 7, 1998 / 18 Kislev, 5759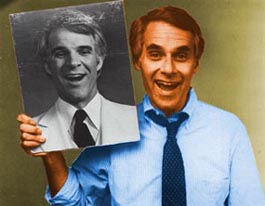 Naming names

By Rabbi Bob Alper
"And so, we welcome this child into our Jewish community, as we bestow upon her names in honor of the memories of her grandparents, Sadie and Max. The Hebrew name: Shoshana Malka bat Leah v'Shimon.
"And the English name ... ah ... Tiffany ... Brianna ... Spiegelberger."
That baby naming was a career highlight for me as a Reconstructionist rabbi and I frequently describe it during my stand-up comedy routines, except on one occasion when, just before the show, the chairman of the event introduced me to his daughter: Brittany.
First names have reflected evolving Jewish self-images and priorities for generations, wonderfully epitomized by the chapter title, "How Kimberly and Chad Begat Adam and Tamar" in one of Albert Vorspan's books.
Last names have also seen a transformation, especially during the past two decades. When my wife and I were married 29 years ago, she had no preoblem accepting my surname as hers. Of course, having stood at the end of the line throughout her life due to a name beginning with "Z," she was more than pleased to become an Alper. Her sister married a guy whose name began with "B."
I guess I can understand how a very liberated man, in a reversal of tradition, might accept his wife's family name as his. And I've become acclimated to the proliferation of hyphenated choices (though, frankly, I'm eager to see if, when Wendy Faigelson-Shapiro marries Jeremy Stuttman-Hornstein, they'll name their child, Eliezer Faigelson-Shapiro-Stuttman-Hornstein).
But here's a totally new twist, the cutting edge of naming, an innovation that came to me via e-mail from an old college friend announcing the birth of his first grandchild: Peter JonathanFellmanLipschutz. (I hope Binyamin L. Jolkovsky got that one right. It's FellmanLipschutz. No space. No hyphen. Just two names, squashed together with a capital letter smack dab in the middle.)
[Got it, Bob. --- Editor]
A name like FellmanLipschutz may be a slight inconvenience for a small child; my concern centers on what will happen when this kid with the quintessentially trendy moniker becomes old enough to purchase items by phone.
"Yes, I'd like to order that tattoo set you advertised on MTV. My name? FellmanLipschutz. No, i's one word. No hyphen. Well, the 'L' in the third syllable is capitalized. No, that's the third syllable, not the third 'L' Oh yeah, it is the third 'L' because there are two previous 'L's in Fellman. You know what, on second thought, can I just fax that order?"
Some people change their names professionally, creating an effective image for what they do. I recently learned that one of the nicest kids from my days as a congregational rabbi has emerged as the best blues keyboard artist in Chicago, playing with The Junior Wells' band as "Johnny 'Fingers' Iguana."
I'm looking forward to officiating at his wedding in a few months. Especially, since his parents have assured me that the name on his ketuba, wedding contract, will read "Brian Berkowitz."
---
JWR contributor Bob Alper, the world's only practicing clergyman doing stand-up comedy . . . intentionally, is the author of Life Doesn't Get Any Better Than This : The Holiness of Little Daily Dramas and A rabbi confesses. To go to his web site, click here.


11/23/98:The Wedding Announcement
11/10/98: What the mail-man brought
©1998, Bob Alper