Jewish World Review Nov. 10, 1998 / 21 Mar-Cheshvan, 5759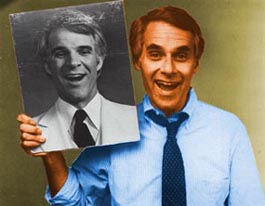 What the mail-man brought

By Rabbi Bob Alper
THE IMPRESSIVE HEADLINE announced "National Survey of Christian Seniors," and the IMPORTANT NOTICE accompanying it advised: "This official survey has been reserved for the Christian named above."
And just who was that Christian named above? Rabbi Robert A. Alper.
Further down the page, a letter urged, "Dear Rabbi Robert A. Alper: Please rush this survey document to The Christian Association of PrimeTimers ... and don't miss the opportunity to join America's only Christian alternative to AARP..."
I declined.
But the invitation did remind me of some of the more non-sensical mail I've received over the years. Like the letter from an account executive with a big securities firm that began: "While sitting in services during the High Holiday season, the thought occurred to me, 'How can a synagogue safely produce more income?' " The gentleman went on to tout his company's high yield certificates of deposit.
I bet I know the exact moment this fellow had his fiduciary brainstorm: It must have been on Yom Kippur morning, during the reading of the Haftarah. He was probably so focused on the Dow Jones and percentage points that he missed the hearing Isaiah 58:3 "Because on your fast day you think only of your business ... "
The piece de resistance of synagogue mail arrived years ago at my study in Congregation Beth Or, and it bore exciting news.
"Dear Friend," wrote Sharon Taylor of Copley, Ohio 44321, "As you may already know, we have been doing some work relating to people who have the same name as you do. Finally, after months of work, my new book, The Amazing Story of the Beths in America, is ready for printing, and you are in it!"
Sharon alerted me to the fact that the Beth name is very rare, less than one-thousandth of one percent of the people in America shared the Beth name! Through intensive research and great expense, she had located almost every Beth family in the US. Informative chapters covered such fascinating topics as:
How the Beth family got its name. Important but little known facts about the Beth population in the the U.S. Where we discovered an unusual "Coat of Arms" granted to an early Beth, with its original heraldic description. An expert interpretation and drawing of this Beth "Coat of Arms," which archives reveal is over 600 years old.
That last item really intrigued me, and I fantasized about what a contemporary Beth "Coat of Arms" might contain. In addition to the expected menorah and Star of David, perhaps a pair of oversized pants with ripped knees to symbolize the youth group. And crossed swords, representing the Board of Trustees.
One final keepsake letter came from a colleague, thanking me for agreeing to officiate at a wedding at his synagogue when he needed to be out of the city. He listed a few particulars about the happy event, and concluded: "For your information, here at Beth Torah we use a Chupah, break the glass, as well as a Cantor and organist."
Hmmm. I'd hate to see their Workers' Compensation claims.
Anyway, all proceeded smoothly. The wedding went off without a hitch, and the administrator and other staff at Beth Torah couldn't have been more accommodating. In fact, I even sent them a present in gratitude: The Amazing Story of the Beths in America.
---
New JWR contributor Bob Alper, the world's only practicing clergyman doing stand-up comedy . . . intentionally, is the author of Life Doesn't Get Any Better Than This : The Holiness of Little Daily Dramas and A rabbi confesses. To go to his web site, click here.