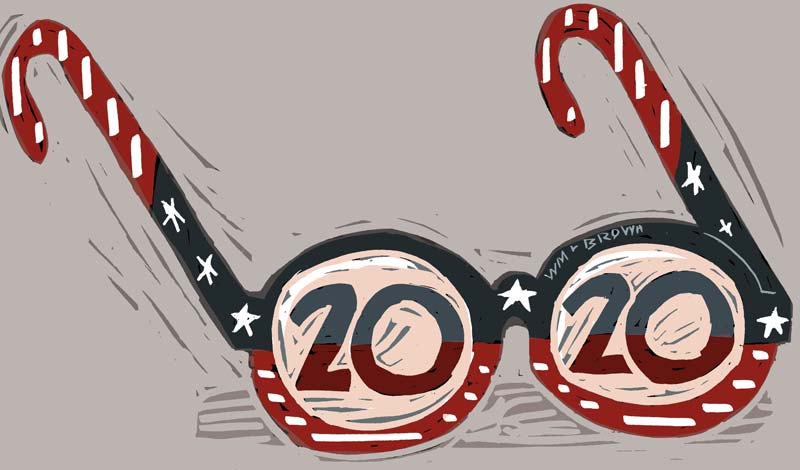 In the second half of 2018, the most compelling political battle in Washington, D.C., didn't play out in the White House or Capitol Hill.
Instead, the real action was uptown at the National Zoo, where the naked mole-rat colony was in the process of choosing its queen.
Why is it good to be the queen, you might ask?
This story explains why: "The queen is the only mole-rat that reproduces, so she's got a big job on her hands. But she likes it this way. Queens sexually repress all the other females in the colony, as well as the males they don't want to mate with, preventing them from going through puberty."
Talk about veto power.
Speaking of the race to be queen (or king) of the colony, let's take a look at the 2020 election and a question that briefly arose the last time America chose its political royalty: geographical limitations to national tickets.
More to the point: what if one of the two major parties ran a ticket with two candidates from the same state?
The concept came up in 2016, with talk of a Republican dream team featuring fellow Floridians Jeb Bush and Marco Rubio. Other Republicans of a more conservative persuasion floated the idea of fellow Texans Ted Cruz and Rick Perry.
The chattering class immediately pushed back, claiming such tickets constitutionally wouldn't pass muster. But that's not the case.
While the U.S. Constitution offers three presidential criteria – age (35), residency ("within the United States" for 14 years) and a "natural born citizen" (a much-analyzed, much-debated phrase) – it doesn't restrict where the candidates reside.
However, it does offer this qualifier: "The electors shall meet in their respective states, and vote by ballot for two persons, of whom at least one shall not be an inhabitant of the same state with themselves."
Translation: an elector could vote for only one-half of the ticket, but not both candidates.
Depending on the number of electoral votes a ticket amasses, this may or may not be a problem. Let's imagine a 2016 election in which fellow New Yorker Rudy Giuliani is on the ticket with Donald Trump, not Mike Pence. Trump collected 306 electoral votes; he or his running mate could have shed New York's 29 electoral votes.
However, this would have been problematic in the 2000 and 2004 elections if Dick Cheney hadn't change his voter registration from Texas to Wyoming. Bush-Cheney received only 271 electoral votes in 2000 and 286 four year later. Texas' electors (32 in 2000; 34 in 2000) would have passed on Cheney, forwarding the veep selection to the U.S. Senate.
Could this scenario play out in 2020? We won't know unless one of the two parties were to go the same-state route.
Some possible tickets, listed alphabetically:
California. Sen. Kamala Harris and Los Angeles Mayor Eric Garcetti are likely to run; San Francisco-based hedge fund billionaire Tom Steyer reportedly is shopping for campaign staffers on LinkedIn. But don't forget Gov.-elect Gavin Newsom. A Newsom-Harris ticket would check a lot of Democratic boxes in terms of gender, race, youthful appearance and abject Trump-loathing.
Massachusetts. Sen. Elizabeth Warren seems likely to run; former Gov. Deval Patrick has said he won't, citing the "cruelty" of the process, but he's also popular with an Obama political braintrust that knows a thing or two about winning presidential election. Add to the Massachusetts bullpen: Rep. Joe Kennedy III.
New York. Sen. Kirsten Gillibrand seems to be in (though some donors reportedly aren't wild about her #metoo choices); Gov. Andrew Cuomo says he's not, but there few less ambitious politicians on the planet. Here's the argument for Rep.-elect Alexandra Ocasio-Cortez running, though she's not age-eligible until 2024. Meanwhile, in the sleepy village of Chappaqua . . .
Texas. Beto. Beto . . . Beto . . . Beto. And one other Texan: former HUD Secretary Julian Castro, who met yesterday with instate donors to discuss the beginning of a presidential war chest. The problem here (other than pushback against a phallocentric Democratic ticket): Texas' 38 electoral votes means Beto-Castro would have to rack up at least 308 electoral votes in the general election. Based on what happened in 2016, that would entail flipping Michigan, Pennsylvania and Wisconsin – then adding on either Texas (to get to 316 electoral votes) or a combination of Arizona, Georgia and Iowa (to get to 311).
Now, for a bipartisan same-state wildcard.
Ohio. Outgoing Gov. John Kasich, a Republican, isn't shy about his interest in another presidential run. Earlier this week, a committee was launched looking for host community events and create "digital organizing strategies" to promote Democratic Sen. Sherrod Brown.
Finally, the biggest surprise of them all.
Florida. This'll never happen, but it's still fun to speculate: President Trump changing his voter registration from New York to the Sunshine State. Trump could them swap out Vice President Pence in favor of Rubio, HUD Secretary Ben Carson, former Arkansas Governor Mike Huckabee (he switched to the Sunshine State eight years ago), or even Gov.-elect Ron DeSantis or Sen.-elect Rick Scott.
How's that for a same-state ticket? If you're tired of the same-old, same-old" in presidential elections.
Bill Whalen is a research fellow at the Hoover Institution, where he studies and writes on current events and political trends. In citing Whalen as one of its "top-ten" political reporters, The 1992 Media Guide said of his work: "The New York Times could trade six of its political writers for Whalen and still get a bargain." During those years, Whalen also appeared frequently on C-SPAN, National Public Radio, and CNBC.