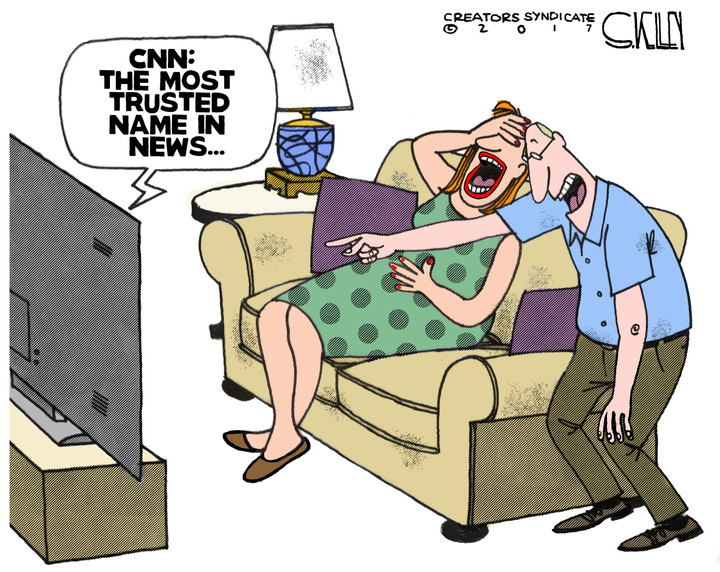 In a June panel discussion, CNN senior congressional correspondent Manu Raju addressed the attacks that descended upon him over a correct story about Tom Price's questionable investment decisions as a congressman. "You just cannot screw up in this environment because they'll use every small mistake to come after you and suggest that you have some nefarious motive in your reporting," he said.
And now, a variation on that rule: They'll use every big mistake to allege that you have some nefarious motive in your reporting.
Behind the reporting of Raju and Jeremy Herb, CNN on Friday reported something semi-scandalous. "Exclusive: Email shows effort to give Trump campaign WikiLeaks documents." The lead of the piece captures the claim: "Candidate Donald Trump, his son Donald Trump Jr. and others in the Trump Organization received an email in September 2016 offering a decryption key and website address for hacked WikiLeaks documents, according to an email provided to congressional investigators."
That email, reported CNN, was dated Sept. 4, 2016, and as the story details, the timing was significant. That was the very day, after all, that Trump Jr. first tweeted about WikiLeaks and Clinton. "WIKILEAKS: Hillary Clinton Sent THOUSANDS of Classified Cables Marked '(C)' for Confidential," read the tweet carrying a story from a Trump-favorable site.
Pretty wild - what a coincidence! Except.
The Washington Post reported Friday afternoon that the email was actually dated Sept. 14, 2016, and that it "indicates that the writer [identified as Michael Erickson] may have simply been flagging information that was already widely available." It also pointed the recipients to documents relating to Colin Powell on DCLeaks.com - those, too, had already been released. The email was among "a ton" of unsolicited emails that Trump Jr. received, according to his lawyer, Alan S. Futerfas.
CNN's story finds itself at a significant disadvantage to The Post story. Here's how CNN sourced its "scoop" on this email: "The email, which was described to CNN by multiple sources and verified by Trump Jr.'s attorney, came from someone who listed his name as 'Mike Erickson.'" And here's how The Post sourced its piece: "The email - sent the afternoon of Sept. 14, 2016 - noted that 'Wikileaks has uploaded another (huge 678 mb) archive of files from the DNC' and included a link and a 'decryption key,' according to a copy obtained by The Washington Post."
Beware the Benghazi Email Doctrine. Years ago, ABC News got itself into trouble by reporting on emails that had been described by others, but that the network hadn't actually seen. And who can forget the Bob Woodward email characterization snafu, when the famed journo spoke about a missive from the White House that he'd interpreted as a "veiled threat." When the text later surfaced, things didn't appear too threatening.
After The Post published its story, CNN moved swiftly to contain the backlash against its story. It tweeted this retreat: CNN's initial reporting of the date on an email sent to members of the Trump campaign about Wikileaks documents, which was confirmed by two sources to CNN, was incorrect. We have updated our story to include the correct date, and present the proper context for the timing of email.
And updates to the story include this important caveat: "CNN originally reported the email was released September 4 - 10 days earlier - based on accounts from two sources who had seen the email. The new details appear to show that the sender was relying on publicly available information. The new information indicates that the communication is less significant than CNN initially reported," reads the current version of the piece. Abridging The Post's story, CNN said that it "suggested that the individual may simply have been trying to flag the campaign to already public documents."
Which is to say that a matter of timing differentiated between a scandal and a ho-hum-message from some fellow. The centrality of time stamps to scandal coverage is a theme of recent major-media screw-ups on the Trump-Russia conflagration. Around this time last week, after all, ABC News reported that fired national security adviser Michael Flynn was prepared to testify that Donald Trump had directed him to make contact with Russia during the campaign, prompting shouts of "collusion." Oops, that directive had actually arrived during the presidential transition, according to the ABC News "confidant." Cue the walk-back. No scandal here.
CNN earlier this year forced the resignation of three staffers over a retracted report about Trump associate Anthony Scaramucci. Editorial guidelines weren't followed in that instance, said the network when asked why it had taken such drastic measures. At the time, it declined to specify just what parts of the story were off. In Friday's case, it's quite obvious: Where there was once a story, there's now some guy who sent an email. Asked about possible disciplinary measures, a CNN source responded, "There will not be any disciplinary action taken because every procedure put in place as part of the editorial process was followed. People don't get fired at CNN for making a mistake. They get fired when they don't follow editorial procedures."

Previously:

• 11/06/17: Everyone's talking about Bill O's TV future, but what about his accusers?
• 09/05/17: The New York Times still owes Sarah Palin an apology
• 06/27/17: Major ramifications for a story gone wrong
• 11/09/16: Election Day, cable news' nadir
• 11/02/16: Some questions for CNN on Donna Brazile
• 11/01/16: With question-leaking, CNN has a scandal on its hands
• 10/21/16: Clintonistas can't handle journalism
• 04/26/16: Trump giving Megyn three weeks to afford her all the necessary research time needed to pulverize
• 01/25/16: Lowry: Debate establishment is 'terrified' of Donald Trump
• 12/29/15: NYT magazine editor: 'It's safe to die at the end of December now'
• 11/09/15: In epic clash with George Will over book, Bill O' renounces journalism