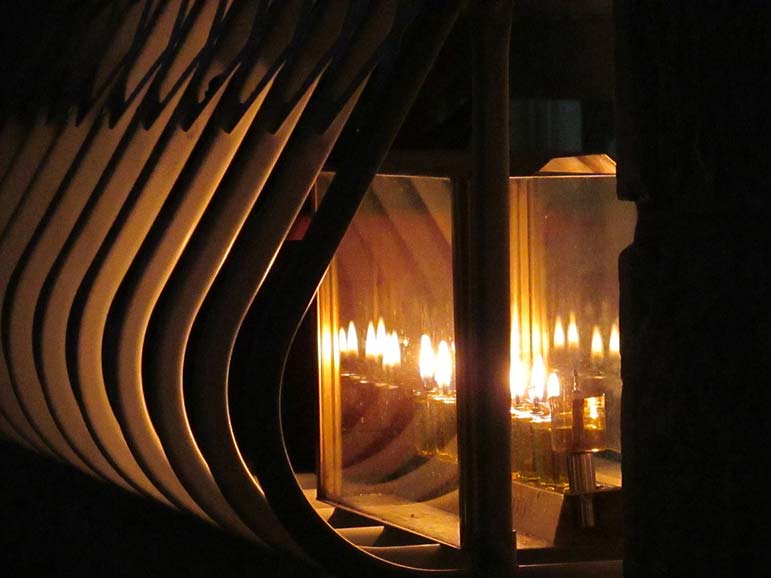 Fulfilling a Chanukah custom as an indicator of societal civility
Every Chanukah throughout my childhood, we put the menorah in the window and lit its candles. To tell you the truth, I never thought about it. As an adult, I still light the Chanukiah in a window open to the street. Growing up, I always felt safe. Civilized countries weren't anti-Semitic any longer and the Holocaust was over, "never again."
"Not so fast," we might say. Anyone can see an anti-Semitic resurgence in Europe. This "renaissance" sees Jews beaten up, the EU boycotting Israel and European media ignoring anti-Semitism while condemning Israel. Stereotypical caricatures of Jews are again in European newspapers and social media. Anti-Semitism raises its ugly head.
The Talmud's writers, wise in the rise and fall of anti-Semitic hatred and persecution, gave us choices. In times of safety, the Chanukiah is lit publicly in a window or outside; in times of danger, we bring the menorah inside to a table. The saving of life is always paramount.
One wonders if other religions ever had to take into consideration frequent swells of persecution and literal danger to life and limb and encode it into religious law. In too many times and places, being Jewish is an act of courage.
Interviewing Elizabeth Bard, an American living in Provence, about her recent memoir opened my eyes to the situation in France. In A Picnic in Provence she writes, "In Cereste, no one even knows I'm Jewish. It's not that I've kept it from people on purpose, exactly. But I haven't been screaming it from the rooftops either.
" This may sound weird, even cowardly, but Judaism in Europe is not something casual, like Seinfeld and whitefish salad in New York. It lives in the shadow of the Holocaust, and there are residual fears and cautions. When I hosted my first [Passover] Seder in Paris, at the end of the meal I asked each of my guests to sign the inside of their Haggadah.…It's a family tradition. I can trace a whole lifetime of family, friends, colleagues and lovers. There were two French Jews at the table that night; they both hesitated. 'It's no good to leave traces,' they said."
Bard's guests are not alone. Three-quarters of the French Jewish population fear to openly identify, according to a 2013 EU survey. European Commission Vice President Frans Timmermans said in a Der Speigel interview in January 2015, "In some (EU) states, the majority of the Jewish community is not sure they have a future in Europe."
Since 2006, 40,000 French Jews have immigrated to Israel, according to Agence Franc-Presse.
The situation in France is a cautionary tale previewing what may occur here if these trends continue.
At US universities, pro-Israel and Jewish speakers are protested, sometimes violently. Jewish students have been denied placement in student government. BDS, SJP and others are welcome to spread their hate. The UN is obsessively anti-Jewish and anti-Israel.
The heightened anti-Semitism sometimes comes from the extreme right, more often from the left, which pretends its hatred of Jews is merely criticism of Israel.
Haters of Jews are often in leadership positions.
• Keith Ellison, the Democratic Party's second in command is a former member of the racist and anti-Semitic Nation of Islam.
• Linda Sansour, Women's March leader, supports terrorists and Sharia Law and condemns Israel at every opportunity.
And the media is mostly silent when it comes to revealing the last decade's anti-Semitism.
• The progressives cozy up to Jew-haters and the diminishing KKK and Nazis still spew their hate. Law enforcement at UC Berkley stood down, ignoring black hooded protesters who violently blocked Jewish and gay Milo Yiannoupoulos from speaking, and set parts of the campus on fire.
And all across Europe, anti-Semitism rises from Liberal UK politicians, from Muslims no-go enclaves and from leftover Nazis. So we might ask today are there Jews afraid to place the menorahs in their windows? Will they hide them behind shuttered windows, feeling like the guests of Elizabeth Bard, "It's no good to leave traces."
At Chanukah, we celebrate more than the miracle of the oil. We remember the fight of the Maccabees for Jewish independence and freedom of worship against the Greeks and Syrians. It was an independence Jews thought worth fighting for 2,185 years ago.
The Maccabees could not realize then this fight would continue in modern Israel or that placing a menorah in the window might represent a danger. The recognition by the United States of Jerusalem as Israel's capital is one positive step.
We pray that those who kindle the lights behind closed windows will soon be able to open the shutters to let the light out.
I for one will have my menorah in the window. I hope you do too.
Comment by clicking here.
Susan Weintrob, one of JWR's very first contributors, is a retired educator who writes full time in Charleston, SC.

Previously:
• Permission to Speak, Please
• The Bashert Effect
• My Dad's Private War Against Murder Inc.
• Up Against The Wall
• Idiot Proof sukkah Building
• Who's Buried in Grant's Tomb? An Unlikely Story of Transformation and Repentance
• Healing and Cooking
• Celebrating denial?