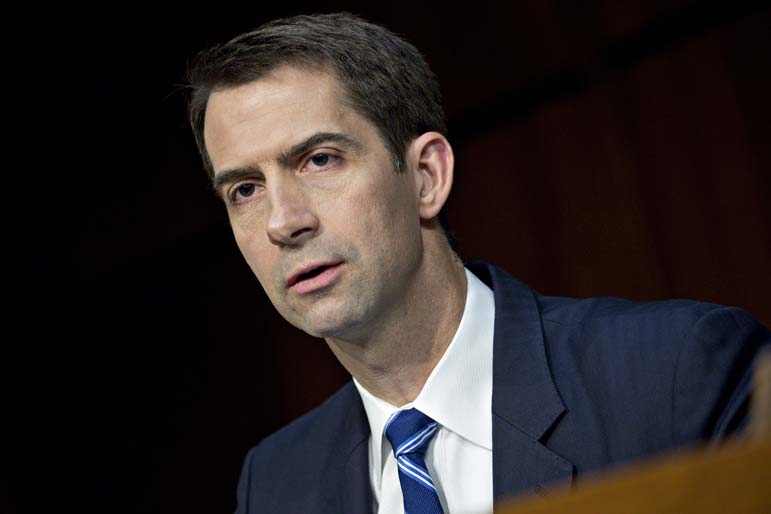 A 40-year-old icon among conservatives, Tom Cotton, R-Ark., seems to have limitless potential in the Senate. Not yet finished his third year in the upper chamber, Cotton is an in-demand figure on Sunday talk shows for his hard-line policy views.
Cotton seems poised for a presidential campaign at any point in the next decade or beyond, holding a safe Republican seat. Yet Cotton might be willing to chuck it all and move into President Donald Trump's inner circle as CIA director if a much-rumored shake-up of the national security team occurs.
Such a risky move would speak volumes, in two key ways, about how Cotton views his future. He falls in the camp of some young and ambitious politicians who hold in derision the dysfunctional nature of the plodding Senate. The possible move also shows that some Republicans believe Trump has fundamentally shifted their party going forward, and that planting a flag in the camp of the former reality-TV star is a better long-term bet than staying in the orbit of traditional conservative orthodoxy.
Cotton's pedigree has made the words "rising star" mandatory in any profile: A Harvard Law graduate, he enlisted in the Army and was awarded the Bronze Star serving in the 101st Airborne in Iraq. After winning a House seat in 2012, he immediately ran and won a Senate seat two years later.
But his independent streak makes him an odd fit in a chummy chamber such as the Senate. A few months after taking office in 2015, he led other Republicans in writing to the Iranian legislature asserting that if a Republican won the 2016 presidential campaign, he would invalidate the Obama administration's nuclear pact with Tehran.
Tall and lanky, Cotton often walks through the Capitol with a 1,000-yard stare, looking past his colleagues and the swarm of reporters asking the question of the day. He clearly is not excited about the legislative output in a chamber where even the GOP optimists are not ready to declare a rebirth of the Senate if it manages to soon pass a sweeping tax-cut plan.
Recently departed senators do not miss it very much. Daniel Coats, Trump's director of national intelligence, paused 10 seconds Thursday when he was asked to contrast his current role with the three terms he served in the Senate.
"There are a lot of days lately when not being in the Senate is probably better than being in it," Coats said in a brief interview Thursday in the Capitol basement.
Coats declined to discuss the supposed shake-up of Trump's team, first reported by the New York Times and confirmed by The Washington Post.
The moves would end the rocky tenure of Secretary of State Rex Tillerson, replacing him with CIA Director Michael Pompeo and slipping Cotton into Pompeo's current slot. It would put someone Trump trusts at the State Department, while rewarding Cotton - more loyal than most Senate Republicans - with the CIA post.
Yet this could carry great peril for Cotton's career, a risk-reward proposition that could blow up his national profile in the wrong way.
For starters, why does Pompeo want to move from the agency to State's seventh floor in Foggy Bottom?
"I could barely pick Pompeo out of a lineup" Sen. Bob Corker, R-Tenn., chairman of the Senate Foreign Relations Committee, said Thursday morning.
Corker was implicitly defending Tillerson's performance as the top diplomat, having just spoken "at length" to him by phone.
But Corker was also voicing an axiom of Washington influence: If your job is so top secret that you can't talk about it, then your national profile shrinks.
CIA directors fall below secretaries of defense and state in stature, appearing far less frequently on news shows and in public. The national security adviser, traditionally, has the president's ear on final decisions. And last decade the CIA position, formed after World War II, was split into two, with Pompeo reporting to Coats in the White House.
More than 20 men have led the CIA, and just one became president: George H.W. Bush, for whom the agency's Langley headquarters is named.
The most well-known directors achieved their fame through failings. George J. Tenet advised White House officials in 2003 that the intelligence of Iraqi weapons of mass destruction was a "slam dunk," one of the worst failures in CIA history. In 2012, David Petraeus resigned after acknowledging passing classified materials to his mistress, a biographer of the Army general.
Most other CIA directors used the post as a capstone to distinguished careers in the intelligence community or in Congress.
Moreover, members of Congress have had a mixed track record meshing into Trump's world. Tom Price, who left the House to become health and human services secretary, lasted barely seven months in the Cabinet, cast aside over a travel scandal.
Attorney General Jeff Sessions, after 20 years in the Senate, has been at loggerheads with the president since he recused himself from investigations into Trump's 2016 campaign because he served as an adviser.
Pompeo is a big exception, having earned Trump's trust through daily White House briefings. Now he might be getting a promotion into a bigger role, and it's certainly possible that Cotton could rise up through the ranks.
There has been a clear bet placed by Cotton, along with Sen. David Perdue, R-Ga., that the GOP's future is with Trump's more nationalist views, particularly on immigration and instituting an entry ban on nations with majority-Muslim populations.
A collection of other younger Republicans - Sens. Marco Rubio, Fla., Ben Sasse, Neb., and Cory Gardner, Colo. - have shied away from getting too close to an unpopular president. Another, Sen. Jeff Flake, R-Ariz., has made his opposition to Trump his hallmark after deciding he could not win reelection in today's Trump-led GOP.
Cotton might be ready to test whether those Republicans from his generation are wrong.
Comment by clicking here.
Previously:

• 11/02/17: Senate Majority Leader Mitch McConnell finally has something to brag about: Conservative judicial appointments
• 08/29/17: In the Year of the Deciding Vote, one Dem's corruption trial could change the Senate --- or not
• 08/28/17: President is distancing himself from Hill GOPers to inoculate himself from blame for midterm losses. He may be helping Dems take the House
• 07/27/17: GOP senators warn Trump that getting rid of Sessions would be terrible move
• 05/30/17: Rahm Emanuel on Dem problems: 'You're not going to solve it in 2018'
• 05/29/17: Sen. Lindsey Graham: Comey needs to be 'held accountable' over Clinton investigation decisions
• 05/29/17: Montana election proves liberal outrage isn't enough
• 03/22/17: Gorsuch steals Dems' line of attack
• 02/27/17: 'All politics is local'? Not any more
• 02/01/17: Fight over Supreme Court nominee could forever change the nature of ... the Senate
• 01/23/17: A possible cushion for Trump's Cabinet nominees: Dems with elections in 2018
• 01/12/17: Trump outsmarts Dems and their media sycophants yet again
• 01/11/17: Rubio is the man to watch in Tillerson's confirmation hearing
• 11/08/16: Sometimes even the best Senate candidates can't win
• 07/14/16: The likely end of vice presidents as congressional emissaries
• 05/02/16: Is the 2016 election about to change again? Dem Schumer, a one-man super PAC?
• 03/31/16: And now for some good newsCan Trump become so unpopular that Dems take back the House?