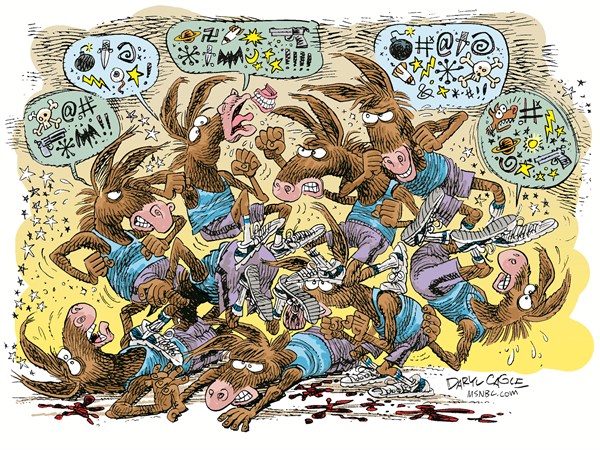 WASHINGTON - President Donald Trump got his first big legislative accomplishment this week. He also got a slew of very bad polling data.
Polls from Gallup, CNN, Monmouth University and Quinnipiac University all showed Trump's approval rating between 33 percent and 37 percent - among the lowest numbers of his entire presidency. And that same CNN poll showed Democrats taking a nearly unheard-of 18-point lead in the 2018 midterm generic ballot, becoming just the latest poll to show a very bad environment for not just Trump but his party, too.
And even one of Trump's better polls - from NBC News and the Wall Street Journal - showed that just 36 percent of Americans said they would at least "probably" vote to reelect Trump in 2020. A majority (52 percent) said they would at least "probably" vote for someone else. While just 18 percent said they would "definitely" vote for Trump, 38 percent said they would "definitely" vote against him.
Given all of that, and with just one year left until the unofficial start of the 2020 presidential race, you can bet a slew of Democrats are starting to get anxious to run against Trump. And depending on how that 2018 election turns out, you may see a bunch of them get into the race quickly. The field appears certain to be extremely big and wide open, and it could reward those who can lock down a base of support before others with claims to those same bases get in.
So whose stock is rising and falling at this early juncture? We ranked the top 15 possible Democratic nominees three months ago, and today we do it again.
As usual, they're ranked in ascending order of likelihood to win the Democratic nomination.
(Off the list: Mark Zuckerberg, Eric Garcetti, Tim Kaine, Sheryl Sandberg, Mark Cuban)
15. Dwayne Johnson (Previous ranking: N/A)
Yes, that Dwayne Johnson. The Rock keeps saying he might actually run for president - including this week, when he said he's "seriously considering" it. Yes, he tends to say these things when he's promoting a movie. And, yes, I know it seems ridiculous that a former professional wrestler would be a serious candidate. And, yes, we don't even know which party's nomination he would seek. But one regrettable reality of the Trump era is that we can't simply laugh off this stuff any more. At the very least, Johnson is a gifted communicator whom lots of people seem to like quite a bit.
14. Virginia Gov. Terry McAuliffe (Previous: N/A)
Another new entrant on this list, McAuliffe is exiting as a well-regarded, term-limited one-term governor next month. And he seems to be at least somewhat intrigued by running for the office he once spent his time trying to win for other people. For now, he's basking in a very strong 2017 election for Virginia Democrats, and he says he'll aggressively try to help Democrats win governorships in 2018. The big knock on him: Nobody on this list is closer to the Clintons, so he's not really a turn-the-page kind of candidate.
13. Former Starbucks CEO Howard Schultz (Previous: 11)
As I wrote back in September, Schultz seems to have the talking-like-a-candidate-while-insisting-he's-not-getting-involved-in-politics thing down. For example: "I think the country, in many ways, is in need of a moral, a cultural and an economic transformation." Also: "If we think about the country today - and I'm not talking about politics - I think the country needs to become more compassionate, more empathetic." Yep, definitely not talking about politics.
12. Former Massachusetts governor Deval Patrick (Previous: 12)
Patrick generally gives very little indication that he might run - although former president Barack Obama's team is reportedly urging him to do so. But he did go to Alabama to campaign for Democratic Sen.-elect Doug Jones earlier this month. And that's not nothing.
11. Oprah Winfrey (Previous: 11)
See: Dwayne Johnson. Add: An even more gifted communicator whom even more people seem to like a lot. She's been more oblique about actually running, but she certainly sounds intrigued.
10. New York Gov. Andrew M. Cuomo (Previous: 9)
While others on this list have taken a step forward during the sexual harassment debate, Cuomo has taken a step back. Asked about allegations against a former senior aide and what he perhaps could have done differently, Cuomo told a reporter, "When you say it's state government, you do a disservice to women, with all due respect, even though you're a woman." He added: "It's not government, it's society." If the current debate has shown us anything, it's that politicians would be best served not to downplay these issues when they hit close to home.
9. Ohio Sen. Sherrod Brown (Previous: 10)
On this list, Brown provides the most complete blend of progressive politics, populism, white working-class appeal, and coming from a vital swing state. That should never be discounted.
8. California Gov. Jerry Brown (Previous: 5)
I had Brown a bit higher on this list last time around, despite the fact that he turns 80 in a few months. And now California has moved its primary much earlier, to March. That's a huge swath of delegates for a California-based candidate to nab very early in the process.
7. Connecticut Sen. Chris Murphy (Previous: 3)
Murphy provided one of those perfunctory nondenial denials back in October. Asked by CBS News if he might run, he said: "I am not running for president. I am running for reelection to the Senate." This is what politicians say when they need to make sure they get reelected first. It's also completely in the present tense, so it will still be accurate if he does decide to run for president after he wins reelection in 2018.
6. New Jersey Sen. Cory Booker (Previous: 8)
Booker told Politico last month that it would be "irresponsible" for anyone to say they will or won't run for president in 2020 this far out. (In that spirit, I will also not rule out running.) This just feels like the time for Booker.

5. California Sen. Kamala D. Harris (Previous: 7)
A few months ago, Harris got out front when it came to supporting single-payer health care. Last week, she got out front when it came to calling for President Trump to resign. If the 2020 Democratic primary is a race to the left, she seems intent upon not letting anyone outflank her.
4. New York Sen. Kirsten Gillibrand (Previous: 6)
It was Trump's tweet about Gillibrand that sparked Harris to act. After Gillibrand herself had urged Trump to resign, he tweeted that as a New York senator she "would do anything for" campaign contributions - which many took to be sexually suggestive. It's difficult to imagine a bigger gift when it comes to raising Gillibrand's profile in advance of a 2020 run for the Democratic nomination. Gillibrand also recently said she thought Bill Clinton should have resigned in the face of his own sexual misconduct allegations, and she was the first senator to call for fellow Democratic Sen. Al Franken of Minnesota to step down.
3. Massachusetts Sen. Elizabeth Warren (Previous: 4)
If Warren runs, I think she tops this list. But I have a difficult time seeing her running if Bernie Sanders does, and I think Sanders is very likely to run. Warren has shown comparatively little inclination to run and hasn't been front-and-center in helping elect Democrats or speaking to the media - though the latter seems to be changing at least somewhat.
2. Former vice president Joe Biden (Previous: 2)
Biden remains in the second spot on this list, but not as firmly as before. The recent spate of sexual harassment allegations against politicians - and the reevaluation of past allegations - has put Biden's handling of the Clarence Thomas confirmation hearings back in the spotlight. Biden, who chaired the Senate Judiciary Committee at the time, has apologized morethan once for how Anita Hill was treated, while also stressing he opposed Thomas's nomination. But Hill has said Biden's apology isn't good enough. If the Democratic Party continues to make this a focal point over the next couple years, Biden's actions could be gone through with a fine-toothed comb in a way he would rather they weren't.
1. Vermont Sen. Bernie Sanders (Previous: 1)
A must-read story from Politico's Gabriel Debenedetti recently showed how Sanders conspicuously seems to be addressing the shortcomings that hampered his candidacy in 2016 - most notably his lack of familiarity with foreign policy and of inroads with powerful pro-Democratic groups, such as the American Federation of Teachers. Sanders has done nothing to diminish speculation that he will run again; the biggest question is, and will be, his age (76) - as it is with Brown (79) and Biden (75).