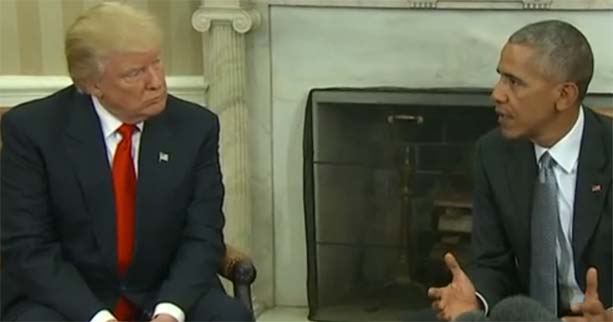 Typical of most every action since his surprise presidential victory, Donald Trump's choices and priorities in his first 100 days are subject to guessing and second-guessing.
Trump's laid out a simplified agenda in this YouTube video released a few days before Thanksgiving. The President-Elect said he'd withdraw from the Trans-Pacific Partnership deal, cancel environmental restrictions, establish a cyber-review panel and "investigate all abuses of visa programs that undercut the American workers" (that's about as deep as he went into the immigration briar patch).
Then there's the 100-day plan that Trump released in late October, in an address at Gettysburg. This one was far more ambitious, promising to work with Congress on both tax cuts and infrastructure in the opening weeks.
The question, then, is what to realistically expect from the new administration?
Let's rule out the gold standard, which is FDR's first three-plus months in office. No president's inherited a shakier economic or emotional situation - or, arguably, a Congress more eager to do a new president's bidding (Roosevelt got 15 major bills through Congress in his first 100 days).
The other end of the spectrum: Bill Clinton's first 100 days, a cross between some notable gets (pushing a $1.5 trillion budget through Congress in record time), personnel woes (a comical search for a female attorney general that eventually fell to Janet Reno) and a big strategic blunder (Clinton piled health care reform atop new energy taxes and deficit reduction, the result being a circuit overload on Capitol Hill).


If you're looking for a model that an early Trump presidency might mirror, ironically it could be that of the guy he's succeeding.
Over the course of his first 100 days in office, Barack Obama signed two major pieces of legislation - on day 29, the controversial $830 billion "stimulus package" (riddled with some appalling spending items, it didn't jump-start the economy or lower unemployment as promised); on day 51, a $410 billion spending package (Obama himself calling it "imperfect").
Some Obama milestones were longer on liberal symbolism than they were reversing the nation's condition - signing laws prohibiting sex-based wage discrimination, extending health insurance for low-income children and promoting national service.
The new President issued edicts reversing existing federal policy on stem-cell research, overseas abortion funding and preventing states from setting their own emissions and fuel-efficiency standards. He traveled to Istanbul to assure listeners that America was not at war with Islam.
Some other early gestures simply fizzled: an executive order declaring that the Guantanamo jail facility would be closed in a year; plans to develop a high-speed rail across the U.S.; a White House Task Force on Middle Class Families run by Joe Biden; vowing to remove U.S. troops from Iraq by August 2010 (delayed until a week before Christmas 2011).
Obama's first 100 days were plagued by personnel problems - former Sen. Tom Daschle withdrew his nomination to head the Department of Health and Human Services due to tax problems; New Hampshire Sen. Judd Gregg, the pick for Commerce, bailed over his differences with the stimulus spending bonanza.
The new president wanted a chief performance officer, but it turned out that his first choice had underperformed on paying her household-service taxes.
Obama also broke with a D.C. tradition: he was the first president since Grover Cleveland to skip the first white-tie Gridiron Dinner of his presidency.

Still, the media loved what they saw in the administration, with The Washington Post going so far as to hail Obama's first 100 days "A Bold Stamp on the White House".
Anyone willing to take a bet on what kind of review Trump gets if he (a) struggles with personnel, (b) signs spending bills he doesn't like, (c) blows off Beltway institutions and (d) engages in a lot of Republican small-ball gesturing?
There's one other takeaway worth noting about the early stages of presidencies: timing and organization are key.
Take the example of Obamacare.
Nancy Pelosi and fellow Democrats introduced the Affordable Health Care for America Act in July 2009, the House approving it four months later. On Christmas Eve, the Senate passed its version of the new law (America's Healthy Future Act).
But it's not until the following March that the measure is settled by budget reconciliation (a trick to get around Senate filibuster rules) and goes to the president's desk for signature.
The lesson: without the necessary votes lined up (Democrats couldn't line up 60 votes to break a Senate filibuster) and battered in the court of public opinion during those winter months, the weighted measure ended up herniating the Obama presidency.
A better example for Trump: the Economic Recovery Tax Act of 1981.


Obama spent his first 100 days talking up the stimulus package and what it meant for economic recovery. During that time, he didn't much use the presidential bully pulpit to make the case for revamping health care.
Reagan, on the other hand, gave a televised speech less than three weeks into his presidency in early 1981 making the argument for lower taxes and economic recovery. And he used the same bully pulpit to urge viewers to write to Congress demanding lower taxes.
The timeline on Reagan's win: his tax-cut plan was introduced in the House on July 23, 1981, and passed by the House six days later. A newly GOP Senate approved it two days (by voice vote). A joint conference committee gave its blessing on Aug. 4. Reagan signed it into law on August 13. Twenty-one days, start to finish.
Could Trump have the same swift victory on tax reform? Perhaps. Unlike Reagan, he's working with an all-Republican majority. But it remains to be seen if Trump will prove as effective at wielding executive pressure from the Oval Office - if he uses the early weeks of his presidency to make the case for lower taxes or, as Obama did with the stimulus, use infrastructure as a metaphor for economic growth.
With only half the 100-day timeframe remaining until he takes the oath, it's that question of how Trump sets up that first act that will keep us all guessing as to what his signature wins will be in 2017.
Comment by clicking here.
Bill Whalen is a research fellow at the Hoover Institution, where he studies and writes on current events and political trends. In citing Whalen as one of its "top-ten" political reporters, The 1992 Media Guide said of his work: "The New York Times could trade six of its political writers for Whalen and still get a bargain." During those years, Whalen also appeared frequently on C-SPAN, National Public Radio, and CNBC.