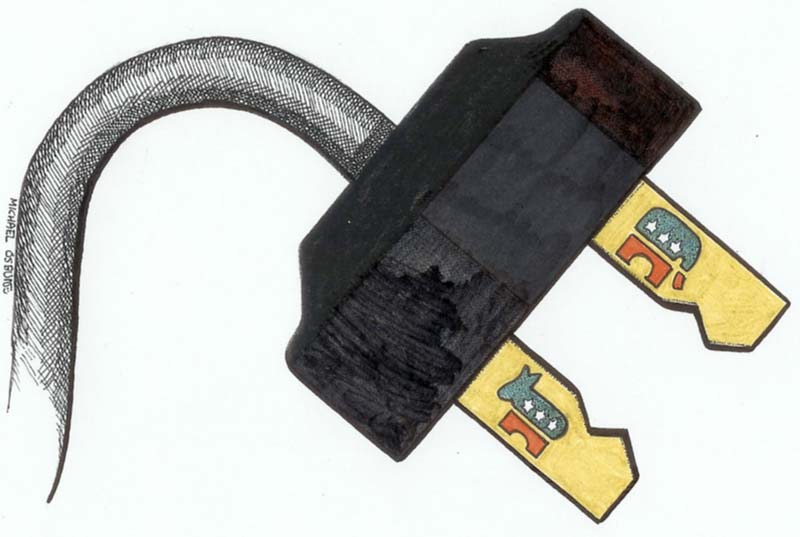 STEUBENVILLE, Ohio — Eight years after Gov. John Kasich, R-Ohio, was first elected in a squeaker over incumbent Democrat Ted Strickland at the height of the Tea Party movement, and four years after he rallied from a devastating first-term misfire (when voters rejected a GOP-backed state Senate bill that would have taken away collective bargaining power for public employees) Kasich earned a broad landslide in 2014. Voters hadn't given an Ohio incumbent so large a victory in decades , as Kasich cruised to victory over Cuyahoga County Executive Ed FitzGerald by more than 30 percentage points.
Since then, the economy which was collapsing in 2010 has rebounded, so has job creation, and Donald Trump won this state big, really big in 2016 --- so why isn't Republican candidate Mike DeWine, the current state attorney general and former U.S. senator, lieutenant governor, congressman, and state senator cake-walking to the governor's mansion over Democrat Richard Cordray?
It may be as simply explained as the "eight-year-itch," that voters desire a switch from party to party every eight years for their state's chief executive; a big problem for Republicans eight years after their healthy gains in the 2010 midterm election victories in governors offices, followed by more gains in 2014.
In all, Republicans currently hold a historic 33 governorships. In Tuesday's midterm elections, they are defending 26, to the Democrats' nine. If there is any for-certain "blue-wave" that is going to happen for Democrats in the midterm elections, it's in the governors offices.
This is the most meaningful blue wave that will happen to voters on a personal level. Governors and state legislators typically have more impact on the average voter than the federal government does – transportation, highways, education and school programs, children's health programs, etc. all largely come through the state legislative process.
But few in Washington, D.C., are paying attention to the likely gubernatorial blue-wave (outside of the newsier ones like the Georgia and Florida races).
Washington tends to only pay attention to what affects Washington, which boils down to control of Congress.
But there is something big at stake in these state races that would affect federal races: the power to gerrymander. Nearly all of the folks who win this year will have the power to approve or reject redistricted maps that will be drawn after the U.S. census in 2020.
"The implications of these campaigns go far beyond 2018," said David Turner, a Democratic Governor's Association spokesman, "With redistricting looming after the 2020 census, Democratic governors will be able to veto Republican gerrymandered maps evening the playing field for House races for the next decade."
(And let's not forget governors also love to run for president ).
"At the DGA, we have been building for this cycle for four years, as we knew Democrats would have a historic opportunity to pick-up a number of governorships, and we aren't wasting it," said Turner.
Democrats understood there was a major opportunity to make some significant gains knowing historic trends were on their side; they had the eight-year-itch, money, and candidate recruitment on their side, and understood that in running on localism rather than national issues they could make gains.
"Our campaigns are running strong, aggressive campaigns on the issues that matter in their states, and it's generating huge momentum as we head into Election Day," said Turner.
The perfect example is Michigan, where Gretchen Whitmer with her "Fix the Damn Roads" grabbed a hold on that issue early on. If you've ever ridden up the aptly named Mound Road in Macomb County, you know why this rallying cry is effective with voters.
Great ad, great candidate, simple as that.
Soon her Republican opponent, Bill Schuette, the current state attorney general, had no wiggle room once Whitmer took over the issue. Once Whitmer won that argument she was able to start winning the next argument, and the next argument, and the next argument.
It didn't help that Republicans had a messy primary in the state, a problem that wasn't unique to Michigan. Testy, ugly primary races plagued Republicans in Oklahoma, South Dakota, and Kansas which have all played a role in Democrats sitting in the cat bird seat in those races.
In South Dakota, state Sen. Billie Sutton, a prairie populist Democrat, is in a virtual tie with Rep. Kristi Noem. If Sutton wins, it will mark the first time a Democrat would win the office since 1974, a win that would end the longest GOP hold on a governor's office in history.
Pennsylvania was always going to be a walk for Democrat Gov. Tom Wolf. The Republican primary was petty fight between businessman Paul Mango and state Sen. Scott Wagner. Wagner never got off the ground with a message, long before his campaign ran an ad with Wagner threatening to stomp on Wolf's face with golf spikes late last month.
That visual served as a stark contrast to Wolf, who has a gentle style that resembles Mister Rogers.
Gov. Scott Walker's biggest problems in Wisconsin are two-fold: he's trying to earn voters support for the fourth time in eight years, something nearly impossible for even a well-liked politician, let alone one that has been an unsuccessful target of Democrats for years, including a recall election in-between his 2010 and 2014 election victories.
Walker is facing your sort of typical head-down no-nonsense Midwesterner in Tony Evers, the superintendent of Wisconsin schools, and the best challenger Walker has faced in his career. Evers fits the state as a whole, rather than the upper-enclaves of progressive Madison.
There are plenty of uncertainties in these close races, including Wisconsin, Florida, South Dakota, Nevada, Ohio, and Georgia which all seem to be jammed up in a tie.
Rhode Island and Connecticut have seen quirky years for Democrats. Gov. Gina Raimondo, D-R.I., is highly unpopular as she faces Cranston, Rhode Island mayor and Republican nominee Allan Fung in a rematch that's complicated by a third-party run by a Trump enthusiast who is dividing Republicans.
In Connecticut, Republican Bob Stefanowski just earned a slim polling lead over Democrat Ned Lamont – placing Democrats in the odd position of possibly gaining more ground in the prairie states than in New England.
Democratic pollster John Anzalone, who is working on a number of races in the country, said several things are at play in governor's races that snowball into what potentially looks to be a very good night for Democrats running for governor: getting the right candidates to fit their state, raising money off of those good candidates, and striking a contrast in tone and message from what is coming from Washington.
"The political environment chafing off of Trump has brought really good candidates into the cycle. And money follows the cycle. It follows the political environment and it follows quality candidates. But I think that the broader point is that these races are also so much more important than Congress, because one, governors get things done, coffers are starting to get fat and full, and they have a voice in redistricting, and that's a really big deal," he said in an interview.
But if Democrats pull off a good night, no one worth a grain of salt in the Democratic Party is ready to get ahead of themselves and think the Rustbelt Midwest states like Iowa, Wisconsin, Michigan, Pennsylvania, and Ohio are free and clear for the Democratic presidential nominee in 2020.
Democratic wins mean they picked good candidates or retained good candidates who fit their states, many of whom are pragmatic managers who've run on optimism and localism rather than fiery ideologues. That's much different than the rhetoric and ideology that comes from the potential Democratic candidates in Washington who are lining up to run in 2020.
(COMMENT, BELOW)
Salena Zito is a CNN political analyst, and a staff reporter and columnist for the Washington Examiner. She reaches the Everyman and Everywoman through shoe-leather journalism, traveling from Main Street to the beltway and all places in between.