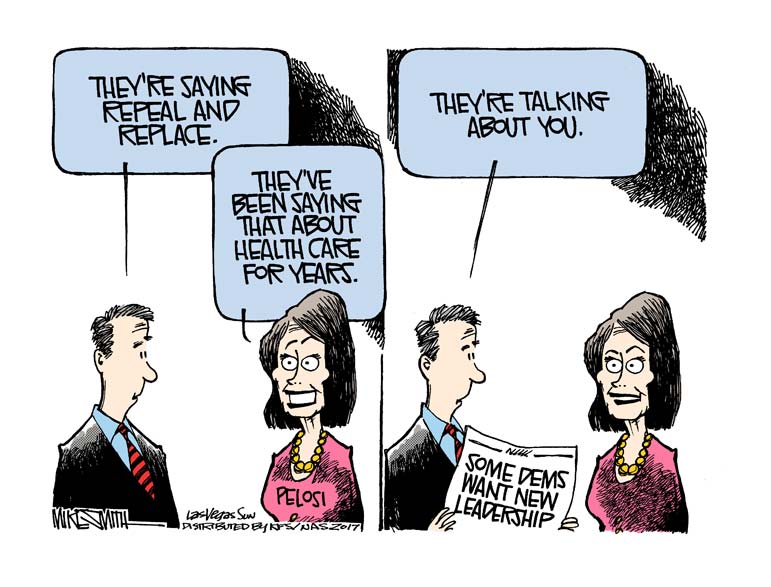 One of my favorite columns from the past week was penned by a former Maryland congresswoman who would have us believe that "there's only one choice to be the next Speaker": Nancy Pelosi.
The truth is: there's more than one choice.
Millions of them actually.
Or so the U.S. Constitution informs me. Article 1, Section 2 states, "The House of Representative shall chuse (sic) their Speaker and other Officers."
There are no clauses which specify that a Speaker has to be a sitting House member, although every Speaker in U.S. history has come from those ranks.
What this means: if Democrats wanted to get creative about their choice of party avatar other than Pelosi, until a presidential nominee comes along, they have options.
I'm not alone in this thinking.
On the Friday after Election Day, The Washington Postran this op-ed suggesting that Stacey Abrams, the disgruntled runner-up in Georgia's gubernatorial contest, would make a dandy Speaker ("Abrams is precisely the sort of inspirational leader that the moment demands," it read, "and the move would send a clear message to voters that their concerns have been heard — and that Democrats can find innovative ways to elevate the next generation of party leaders.")
Then again, The Post also ran the aforementioned op-ed by former Maryland Rep. Donna Edwards in praise of Speaker Pelosi 2.0.
This matter won't be resolved until after the Thanksgiving holiday. The Speaker-in-waiting will use the time to lock down enough votes to quell any challenge to her ascent. Smart fence-sitting House members should be ready with their demands (committee assignments, funneling money back to the home district).
In the meantime, I'd like to offer a few alternatives to Pelosi.
Stacey Abrams. I might have gone along with this a week ago, but her graceless handing of the outcome in Georgia changed that.
In Arizona, Republican Martha McSally took to Twitter (joined by her dog) to concede her Senate race to Kyrsten Sinema ("I wish her success. I'm grateful to all those who supported me in this journey. I'm inspired by Arizonans' spirit and our state's best days are ahead of us.")
In Florida, Democrat Andrew Gillum chose Facebook Live for his gubernatorial concession ("We promised to fight until every vote was counted, and obviously we are now closing out the hand recount phase,")
Abrams calls her opponent a "legal" governor, but won't concede that he was legitimately chosen. That's precisely the wrong ambassador for Democratic House members hoping to convince voters that they're not a one-trick, Trump-is-illegitimate pony.
Joe Biden. Yeah, yeah, I know he's gearing up for a 2020 run. But isn't Biden, with his 36 years in the U.S. Senate, more of a creature of Capitol Hill that Iowa or New Hampshire?
The argument for Biden: if Democrats want to relate to blue-collar voters in Pennsylvania, Michigan and Wisconsin, who better than "Joey from Scranton" to do the talking?
The argument against: there's a generational undercurrent to #neverPelosi: she's 78 and has been in leadership positions for 16 years now. Biden turns 76 on Tuesday; he was wrapping up his second year in the Senate right around the time Leonardo DiCaprio came into the world.
Beto O'Rourke. If it's a youthful appearance House Democrats want, why not the fabled, 46-year-old runner-up in Texas' Senate race (full name: Robert Francis O'Rourke . . . just like Robert Francis Kennedy)?
The argument for O'Rourke: in addition that Kennedyesque charm, he's represented Texas' 16thCongressional District, so he knows his way around the House. And his fundraising acumen may surpass Pelosi's.
The argument against: once you get past the thought of the man second in line to the presidency spending his nights skateboarding in fast-food parking lots, think of all those 2020 hopefuls who cringe at the thought of Speaker O'Rourke seated next to Vice President Pence at next year's State of the Union Address.
Willie Brown. For those non-Californians reading this, he's the former Speaker of the California State Assembly whose record 15-year reign over the chamber inspired the push for term limits in the Golden State (Proposition 140, approved by voters in 1990).
The argument for Brown: he didn't merely control his Democratic members – his nickname was "the Ayatollah of the Assembly" for his iron-fisted rule. How effective was Brown? At one point, Republicans had enough seats to run the chamber; Brown promptly flipped a dissident GOP member and maintained his leverage.
The argument against: Brown's paper trail – namely, his Sunday San Francisco Chronicle columns. Among his observations: "Hillary Clinton lost the presidency not only because of the anti-Obama backlash, but also because we Democrats went slack, then did what we so often do – we fought among ourselves." And, with regard to the Kavanaugh nomination: "No one vote – not even for a Supreme Court justice – is worth costing your party a Senate seat for six years. Especially when the other party is more likely to hold the seat not for just six years, but for decades."
Alec Baldwin. You're were probably thinking: Alyssa Milano. If the prevailing liberal mentality dictates that celebrities are vote-getters (thus the presence of Oprah Winfrey and Will Ferrell in Georgia to stump for Abrams), why not trust one with power?
The argument for Baldwin: star power, knows his politics and it may be the right career move what with his television talk show condemned moved to December Saturday nights on ABC.
The argument against: Baldwin's politics are complicated (that includes his relationship with the #metoo movement). And there's the anger issue.
Now that we've had our fun with alternatives, a serious thought: Pelosi may seem the right choice for Democrats given the dues she's paid since losing the Speakership in 2010 – even the sentimental journey of returning the Democrats to power.
But it makes zero sense for a party trying to brand itself as an agent of change and a better approach to government. Think of House Republicans control in 2022 and trusting their fate in . . . John Boehner (talk about "tanned, ready and rested").
Does Pelosi get her old job? Probably.
Will Democrats regret their choice? Could be.
Bill Whalen is a research fellow at the Hoover Institution, where he studies and writes on current events and political trends. In citing Whalen as one of its "top-ten" political reporters, The 1992 Media Guide said of his work: "The New York Times could trade six of its political writers for Whalen and still get a bargain." During those years, Whalen also appeared frequently on C-SPAN, National Public Radio, and CNBC.