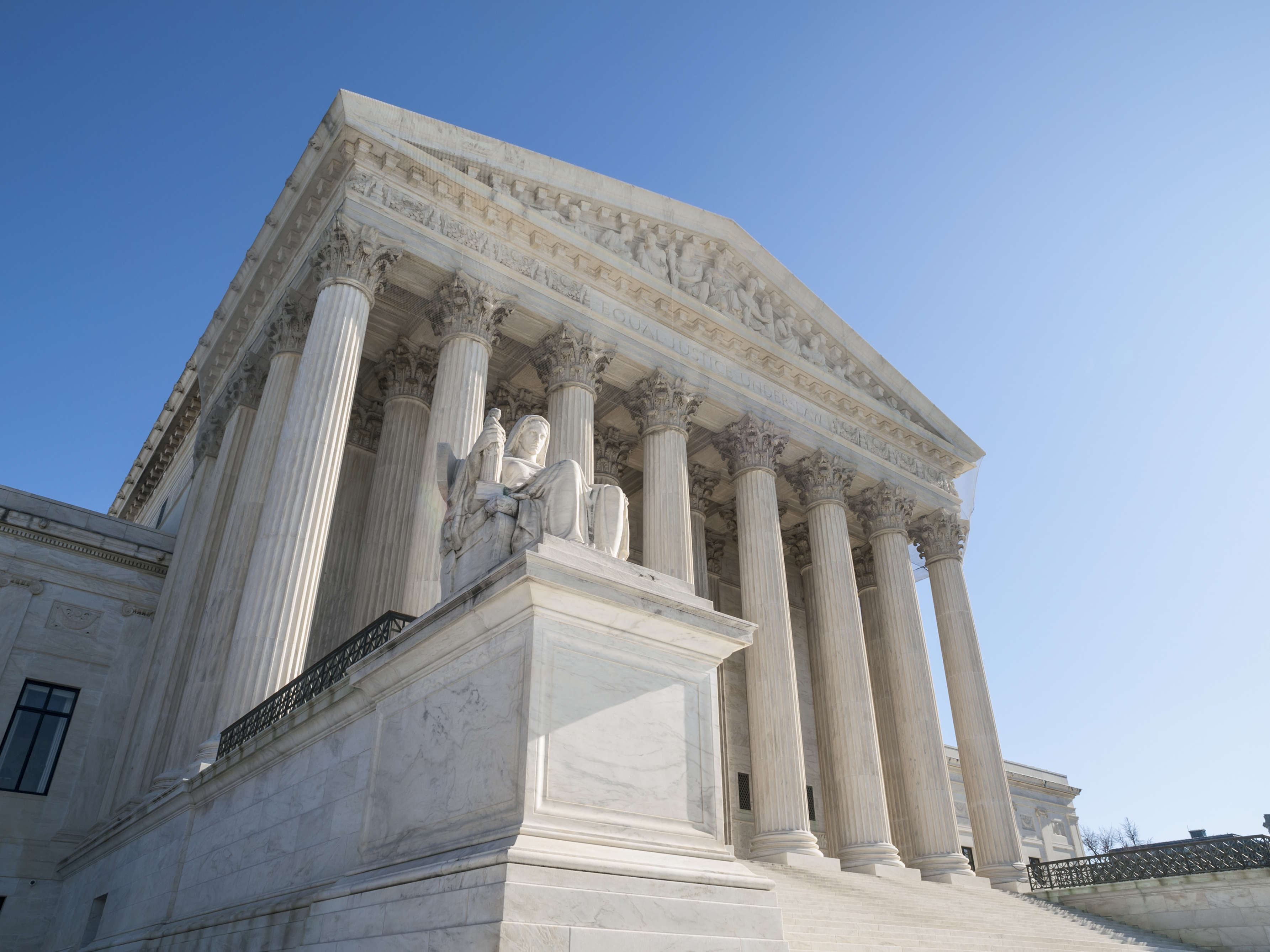 WASHINGTON - Justice Ruth Bader Ginsburg's hospitalization for fractured ribs is a stark reminder of President Donald Trump's power to shape the Supreme Court with the help of an even more conservative Republican-led Senate.
Ginsburg, 85, fell in her office Wednesday evening, according to a statement from the Supreme Court. After experiencing discomfort overnight, she was admitted to George Washington University Hospital, where tests revealed she had fractured three ribs on her left side.
While there were no indications that Ginsburg's injury was serious enough to prompt her to consider stepping down - she has lined up clerks through the 2020 term - it underscored that the more liberal members of the court are aging, and another bitter confirmation fight could happen before the end of Trump's first term. Justice Stephen G. Breyer turned 80 this past summer.
"Ruth Bader Ginsburg has been through a lot more than three broken ribs and is functioning at a high level. I think hopefully we count on her for quite a while longer," Sen. Richard Blumenthal, D-Conn., a member of the Senate Judiciary Committee, said in an interview. "But the court is susceptible to illness or death for openings on the part of any of them. And we need to be aware and wary about the potential imminence of another opening."

How long Ginsburg will remain on the court has been the topic of quiet speculation among leaders of both parties in recent years. The liberal jurist turned aside calls on the left to retire when President Barack Obama could name her successor and has said she wants to work until she's at least 90.
She has battled two forms of cancer without missing a day of the court's work and underwent a heart procedure in 2014. This is the third time Ginsburg has broken ribs.
White House counselor Kellyanne Conway told reporters Thursday that Trump and others at the White House were wishing Ginsburg a full and speedy recovery. "We're praying for her, and we know how tough she is," Conway said.
After a polarizing confirmation fight, the Senate last month narrowly confirmed Justice Brett Kavanaugh, who denied allegations of sexual misconduct when he was in high school and college. Kavanaugh succeeded Anthony Kennedy, a crucial swing vote on the court. A departure by Ginsburg or Breyer would enable Trump to push the ideology of the court even further right.
Still seething from Kavanaugh's contentious confirmation, Democrats are expected to face stiffer head winds when it comes to the federal judiciary next year. Although Republicans lost control of the House in Tuesday's midterm election, they held their majority in the Senate with wins by staunch Trump allies.
"This is a mandate to move full speed ahead," said Carrie Severino, chief counsel at the Judicial Crisis Network, a conservative group.
The Senate has sole responsibility for confirming federal judges, and Majority Leader Mitch McConnell, R-Ky., has taken full advantage during the Trump presidency. In addition to installing Kavanaugh and Justice Neil M. Gorsuch on the high court, the Senate has confirmed 29 appellate judges, the most during a president's first two years, and 53 district court judges.
Beginning next year, McConnell and Trump will likely have more breathing room, after picking up seats in Missouri, Indiana and North Dakota. They were working with a 51-49 majority during the Kavanaugh fight, leaving them with almost no margin for error.
Moderate Democratic Sens. Sen. Heidi Heitkamp of North Dakota and Joe Donnelly of Indiana, who voted against Kavanaugh's confirmation, will be replaced by Rep. Kevin Cramer , North Dakota, and businessman Mike Braun, strong Trump backers who ran on Democratic opposition to Kavanaugh and the importance of confirming judges.
In Missouri, Sen. Claire McCaskill, D, who voted against both of Trump's Supreme Court nominees, will be replaced by state Attorney General Josh Hawley, R. Hawley ran aggressively against the Democratic resistance to Kavanaugh.
Republicans may gain another seat in Florida, where the race is still too close to call. Arizona, which Democrats are looking to flip, is also still too close to call. Democrats did pick up one Republican-held seat, in Nevada.
Republicans are favored to hold a seat in Mississippi in a runoff later this month. If they do, they will ensure a majority of at least 52 members, regardless of what happens in the other outstanding contests.
Part of any calculation for McConnell were moderate Republican Sens. Susan Collins of Maine and Lisa Murkowski of Alaska, both supporters of abortion rights. With more conservative Republicans in the Senate, and Vice President Pence able to break a tie, the votes of Collins and Murkowski will matter less.
Trump and Senate GOP leaders said they believe Kavanaugh's confirmation in the face of impassioned Democratic opposition propelled their candidates to victory. They are expected to keep up an aggressive pace of filling the courts in the new year.
"You know what my top priority is. I've made it very clear. It's the judiciary," McConnell said Wednesday.
Senate Minority Leader Chuck Schumer, D-N.Y., accused Republicans of being determined to pack the courts with judges hostile to women, health-care protections and gun control laws. "In the long run, it's going to hurt them far more," he said of the GOP.

Senators will return to work next week for the first time since the midterms. Part of their business in the weeks ahead will be figuring out committee assignments and chairmanships. Among the biggest question marks is who will head the Judiciary Committee, which is tasked with holding hearings on Supreme Court nominees.
Sen. Chuck Grassley, R-Iowa, the current chairman, is deciding whether he wants to continue helming the panel or lead the Finance Committee. He is second in line on Finance, which is chaired by retiring Sen. Orrin Hatch, R-Utah.
"Sen. Grassley will consult with his colleagues when the Senate returns next week and will then announce his decision," said his spokesman, Michael Zona.
If Grassley opts for the Finance post, Sen. Lindsey Graham, R-S.C., is in line to head the Judiciary Committee. A onetime Trump critic and presidential rival, Graham has transformed himself into one of the president's most vocal champions on Capitol Hill. He furiously lashed out at Democrats during a hearing in which Kavanaugh testified.
The Judiciary Committee will also be tasked with examining Trump's eventual nominee to replace Attorney General Jeff Sessions, who resigned Wednesday at the president's request. Graham and Trump discussed the opening Thursday in the Oval Office, the senator said.
Graham also joined Trump at Kavanaugh's formal investiture at the Supreme Court on Thursday.