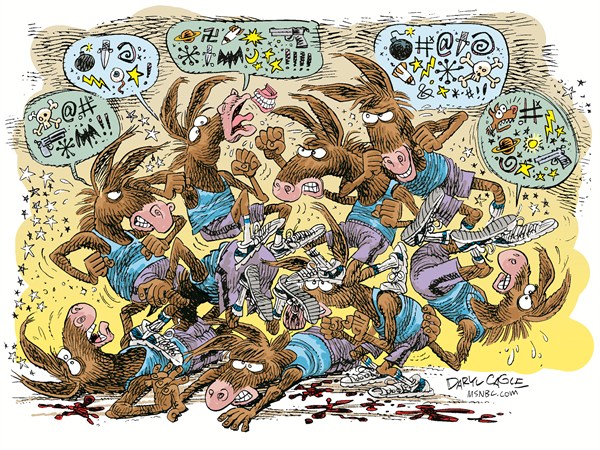 With Democrats in control of the House, will the Congressional Progressive Caucus become a lefty version of the Freedom Caucus? The bloc of three dozen conservatives ousted John Boehner and caused countless headaches for Paul Ryan, making the House ungovernable at times over the past eight years.
"The question comes up often," said Rep. Mark Pocan, D-Wis., the co-chair of the Progressive Caucus. "Are you guys the tea party on the left? The difference is the tea party liked to say no, and we like to say yes. We've got lots of great policy ideas that we're going to be advocating for. . . . That's the biggest distinction."
Pocan led a daylong orientation session on Monday at the AFL-CIO headquarters for the 20 or so incoming House members who plan to join the group, which will bring its total membership to about 90. The exact number depends on the outcome of a handful of races that still haven't been called a week after the election. Behind closed doors, they discussed how they can best leverage these numbers to maximize their influence in the upcoming House leadership elections and perhaps force votes on bills that advance their top priorities, such as Medicare-for-all, even if they're dead on arrival in the Senate and certain to be vetoed by President Donald Trump.
"A number of [Democratic] members . . . prefer to spend their life in the fetal position, rocking in the corner of a room," Pocan said. "We don't do that. We're the folks out there trying to advocate for big change. We're going to fight like hell to get those things done, and that's what we're going to expect out of leadership, as well."
Democrats will probably end up with a majority of between 13 to 16 seats, which leaves little margin for error and thus gives liberals immense bargaining power if they stick together. Thirteen current members of the Progressive Caucus are poised to become committee chairs, and another 30 are slated to lead subcommittees. This could create a governing challenge for Nancy Pelosi, assuming she becomes speaker, because many incoming freshmen ran as moderates in typically right-leaning suburban swing districts.
"It's not just about Pelosi," said Rep. Pramila Jayapal, D-Wash., an incoming co-chair of the Progressive Caucus. "Pelosi is a progressive. She was one of the founders of the Progressive Caucus. But if she's speaker of the House, she can't hold that progressive line. Her job is to really bring people together. Anybody in that role, that is their job."
Jayapal and Pocan have a sit-down scheduled for Thursday with the San Francisco congresswoman, plus separate sessions with Steny Hoyer, who is her No. 2, and Jim Clyburn, who is No. 3. "We are concerned not only about the top spot," said Jayapal, the first Indian American woman elected to Congress. "We think there needs to be strong progressive voices in a number of different spots in order to reflect the size of the Progressive Caucus and the energy that came from the base [in the election]."
She's personally supporting Barbara Lee from Oakland in the race for Democratic caucus chair, for example. That job is only open because Joe Crowley of Queens lost unexpectedly to Alexandria Ocasio-Cortez in a primary this spring. Lee, a member of the Progressive Caucus, is facing Brooklyn's Hakeem Jeffries, another African-American who is also a member.
Ocasio-Cortez, who at 29 just became the youngest woman ever elected to Congress, has joined the Progressive Caucus and appeared at a news conference on the sidelines of the orientation session. She spoke critically of Pelosi during the campaign but declined to say how she'll vote in the leadership races. Last week, Ocasio-Cortez made headlines when she said she cannot afford to pay rent for an apartment in Washington until her government salary kicks in come January. The former bartender, who identifies as a democratic socialist, said Monday that she's spending as much time as possible in her hometown until then. She said she's saved up enough to make it work.
"I don't need to move to D.C. until work starts anyway," said Ocasio-Cortez.
"She, and everyone, is welcome to crash at my place," Pocan told the group.
Ocasio-Cortez was one of several outspoken liberals at Monday's event who became national political celebrities this year: Rashida Tlaib of Detroit and Ilhan Omar of Minneapolis are the first Muslim women ever elected to Congress. Ayanna Pressley of Boston toppled 10-term incumbent Mike Capuano in a primary to become the first African-American woman to represent Massachusetts. Joseph Neguse, the 33-year-old son of Eritrean refugees, won an open seat outside Denver. Veronica Escobar, a Latina from El Paso, will replace Beto O'Rourke of Texas. Deb Haaland of Albuquerque, New Mexico, will be one of the first Native American women in Congress.
With this fresh crop of new faces, the Progressive Caucus has ambitious plans to take on a much bigger public profile. Its PAC raised $300,000 last year - and $1.8 million this year. Last month, the group launched a center to improve coordination with liberal outside groups. There are plans to raise money to hire and place full-time fellows in congressional offices. The group even paid last month for the first time to conduct a national poll to help shape its messaging. Another extensive poll is planned for January. "We want people to know this isn't your mother or father's Progressive Caucus," said Pocan.
The sheer size of the Progressive Caucus will make it harder for them to stick together than it has been for the Freedom Caucus. But Republicans have also learned over the past two years that it's much easier to stay united when there's a president of the opposite party. Barack Obama kept the factions of the GOP together most of the time. For Democrats, dislike for Trump will be the biggest driving factor behind party unity for the next two - maybe six - years.
Republicans will vote this week on their leaders, and current No. 2 Kevin McCarthy is expected to easily best Freedom Caucus leader Jim Jordan for the role of House minority leader. But the Democratic leadership votes won't take place until after Thanksgiving. Two weeks is an eternity during these kinds of fights because they play out largely behind the scenes and can involve Machiavellian machinations.
No one has stepped forward to challenge either Pelosi for speaker or Hoyer (Md.) for majority leader. Clyburn, of South Carolina, is facing a challenge from Diana DeGette of Denver for the No. 3 spot of majority whip.