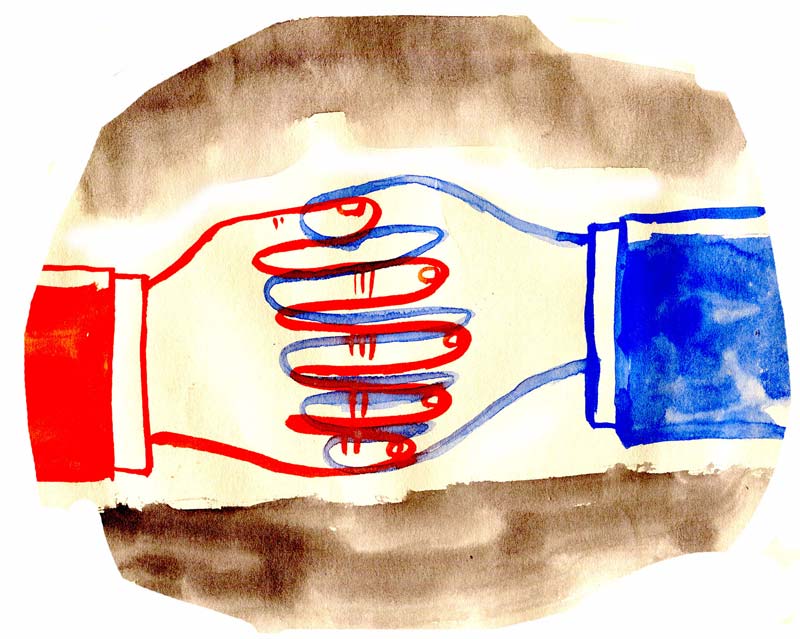 WASHINGTON - Conservatives who have learned to love President Donald Trump, a relative newcomer to their movement, could emerge from Tuesday's election anxious that he might now leave them in the cold to cut deals with newly empowered congressional Democrats.
On the horizon are an array of hot-button issues that are top priorities for conservatives but could prove tempting areas of compromise for the famously transactional Trump as he seeks to repair his presidency ahead of the 2020 election.
Those include the next federal budget and an expiring debt limit in March, along with potential bipartisan talks on politically sensitive matters such as immigration and health care, both of which have been central to the midterm campaign.
"He has carried the ball as effectively as anybody for the right, but the reality is, there is not a deep philosophical bent there," said Ed Rollins, co-chairman of the pro-Trump Great America super PAC. "He's always been about getting what you can get."
The potential for a conservative reckoning comes at a fragile moment for a movement that had largely abided by traditional conservative principles on foreign and domestic policy since Ronald Reagan's presidency but has in recent years moved sharply toward Trump's unorthodox and nativist politics.
Trump has fundamentally redefined the modern Republican Party, lurching a historically free-trade institution toward protectionism on trade and infusing its appeals with racially charged conspiracy theories, rampant demagoguery and proud declarations that he is "absolutely a nationalist."
Those cracks, however, have mostly been papered over as conservatives have relished their influence inside the White House and Republican majorities in both congressional chambers, beaming behind Trump in the Rose Garden and Oval Office as he has scribbled his signature on their bills. Conservatives have celebrated his role in revamping the federal judiciary, passing a sweeping tax cut and significantly increasing funding for the U.S. military.
Trump has come to view many of the conservatives in the Republican leadership as useful, effective allies.
"You know, he goes down as the greatest leader, in my opinion, in history," Trump said of Senate Majority Leader Mitch McConnell, R-Ky., at a rally last month.
Yet, with Democrats gaining control of the House, a new reality in Washington could unwind those relationships. And just as easily as Trump embraced conservatives, he could choose to leave them behind, a backbench minority with no clear leader and a hazy path forward.
In the coming weeks, House Republicans will hold leadership elections where loyalty to Trump could be prized more than conservative bona fides, as House Majority Leader Kevin McCarthy, R-Calif., and other Trump allies are expected to launch bids, with few if any of them showing any interest in challenging his authority.
Trump, meanwhile, could ignore budget hawks and the federal deficit and rally behind a more than $1 trillion infrastructure bill next year.
"He's able to move a bit because he is set with the conservatives for the next 10 years because he picked Pence and put two justices on the court," said John Brabender, a Republican consultant who works with Vice President Mike Pence's team.
House Minority Leader Nancy Pelosi, D-Calif., said Tuesday on PBS's "NewsHour" that infrastructure "has always been nonpartisan. Hopefully we can work together to advance that agenda." Pelosi, however, could face leadership challenges of her own in the coming weeks amid Democratic unrest.
"Can we get along? Maybe," Trump said last month on "Fox & Friends," when asked about how he would handle a Democratic-controlled House.
Trump could also work with Democrats to lower the cost of prescription drugs. That is a prospect that Pelosi acknowledged to PBS, saying it's possible "if the president is serious."
A year ago, Trump worked with Democratic on a spending agreement that alarmed conservatives - and reminded them that the former real estate investor and ex-Democrat could turn on their cause.
"The deal is a warning to Republicans - primarily to the party establishment, which has fought Trump at every turn, but also to conservative Republicans, who have long worried about Trump shifting leftwards," Breitbart editor Joel Pollak wrote at the time on the hard-line conservative website.
Another ominous prospect for GOP leaders is Trump raging at his party and using them as a target as much as the Democrats, should he lash out over coming struggles and stalled items on his to-do list.
In the Senate, where Republicans appeared to be expanding their majority on Tuesday, there have been tensions between Trump and Republicans in the past year, particularly with more centrist voices such as retiring Republican Sens. Bob Corker of Tennessee and Jeff Flake of Arizona.
"The grass-roots conservatives are screaming for new leadership in Congress and he could play into that," longtime conservative operative Richard Viguerie said.
An obstacle for conservatives wary of a coming Trump breach is his dominance and popularity within the conservative media and his extraordinary reach on social platforms. His stature on the right and ubiquity on the airwaves makes it difficult for any criticism or GOP rival to get traction.
When retiring House Speaker Paul Ryan, R-Wis., spoke out against Trump's call to end birthright citizenship, for example, Trump dismissed him with a tweet, writing, "Paul Ryan should be focusing on holding the Majority rather than giving his opinions on Birthright Citizenship, something he knows nothing about!"
"Right now, how do you think a primary would go? Not great, OK?" Ohio Gov. John Kasich, a Republican and Trump critic considering a 2020 bid against Trump, told MSNBC this week, nodding to that challenge.
There is a precedent for presidents moving toward the political center following midterm reckonings. After the GOP takeover of the House in 1994, President Bill Clinton worked with then-Republican House speaker Newt Gingrich on passing a balanced budget, and overhauling welfare rules. President Barack Obama huddled with House Republicans after they won the chamber in 2010 and sought out a bipartisan deficit-reduction agreement, but the talks eventually collapsed.
Gingrich rejected the suggestion that Trump could follow the Clinton example and change his political persona.
"There's really no hope of that - he's not Clinton," Gingrich said. "After doing all of these rallies, he's not going to suddenly start undermining his own political base and his own reelection chances. He knows that if you start to play the role that Bill Clinton tried to play, your base is going to hate you."
David Gergen, a former senior adviser to Democrat and Republican presidents, including Clinton, said "history suggests that smart presidents usually self-correct after these moments, they take stock."
Despite the angst over Trump, many conservative leaders argue that the alliance with the president has been worth it even if it may be fleeting or turbulent, generating scores of legislative and policy advances that their movement had unsuccessfully pursued for years until Trump won office.
Before Trump, anti-tax activist Grover Norquist long said that the conservative movement was simply seeking a president with "enough working digits to handle a pen" that could sign their bills into law.
In Trump, conservatives found a willing if erratic champion - and Norquist is optimistic he will still hew to the right.
"There wasn't some deal with us, some collective choice. Trump won," Norquist said. "And Trump has been more Reagan than Reagan on judges, tax and regulatory policy. That's what matters."
(COMMENT, BELOW)