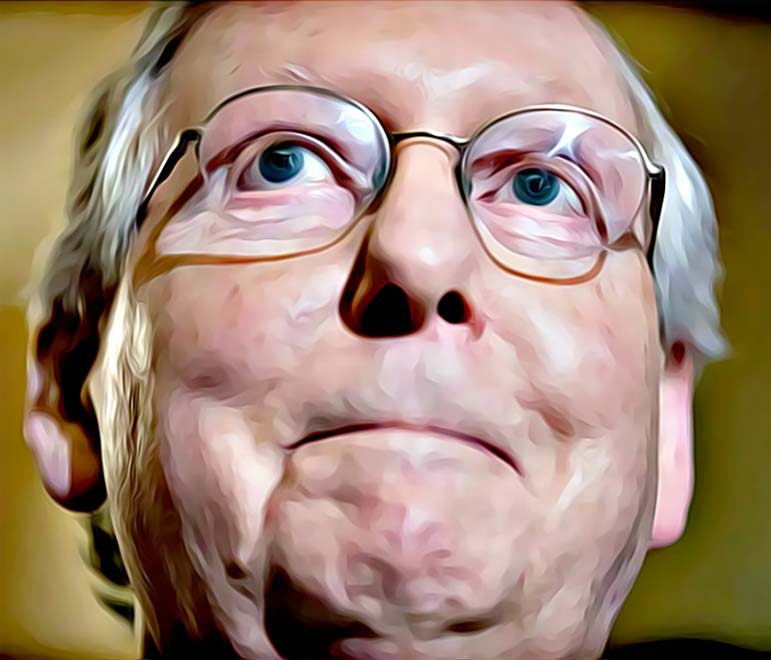 WASHINGTON - By close of business Friday, Senate Majority Leader Mitch McConnell, R-Ky., will have added a quartet of solidly conservative judges to the federal Circuit Courts, those critical venues a step below the Supreme Court with final say on most litigation.
It will be McConnell's most significant achievement since the confirmation of Supreme Court Justice Neil M. Gorsuch. It's also a testament to how little else Republicans have accomplished this year that McConnell was under so much pressure to show progress in this area.
Social conservative groups had been demanding action to fill the federal courts - and threatening to run ads critical of Senate leadership, which they viewed as moving too slowly on these lifetime appointments with the potential to issue rules for decades to come. And considering how little else senators were getting done on the legislative side, there was little excuse not to take action on judicial appointments.
"The pace was coming down to about one a month," said Penny Nance, president of Concerned Women of America. "The Republicans are in control of the House and Senate, and they need to act like they are."
Democrats are flabbergasted that the majority leader could face any criticism on this issue. They're still fuming over what they consider to be a stolen Supreme Court seat when McConnell refused last year to consider filling the seat after the death of the late justice Antonin Scalia during Barack Obama's final year as president.
"Didn't he give them everything?" asked Sen. Chris Murphy, D-Conn.
The answer, even if some of their leading activists are not pleased, is yes. McConnell's move to block the Scalia seat is credited with turning out evangelical conservatives to vote for Trump and Senate Republicans.
Ask a Senate Democrat the first thing they think of when it comes to McConnell and judges, and the response is almost unilateral.
"Merrick Garland," Sen. Brian Schatz, D-Hawaii, said, unprodded.
Obama's final Supreme Court nominee never got a hearing, leaving the seat open for Trump to nominate Gorsuch and secure what is mostly a 5-to-4 majority of conservative justices. It's a move that will go down as one of the defining moments of McConnell's legacy - for better or worse, depending on where you sit.
Trump defended McConnell late Wednesday on Twitter. "Thanks to @SenateMajLdr McConnell and the @SenateGOP we are appointing high-quality Federal District . . . and Appeals Court Judges at a record clip! Our courts are rapidly changing for the better," he said.
Republicans could use something to brag about. In July, the Senate came up short trying to repeal the Affordable Care Act on party-line votes. This month, the emerging tax legislation faces many hurdles as Republican leaders try to use a similar parliamentary move for simple-majority victory.
But on judges, the Senate GOP is genuinely united. No Republican has voted against any of Trump's judicial nominees so far, and in some cases a handful or so of Democrats are willing to cross the aisle. On Tuesday, Sen. Tim Kaine, D-Va., joined two other Democrats and all 52 Republicans to confirm Amy Corey Barrett to the 7th Circuit U.S. Court of Appeals, after Republicans pounced on Democratic questioning about the University of Notre Dame law professor's Catholic faith.
And although McConnell hasn't done so yet, he has broad support in his caucus to abolish a traditional courtesy that allowed senators, even those in the minority, to block judicial appointments from their home states.
He's moving quickly. After this week, the Senate will have confirmed eight appellate-level judges, with enough time to move a couple more before the end of the year.
In contrast, in 2009, Obama's first year in office, he saw just three Circuit Court judges confirmed.
Eventually, Obama left a huge liberal imprint on the 13 appeals courts. At the start of his term, one featured a majority of judges appointed by Democratic presidents, according to a Reuters estimate. By the end, the number was nine.
That liberal tilt came even despite Republican control of the Senate during the last two years of Obama's presidency, when the confirmation process slowed to a crawl.
That blockade left about two dozen Circuit Court seats open, and now McConnell is determined to fill them. "We think we're on pace here to begin to make substantial changes in the federal judiciary," McConnell told reporters Tuesday.
Democrats just chuckle, perhaps bitterly, at conservative criticism of McConnell's handling of the federal courts. Not only do they see McConnell working at warp speed, but his purposefulness is also a painful reminder of how Democrats and liberal activists have never engaged on judicial appointments with the same urgency as Republicans and conservative activists.
The clearest example came earlier this year when, feeling pressure from their base, Democrats waged an all-out battle to try to defeat the nomination of Education Secretary Betsy DeVos. They forced round-the-clock debate and ginned up an unprecedented amount of phone calls and emails to GOP senators.
With little fanfare, Gorsuch - a lifetime appointee, tipping the court's balance - won confirmation a few weeks later. Republicans even changed the rules to approve him with a simple majority rather than the previous 60-vote requirement for Supreme Court justices.
"The Republicans have better connectivity with their base regarding the judiciary than we do with ours," Schatz said. "We did a really good job on health care, in terms of mobilizing and inspiring folks, but we have not done the work that the right wing has" on judges.
Moreover, last year, when McConnell began his blockade of Garland, Democrats mounted a feeble attempt at pressuring Republicans and then simply gave up. They seemed to take for granted that "President Clinton" would make the appointment after her inauguration.
"What they did to Merrick Garland was reprehensible," Schatz said, "and our response was embarrassing and tepid, and we just didn't put up enough of a fight."
Previously:

• 08/29/17: In the Year of the Deciding Vote, one Dem's corruption trial could change the Senate --- or not
• 08/28/17: President is distancing himself from Hill GOPers to inoculate himself from blame for midterm losses. He may be helping Dems take the House
• 07/27/17: GOP senators warn Trump that getting rid of Sessions would be terrible move
• 05/30/17: Rahm Emanuel on Dem problems: 'You're not going to solve it in 2018'
• 05/29/17: Sen. Lindsey Graham: Comey needs to be 'held accountable' over Clinton investigation decisions
• 05/29/17: Montana election proves liberal outrage isn't enough
• 03/22/17: Gorsuch steals Dems' line of attack
• 02/27/17: 'All politics is local'? Not any more
• 02/01/17: Fight over Supreme Court nominee could forever change the nature of ... the Senate
• 01/23/17: A possible cushion for Trump's Cabinet nominees: Dems with elections in 2018
• 01/12/17: Trump outsmarts Dems and their media sycophants yet again
• 01/11/17: Rubio is the man to watch in Tillerson's confirmation hearing
• 11/08/16: Sometimes even the best Senate candidates can't win
• 07/14/16: The likely end of vice presidents as congressional emissaries
• 05/02/16: Is the 2016 election about to change again? Dem Schumer, a one-man super PAC?
• 03/31/16: And now for some good newsCan Trump become so unpopular that Dems take back the House?
Comment by clicking here.