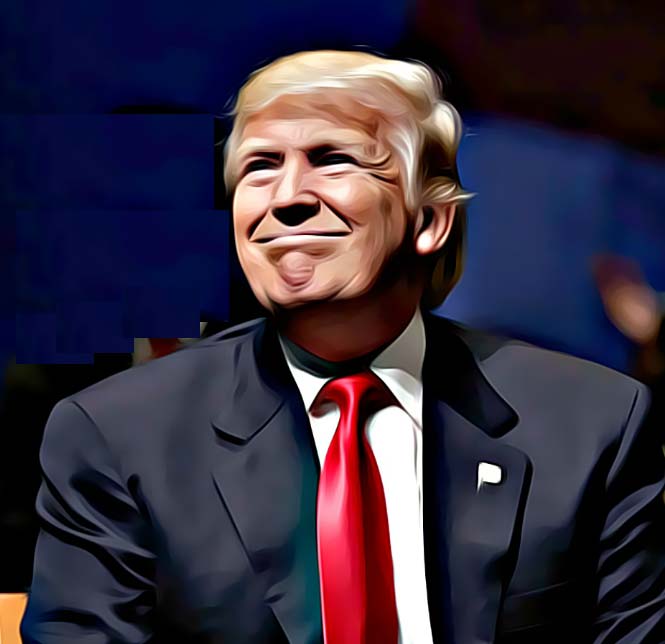 Republicans face a lose-lose situation in the Alabama Senate race. If Roy Moore goes down next month, the GOP's working majority becomes much more fragile. If he wins, Republicans would struggle to get rid of him and his presence would cause countless headaches in 2018.
Trying to prod the Republican nominee to step aside, Senate Majority Leader Mitch McConnell said Monday: "I believe the women." Several prominent members joined him, and the chairman of the Senate GOP campaign arm, Cory Gardner, announced that Moore should be expelled if he wins the Dec. 12 special election "because he does not meet the ethical and moral requirements of the United States Senate."
But Moore is not going away. He was defiant even after another woman came forward Monday to accuse him of sexual misconduct when she was a minor. The former chief justice of the Alabama Supreme Court - twice removed from office for refusing to comply with lawful judicial rulings - denies any wrongdoing, shows no contrition and is trying to turn the tables on McConnell:
Judge Roy Moore tweeted: "The person who should step aside is @SenateMajLdr Mitch McConnell. He has failed conservatives and must be replaced. #DrainTheSwamp"
• There continues to be much less appetite for a write-in campaign in Alabama than in Washington.
Sen. Luther Strange, R-Ala., who lost to Moore in the primary despite President Donald Trump's endorsement, poured cold water Monday night on the idea that a write-in campaign could work. "Let the facts unfold," the appointed senator told the Associated Press. "I think, right now, a write-in candidacy is highly unlikely."
Alabama Republican Party Chairwoman Terry Lathan also said that it is "very unlikely" anything would change Moore's status as the GOP nominee, noting that she has seen a "surge of support" for him since The Washington Post broke the story last week.
Meanwhile, the state's Republican governor reiterated her support for Moore. "Based on what I know now, yes I will vote for him," Kay Ivey told reporters. "But we don't have the facts. There may be some more facts to come out. But he is the party's nominee."
• "In recent days, senior Trump administration officials have been in touch with (Ivey) and her inner circle," The Post's Sean Sullivan, Robert Costa and Jenna Johnson report. "One person described those conversations as 'information gathering' so the White House would know where Ivey stands and to keep the channels of communication open. But since Trump won't return from Asia until late Tuesday and is still considering his own options regarding how to further address Moore's candidacy, White House officials have been reluctant to lean on Ivey in any way . . . 'It's tough having him out of town because no one wants to get too far ahead of him,' said one Republican involved in the talks . . . McConnell has spoken to Trump about Moore since the allegations were first reported last week, Republicans familiar with their conversations said...
"Inside the White House, (Attorney General Jeff) Sessions has been floated as a potential replacement, according to two White House officials and several Senate Republican aides. A Sessions spokeswoman at the Justice Department did not immediately comment on the proposal. A Republican close to Sessions, speaking candidly on the condition of anonymity, said that Sessions 'has told folks in Alabama that he is not considering it.' Sessions . . . has dismissed the notion in private but would 'of course' listen to the president, should he reach out, according to one White House official."
Time is of the essence if a write-in campaign were to work because people are already starting to mail in absentee ballots. If Moore stays firm, even a write-in campaign for someone like Sessions - if he agreed to it - probably would fail. The judge has devoted followers, and the Republican vote would split.
IF MOORE LOSES:
• A victory by Democratic candidate Doug Jones would narrow the GOP's margin of control in the Senate from 52-48 to 51-49. This would make every single Republican "the deciding vote" on every bill, which anyone who has ever had an attack ad run against them in a race for Congress will tell you is not a great spot to be in. (Just ask the Democratic senators who voted for Obamacare. . .)
Mike Pence has already cast five tie-breaking votes in 2017. That's more than any other vice president during their first year of office in U.S. history. Without Strange in the Alabama seat, Republicans would not have been able to repeal the Consumer Financial Protection Bureau's arbitration rule last month. They wouldn't have been able to open floor debate on the repeal of Obamacare in July. They wouldn't have been able to reverse an Obama administration rule that prevented states from withholding family-planning dollars from Planned Parenthood and other clinics that provide abortions. And they wouldn't have been able to confirm Betsy DeVos as secretary of education in February.
Just last week, McConnell was lamenting that Rand Paul's injuries - which kept him at home in Kentucky until Monday night - made his job harder because every vote counts.
"As a member of the Republican Party and an elected Republican, there's no circumstance under which having a Democrat would be better (than having a Republican)," Sen. Johnny Isakson, R-Ga., told a Rotary Club lunch in his state Monday, per the Marietta Daily Journal. "That said, anybody who violates the moral code of ethics and decency should not be serving in the United States Senate."
Democrats would have a much clearer path to winning the majority in 2018 with Alabama in their column than they do now. Jones wouldn't be on the ballot again until November 2020. Unlike 2018, when Democrats must defend 10 states that Trump carried last year, that will be a tough cycle for Republicans. Not only is Trump up for reelection, but Republican incumbents will need to face voters in places like Colorado, North Carolina, Iowa and Maine.
IF MOORE WINS ---
EXPELLING HIM WOULD BE MUCH HARDER THAN IT SOUNDS:
• "The Senate probably wouldn't have any choice but to seat Moore, thanks to a 1969 Supreme Court decision," The Post's Philip Bump explains. "The idea would be to allow Moore to take his seat in the Senate, should he win next month's general election, and then quickly begin the process to expel him from the body. . . . Such an effort would not be a sure thing, even setting aside the two-thirds vote count. Because these proceedings are rare, most seem to get mired in questions about the boundaries of the Senate's authority. That, and several particular examples that mirror Moore's situation, might suggest that Gardner's plan would be more difficult than it seems."
Bump flags a few precedents that would work to Moore's advantage. The most helpful is the case of William Roach in 1893: "The allegation against Roach was that he had embezzled money when serving as a bank teller before being elected to the Senate. The Senate declined to investigate. 'After extensive deliberation,' the Senate historian wrote, 'the Senate took no action, assuring that it lacked jurisdiction over members' behavior before their election to the Senate. The alleged embezzlement had occurred 13 years earlier.'"
• Whether to expel Moore would become a wedge that divides the GOP conference. Only 15 senators have been expelled in American history, and 14 of those were traitors who supported the Confederate insurrection. The last time it happened was in 1862, during the Civil War. It would require the approval of two-thirds of the chamber to kick Moore out.
There would be a lot of pushback on efforts to expel Moore because, his supporters would note, the people of Alabama were aware of the allegations and voted for him anyway. It would be hard for many Republicans to justify to their grassroots supporters why they decided to invalidate the popular will of the people.
Senate Republicans are already getting this kind of pressure from denizens of the right-wing fever swamps. To understand their bunker mentality, consider a new column by Clarence McKee that just posted on Newsmax, whose owner is close with Trump: "With friends like Senate Republicans, who needs enemies? As one friend told me, 'If Senate Republicans had been at Gettysburg, they would have cut and run at the first sound of cannon fire and Robert E. Lee's Army of Northern Virginia would have defeated the Union army of General George Meade.' But no one should be surprised at their failure to stand together against a united Democratic and media resistance to the Trump agenda. At the first hint of scandal or controversy, Democrats usually rally and unite like a family under siege, while Republicans run over each other trying to be the first to say, 'don't blame me I'm on the right side.' . . . Many will recall the allegations of sexual misconduct and harassment made against Supreme Court Justice Clarence Thomas by those on the left in an attempt deny him confirmation to the U.S. Supreme Court. What is amazing, even for Republicans, is how quickly so many have been to throw Moore under the bus - based on allegations alone."
• Some GOP leaders understand all of this, which is why they were cautious not to second Gardner. "It's premature to talk about expelling someone who hasn't been elected," said Sen. John Cornyn, R-Texas, the number two in GOP leadership and a former two-term NRSC chairman. McConnell also stopped short of backing expulsion when reporters pressed him in the Capitol Monday night. "I said this morning all I'm going to say today," he said. "Others are speaking for themselves, and you all are reporting it."
• GOP senators clearly remain torn about what to do. The Advocate reports on the "different tones" between the two senators in the Louisiana delegation: "Sen. Bill Cassidy, R-Baton Rouge, suggested the allegations against Moore are credible and called on him to leave the race. The women's accounts are 'circumstantial,' Cassidy said, 'but circumstantial seems to favor the women's stories.' . . . Sen. John Kennedy, R-Madisonville, was more cautious . . . 'If the allegations are true, Judge Moore needs to step aside,' Kennedy (said). 'That's all I'm going to say on the subject.' . . . Kennedy repeated the line when pressed by reporters. . ."
IF MOORE WINS AND GETS SEATED:
• A Sen. Moore would be a constant lightning rod. Every vote is going to be reported by the press as something like: "52 Republicans voted for the measure, including Roy Moore." Just like most GOP members hate being asked about whatever Trump just tweeted, they'd get asked constantly about why they were on the same side of an issue as Moore.
McConnell is on tape saying that he believes Moore's accusers. Moore has focused his campaign on ousting McConnell as majority leader. To say that their relationship would be "awkward" is an understatement.
• It's hard to believe Moore would be a reliable vote for leadership on tough procedural votes. It's also hard to see him being happy with whatever low-level committees McConnell would inevitably put him on in a (futile) bid to keep him out of the spotlight.
• 2018 might be an even bigger Year of the Woman than 1992. Last week's off-year elections demonstrated that female backlash to Trump is already so intense, with a sizable degree of buyer's remorse among college-educated and married white women. If GOP leaders look the other way, the gender gap would widen. More women might run for office.
• From coast to coast, Democrats would aggressively link GOP Senate candidates -- incumbents and challengers - with Moore. It would be like in 2006 when ads linked Republicans to Jack Abramoff and Mark Foley.
• There would be a white-hot media spotlight on the endemic culture of sexual harassment that makes Capitol Hill such a difficult place for women to work. Some lawmakers in both parties would not like where that leads. . .
WHITHER THE ESTABLISHMENT?
• This is just the latest donnybrook of the past 29 months to underscore the frailty and weakness of the GOP establishment. Even his own allies acknowledge that McConnell lacks the stature with the GOP base that's required to push Moore aside. "A Fox News poll in September showed that 60 percent of Republicans had an unfavorable view of their Senate leader, up from 33 percent just a couple of months earlier. And in fact, nobody has employed an anti-McConnell strategy more than Moore; it's arguably how he won the GOP primary," The Post's Aaron Blake notes. "As McConnell and the GOP establishment have been so demonized, the GOP base has been instilled with a healthy persecution complex that makes it believe stories such as this are merely efforts to undermine its candidates. It's a self-fulfilling prophecy, really, for this to happen to Moore, of all people, and for him to be pitted against McConnell, of all people. Whatever the Alabama GOP truly thinks about Moore, it has to contend with that same base. Doing what McConnell is now publicly calling for will surely reinforce the belief that this is a widespread effort to take Moore down by the forces he's threatening."
• More than a dozen people told the New Yorker's Charles Bethea that Moore was banned from his hometown mall for attempting to pick up teenaged girls: "[T]wo officers I spoke to this weekend, both of whom asked to remain unnamed, told me that they have long heard stories about Moore and the mall. 'The general knowledge at the time when I moved here was that this guy is a lawyer cruising the mall for high-school dates,' one of the officers said. The legal age of consent in Alabama is sixteen, so it would not be illegal there for a man in his early thirties to date a girl who was, say, a senior in high school. But these officers, along with the other people I spoke to, said that Moore's presence at the mall was regarded as a problem. 'I was told by a girl who worked at the mall that he'd been run off from there, from a number of stores. Maybe not legally banned, but run off,' one officer told me. He also said, 'I heard from one girl who had to tell the manager of a store at the mall to get Moore to leave her alone.' The second officer went further. 'A friend of mine told me he was banned from there,' he said."
• The Birmingham News also quotes residents of Etowah County echoing the longstanding rumors about Moore being banned from the mall and pursuing teenaged girls. From AL.com's Anna Claire Vollers: "'These stories have been going around this town for 30 years,' said Blake Usry, who grew up in the area and lives in Gadsden. 'Nobody could believe they hadn't come out yet.' . . . 'That's why it's sort of frustrating to watch' the public disbelieve the women who have come forward, he said. . . . Jason Nelms, who now lives in Tennessee but grew up in nearby Southside, was a regular at the [Gadsden Mall] when he was a teenager. He recalled being told by a mall employee that they kept watch for an older guy who was known to pick up younger girls. Nelms said he was told later by a concession worker at the mall that it was Roy Moore."
• The attack ad writes itself...
Southpaw tweeted: "If you're banned from the mall, you should be banned from the Senate."