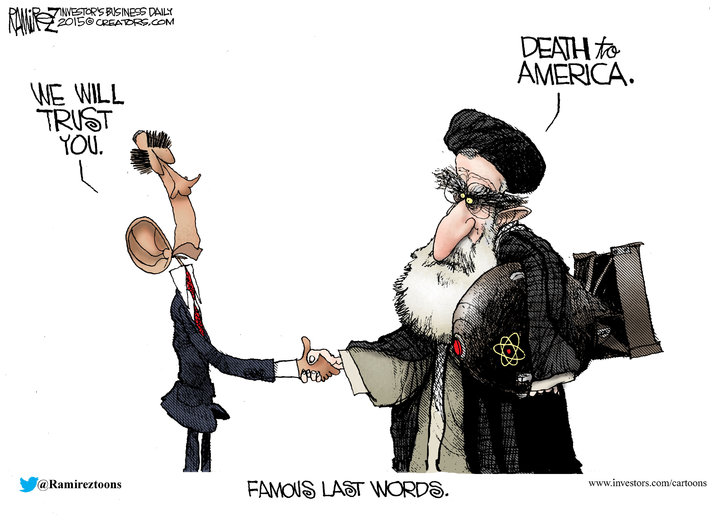 President Barack Obama's signature foreign policy achievement, the Iran nuclear deal, is in trouble. On Wednesday, the International Atomic Energy Agency noted that Iran had exceeded its allowed stockpile of "heavy water," a substance used to cool plutonium reactors, for the second time since the agreement went into effect.
When this happened in February, the Obama administration lent a hand, agreeing to purchase the excess material to get Iran back into compliance. This time around, it's resorting to semantics. State Department spokesman Mark Toner says the non-compliance was not a "violation" of the agreement, which would in theory trigger a process to re-impose sanctions. He said the Iranians were working quickly with other parties to resolve the issue.
If Hillary Clinton had won the election, the excess heavy water would likely remain in the non-compliance category. But Donald Trump will be the next president, and he has promised to enforce the 2015 deal with vigor.
His campaign's Israel advisory committee released a statement this month saying: "The U.S. must counteract Iran's ongoing violations of the Joint Comprehensive Plan of Action regarding Iran's quest for nuclear weapons and their noncompliance with past and present sanctions." The statement also promised that Trump would implement new sanctions to check Iranian threats to its neighbors and continued proliferation.
Republicans on Thursday told me that Iran's most recent violations would receive more scrutiny from a Trump administration than from the current one. "It's no surprise that Iran is once again testing the limits of the nuclear deal to see what it can get away with," Senator Tom Cotton of Arkansas, a Republican and early supporter of Trump told me. "The Obama administration encouraged exactly this behavior when it bought $8.6 million worth of Iran's heavy water and subsidized Iran's nuclear program."
Last year, Cotton organized a letter from his Republican colleagues in the Senate to Iran's leaders, warning that the next president had the discretion to implement or ignore the nuclear agreement Obama's diplomats were then negotiating. Shortly thereafter, Iran's foreign minister, Javad Zarif, disclosed that the U.S. and its partners were planning to enshrine the sanctions relief of the agreement in a U.N. Security Council resolution. (The White House did not send the nuclear deal to the Senate as a treaty, where it would have needed a two-thirds majority for ratification.)
Now there is great uncertainty about what exactly Trump will do when he is sworn into office. Cotton said, "In January, a President Trump and a Republican Congress will begin a new policy of resolve toward Iran's ayatollahs." Other Republicans I spoke with on Thursday were not convinced that Trump would tear up the agreement, as many Republican candidates in the primary promised to do.
One reason for this is that the U.S. has already made good on most of its obligations: dismantling nuclear sanctions. The U.S. has also paid Iran in cash for a settlement of claims regarding a U.S. arms sale to the regime deposed in 1979. Other revenue owed to Iran for oil sales were unfrozen. Thus, at this point, a clear statement from the U.S. that it was abandoning the nuclear agreement would only affect Iran's obligations, such as international monitoring of its nuclear program and temporary limits on its centrifuge production and stockpile of nuclear fuel.
But it's also likely that Trump will end Obama's policy of going beyond the nuclear agreement to keep Iran happy. Since the implementation of the deal in January, Secretary of State John Kerry has assured European banks that it was now safe to invest in Iran without fear of U.S. retribution. As Kerry said in June: "I have personally gone beyond the absolute requirements of lifting the sanctions to personally engage with banks and businesses and others who have a natural reluctance after several years of sanctions to move without fully understanding what they are allowed to do and what they aren't allowed."
The Obama administration has also tried to block the renewal of sanctions legislation in Congress against Iran. And it chose not to punish Iran for missile tests, aggressive naval maneuvers in the Persian Gulf, or its detention and jailing of more American citizens.
Representative Mike Pompeo, a Republican who supported Trump in the general election, told me, "I think the Trump administration should say clearly, 'we have permitted Iran to engage in behavior that goes beyond the deal,' such as missile tests and how they have handled nuclear material," and to signal those days are now over.
He added that the new administration should pledge to "enforce the deal fairly, but in rigorous detail," and not allow the agreement to be a "bar to enforcement of sanctions."
Advocates of the Iran nuclear deal have worried that such an approach would weaken Iran's president and foreign minister, who support the deal they negotiated inside their own regime. Without extra efforts like Obama's, Iran will be tempted to walk away from the agreement altogether.
A president Donald Trump will almost certainly test this hypothesis. But it's worth asking who is to blame if the Iranians do walk away from the agreement because the U.S. president actually enforces its terms. Will it be Trump or Iran who has wrecked Obama's foreign policy legacy?
Comment by clicking here.
Eli Lake is a Bloomberg View columnist who writes about politics and foreign affairs. He was previously the senior national security correspondent for the Daily Beast. Lake also covered national security and intelligence for the Washington Times, the New York Sun and UPI, and was a contributing editor at the New Republic.