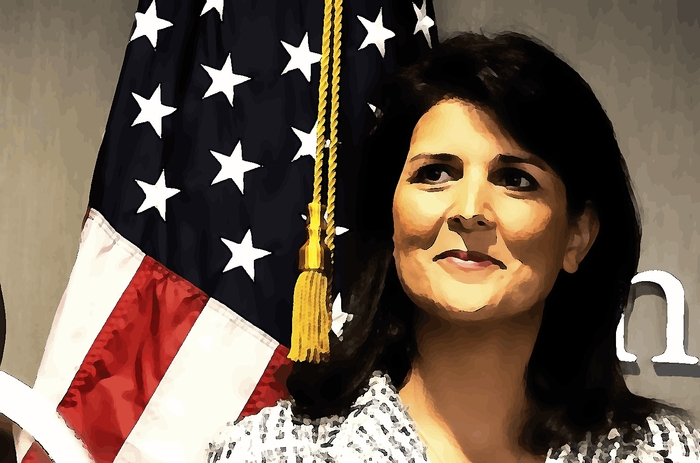 South Carolina Gov. Nikki Haley's journey to the United Nations has struck members of both parties as unlikely: the appointment of a Republican with limited foreign policy experience to a Cabinet-level post.
But through the prism of a career bursting with political diplomacy and ambition, it is a natural next step.
Haley, 44, who President-elect Donald Trump announced Wednesday as his nominee for U.S. ambassador to the United Nations, has long shuttled between her party's mainstream and its conservative base, maintaining ties to each wing even as she resists being labeled as "tea party" or "establishment."
And the daughter of Indian immigrants has consistently asserted herself as a voice for both the Republican future and its past traditions.
These contradictory signals and blended alliances have made her an ascendant force as well as occasionally inscrutable. She is at once a favorite of the business elite and Mitt Romney and a populist-sounding, Sarah Palin-endorsed Southern executive.
Haley's ability to translate those relationship skills and savvy to the U.N. will almost certainly be crucial in her success - or failure - in navigating the swirling spheres of influence at Turtle Bay.
Not only will she need to explain Trump and his brash foreign policy to the world, but she will be tasked with keeping her place within the president-elect's at times chaotic orbit and within a Republican Party that has cracks across it.
Such a job demands studied knowledge of global politics and statecraft. It also demands nuance and steadiness amid tumult and criticism, which is where Haley's experience is telling.
Her political profile so far is defined more by her steady responses to crisis and competing pressures than by a particular ideology.
After the killing of nine black churchgoers in Charleston, South Carolina, last year, Haley made headlines for her calm and poise in the following days and spoke out against hate and racism in the country. She called for the removal of the Confederate battle flag from the grounds of the state capitol and said that such symbols cause "hurt and pain' even if historic.
On race, Haley said in a subsequent remarks at the National Press Club that "black lives do matter" called her own party "shameful" in its outreach to minority groups.
Before and after that tragedy, she was championed by party officials as a welcome and diverse face.
Yet she rarely if ever challenges the deeply conservative policy doctrines that have dominated the GOP for decades.
Her relationship with Trump is an example of how she can shrug off lingering conflicts and calmly assert a new reality when necessary.
Earlier this year, as Haley delivered the Republican response to President Barack Obama's State of the Union, she warned viewers against the "siren call of the angriest voices," which was widely seen as an indirect shot at Trump, and she late endorsed a Trump rival, Sen. Marco Rubio, R-Fla.
Trump swiped back and called her "weak" on immigration. "I feel very strong about illegal immigration," he told Fox News at the time. "She doesn't."
But days ago, Haley spoke warmly of her meeting with Trump and told reporters that she has actually always been his friend.
To have all of these paths lead to the U.N. seems both odd and oddly understandable.
Having already been elected twice as governor, serving alongside Trump offers Haley an opportunity to gain credibility as a global leader without being cast as a "globalist' or establishment Republican since she will be linked with Trump, who was elevated by the GOP's grass-roots activists.
But she's not too close. If he struggles in office, Haley can say she was serving her country and it's rare for a U.N. ambassador to be part of any scandal emerging at the White House.
Haley also leaves herself positioned for a future run for national office or an elevation to secretary of state or another Cabinet position in the coming years, should there be a shake-up.
This is how the governor operates and it should come as no surprise. As a thirtysomething state lawmaker , she saw an opening for an outsider and woman to win the governor's office and she took it, winning as a tea-party darling in 2010. Palin campaigned for her and she was celebrated on the right.
A year later, as her stock rose nationally, Haley endorsed Romney instead of going with a conservative favorite during the 2012 presidential race. She began to draw rave reviews from corporate leaders for the way she clashed with labor unions over business development projects in her state.
But she never went full establishment and never veered to far to the center. When a Senate seat opened in 2012, she tapped then congressman Tim Scott, who is an arch-conservative and African-American, underscoring her desire to cultivate a new bench of leaders without losing the party's hard-line base.
When Trump roiled the GOP primaries, Haley was trusted by party leaders and encouraged to speak out against his style of politics but she did so while rarely mentioning his name. It was a messy jumble of gestures, mostly subtle and confusing.
"Some people think that you have to be the loudest voice in the room to make a difference," Haley said. "That is just not true. Often, the best thing we can do is turn down the volume."
You might call it diplomatic.
Comment by clicking here.