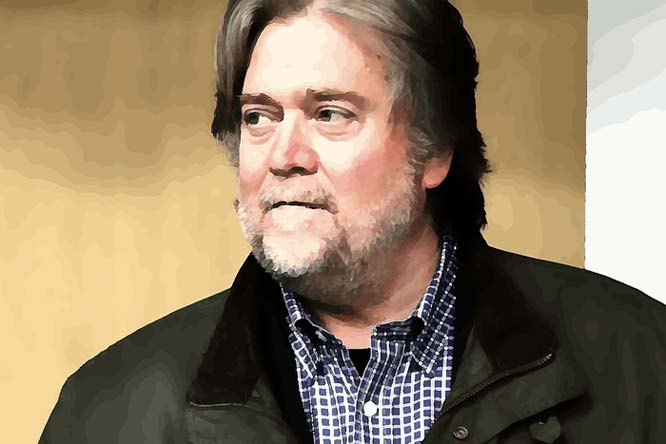 . In the days after President-elect Donald Trump appointed a far-right senior adviser to his White House staff, the Anti-Defamation League sent out a searing condemnation. The appointment of Stephen Bannon to a top White House job was an act "hostile to core American values," the group said.
The more conservative Zionist Organization of America also mounted an attack. But its target was the ADL, which it accused of engaging in "character assassination." It has invited Bannon to speak at its annual gala in New York on Sunday.
Most of the rest of the major Jewish groups in Washington, eager to maintain influence with a Trump administration and unsure about the extent of Bannon's ties to the white nationalist movement, have stayed silent.
Among the country's leading Jewish organizations Trump's election has provoked an unusual level of angst and uncertainty, widening rifts among groups that have largely tried to stay out of partisan political fights. The debate has created a divide between those who believe the Jewish community's support for Israel requires leaders to build good relations with the new president and those who argue that Jewish groups should speak out against views they see as anti-Semitic.
"It has been disappointing to watch organizations in the American Jewish community avoid comment," said Ilan Goldenberg, a former member of the U.S. Israel-Palestine negotiating team under President Barack Obama. "What's the point of building political influence if not for a situation like this?"
For the moment most Jewish groups - especially those focused on the security of Israel - are asking a different question. They are wondering at what point, if any, they will feel compelled to take a stand against Trump's connections to the alt-right movement, a far-right ideology that includes opposition to immigration and globalism.
Those views have found a home in the Breitbart News empire, which was led by Bannon before he joined Trump's campaign. The movement has attracted support from white nationalists, though Bannon has said it is not racist.
"There are lots of questions and concerns and a lot I would like to say," said a senior executive with a group focused on the U.S.-Israeli relationship, who like some other Jewish organizational leaders, spoke on the condition of anonymity due to the sensitivity of the subject. "But I have a mission and a job to do and I can't blow it up."
Other groups have taken a slightly more forward-leaning posture. The Israel Policy Forum, which has advocated for a two-state solution to the Israeli-Palestine conflict, expressed "deep concern" about Bannon, describing him as "someone who has purveyed ugly and divisive rhetoric."
"At what point do you set aside the mission?" asked David Halperin, the group's director. "The challenge is how do we balance our desire to wait and be a positive influence (on a Trump administration) versus expressing our concern when it is absolutely necessary."
The uncertainty among Jewish groups reflects the contradictions of Trump, a 70-year-old political neophyte with little experience in foreign affairs and virtually no policy record.
Some Jewish leaders, pointing to the painful lessons of history, expressed discomfort with the rise of a populist figure who seemed to embrace authoritarian tendencies. Others objected to Trump's proposed Muslim ban as an unconstitutional religious test and decried as anti-Semitic a Trump campaign tweet that portrayed a red Star of David shape over a stack of $100 bills, an image that had origins in the online white-supremacist movement.
But Trump has won accolades from some groups for his consistently strong support for Israel's security. Some of those views "would seem to outflank even Israeli Prime Minister Benjamin Netanyahu," The Forward, a Jewish newspaper, recently opined. And many American Jewish leaders are heartened that Trump takes close counsel from Jared Kushner, his Orthodox Jewish son-in-law, and his daughter Ivanka, who converted to Judaism.
"Trump is pretty clearly not an anti-Semite - look at his family, for goodness sake," said Eliot Cohen, a senior official in the George W. Bush administration, an outspoken Trump critic and an Orthodox Jew.
Some more politically conservative Jews were attracted to his stances on social issues, such as school choice or freedom of religion. Many were also drawn to Trump for his fierce opposition to the Obama administration's deal to prevent Iran from acquiring a nuclear weapon. The agreement was strongly opposed by the Israeli prime minister, who argued that it did not do enough to constrain Iranian aggression in the region or permanently dismantle Iran's nuclear program.
Trump also has suggested that he would not pressure Netanyahu to halt West Bank settlement construction, a major point of contention with the Obama administration.
Many of these supporters will judge Trump primarily through the lens of how he manages the relationship with Israel, said Nathan Diament, executive director of the Orthodox Union Advocacy Center. "They will be looking for Trump and his administration to follow through," Diament said.
But, as with many Trump policies, even the president-elect's staunch professions of support for Israel come with questions and contradictions. Trump's courtship of Russia, his intimations of support for the Syrian regime, and his suggestions that the United States should play a less prominent role in the Middle East all could run counter to Israeli interests.
"Israel wants a strong United States in the region, not (an America) disengaged from it," said Dennis Ross, a senior adviser to Republican and Democratic administrations on the Middle East. In other instances Trump has suggested that his policies, regarding the Israeli-Palestinian conflict and settlements, might be negotiable. "He talks about this being the ultimate deal," Ross said.
The general confusion about Trump is straining relationships within the Jewish community. Some of the breakdowns are taking place along normal political lines, which have grown more pronounced as the country has become more polarized. In other instances differences have sprung up between groups focused on the defense of Israel and those focused on combating anti-Semitism.
The Republican Jewish Coalition has slammed the Anti-Defamation League for going too far in its criticism of Bannon and some of the Trump campaign's rhetoric, which the ADL said relied on classic anti-Semitic tropes.
The ADL has defended its actions and vowed to call out anti-Semitism and racism.

The controversy also has exposed the increasingly divergent worldviews and priorities of American and Israeli Jews. Many Israeli Jews view a Trump presidency through a "pragmatic policy" lens, focused on the security of the Jewish state, Halperin said.
American Jews, meanwhile, are more worried about civil liberties and the people representing their country, he added.
Chief among those groups counseling patience has been the influential American Israel Public Affairs Committee, which has declined to comment on the Bannon appointment. So far most other Jewish groups with influence in Washington have followed AIPAC's lead.
That has left the ADL and its new leader, Jonathan Greenblatt, as the most outspoken critic of Trump's selection of Bannon.
"It is a sad day when a man who presided over the premier website of the 'alt-right' - a loose-knit group of white nationalists and unabashed anti-Semites and racists - is slated to be a senior staff member in the 'peoples' house," Greenblatt said in a statement.
Greenblatt, a former Obama administration official, has said that his stance is nothing new for a group that in earlier decades fought for civil rights in the South and took on Joe McCarthy during the Red Scare. Greenblatt took over the ADL from Abraham Foxman, whose view of the ADL's work was defined by his own history as a Holocaust survivor.
The grandson of a Holocaust survivor, Greenblatt is aiming to update the group without fundamentally altering its core mission. One view into how a Trump presidency will shape the group going forward could come later this week in New York when the ADL holds its "Never is Now" summit on anti-Semitism.
The two-day conference includes several panels that are drawn directly from the contentious election, including a "Conversation on Hate Online" with prominent political journalists and a discussion of "Pepe the Frog," an internet meme popular with some white nationalists and some Trump supporters.
One more sign of the times: The conference is expected to draw more than 1,000 people. "We are turning people away!" said Todd Gutnick, an ADL spokesman.