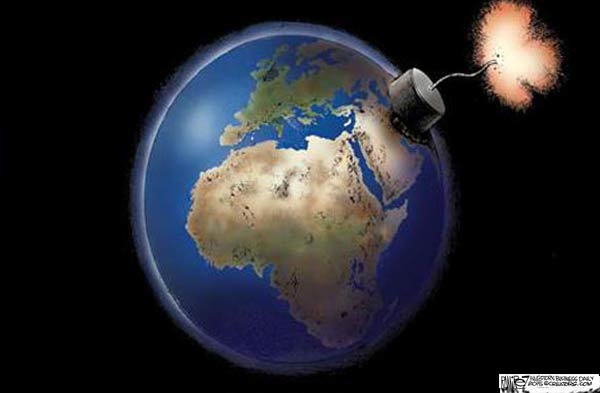 Attacks in Paris on Nov. 13 claimed by Islamic State left at least 129 people dead and scores more wounded in the worst terrorist assault in Europe for a decade. Below is a timeline of seminal events in the militant group's history and leading up to the tragedy that French President Francois Hollande has called an "act of war."
• Shortly after the U.S.-led invasion of Iraq in 2003, Abu Bakr Al-Baghdadi, who was born in Samarra in 1971 and whose real name is Ibrahim Awwad Ibrahim Al-Badri, helps set up an insurgent group to fight coalition troops- February 2004: Baghdadi is arrested and sent to Camp Bucca, where he meets former Baathist military commanders and religious extremists
• In 2006, Abu Musab al-Zarqawi, a Jordanian who traveled to Afghanistan to fight the Soviets and harbors ambitions to establish an Islamic state, creates an umbrella organization of Sunni insurgent groups led by his al-Qaida in Iraq group. Baghdadi's cell is among the first to join. Zarqawi dies in a U.S. airstrike and is succeeded by Abu Ayoub al-Masri, an Egyptian who announces the formation of the Islamic State of Iraq. Baghdadi becomes its head of religious affairs
• May 2010: Baghdadi becomes the group's leader following the death of Masri a month earlier in a joint U.S.-Iraqi raid, marking a shift in power within the organization from foreign fighters to Iraqi members
• September 2012: A suicide car bombing in Saddam Hussein's hometown of Tikrit is the first major assault in a campaign to free jailed fighters unveiled by Baghdadi, who seeks to position himself as defender of Iraq's disenfranchised Sunni minority. More than a year later, the group takes the western city of Fallujah.
• April 2013: The Islamic State in Iraq changes its name to The Islamic State of Iraq and The Levant, and becomes known as ISIL or ISIS. It advances through parts of eastern Syria, seizing oil wells and collecting taxes to fund its war chest
• January 2014: Baghdadi's militants take full control of the Syrian city of Raqqah, which becomes their de facto capital. Led by Baathist commanders, its fighters move across northern Iraq as the Iraqi army collapses, capturing Mosul and other cities to set up its territory on land straddling the Iraqi-Syrian border.
• February 2014: Al-Qaida formally ends its affiliation with the group, having become increasingly frustrated with its brutality and independence. Reports emerge detailing Baghdadi's harsh form of rule.
• June 29, 2014: The group declares itself a caliphate. Baghdadi soon after appears in a video delivering a sermon, proclaiming himself caliph and calling on Muslims to help build an empire. He wears black, evoking the Abbasids in the 8th century, who also came to power vowing to return to what they called a pure form of Islam. The group shortens its name to Islamic State.
• Aug. 8, 2014: In response, the U.S. launches airstrikes against Islamic State militants in Iraq.
• Aug. 19, 2014: British-born fighter Mohamed Emwazi, known as Jihadi John, appears in a video beheading American journalist James Foley in retaliation for the U.S. air raids. The group's slick propaganda campaign aimed at inspiring both fear and admiration is in full swing.
• Sept. 5, 2014: Days after the beheading of U.S. hostage Steven Sotloff, the Obama administration announces the formation of a coalition to bomb Islamic State in Iraq that includes the U.K., France, Germany, Canada, Australia, Turkey and Italy.
• Sept. 13, 2014: Islamic State launches an offensive on the northern Kurdish Syrian city of Kobani, near the Turkish border, that ends in January with its defeat by Kurdish fighters backed by coalition air raids.
• Sept. 23, 2014: The coalition begins airstrikes against Islamic State targets in Syria. Partner nations now include Bahrain, Jordan, Saudi Arabia, Qatar and the United Arab Emirates.
• November 2014: Baghdadi accepts a pledge allegiance by Libyan groups and announces the creation of three Islamic State franchises. He addresses a growing number of Saudi followers in an audiotape and setting out a list of targets, starting with the country's minority Shiite in the oil-rich Eastern Province.
• Jan. 7, 2015: Attacks on the Charlie Hebdo magazine and a Kosher grocery store in Paris leave 17 dead. Al-Qaida in Yemen claims responsibility for the magazine assault, while the militant who attacked the store appears in a posthumous video declaring allegiance to Islamic State, signaling a cooperation between the groups at a grassroots level despite rifts between their leaders.
• Feb. 3, 2015: Islamic State broadcast video of Lieutenant Muath Safi Al-Kaseasbeh, a Jordanian pilot captured in late December near Raqqa being burnt alive in a cage, an escalation of its public brutality.
• March 12, 2015: Nigerian militant group Boko Haram pledges allegiance to Baghdadi
• March 31, 2015: Iraqi forces backed by U.S.-led warplanes retake Tikrit, their first major battlefield success. About two months later, Ramadi, capital of Iraq's western Anbar province falls to Islamic State, highlighting the war's ebb and flow.
• May 20, 2015: Islamic State captures Palmyra, home to Syrian army installations and near a highway linking Damascus with Syria's eastern provinces. It tries to capitalize on the city's symbolism, destroying ancient monuments and filming mass executions in its Roman amphitheater. Days later, militants tear down the last border posts between Iraq and Syria as part of their goal of destroying the 1919 Sykes-Picot agreement.
• June 26, 2015: Several months after a deadly attack on the Bardo Museum in Tunis, the group claims responsibility for the killing of 38 people at Tunisian beach resort that devastates Tunisia's crucial tourism sector.
• September, 2015: As Islamic State seeks to profit from chaos in Yemen, its fighters carry out one of its biggest suicide bombings in the country, striking a Shiite mosque in Sana'a during Eid prayers and killing 30 people.
• Sept. 30, 2015: Russia enters the Syrian civil war to back President Bashar Assad against rebel groups supported by Western powers as well as Islamic State.
• Oct. 11, 2015: Two suicide bombers kill more than 100 people attending a rally of pro-Kurdish activists and civic groups in Ankara. The government blames Islamic State for the worst attack of its kind on Turkish soil.
• Oct. 31, 2015: Russian passenger jet crashes in the Sinai desert in Egypt killing all 224 people on board in an attack claimed by Islamic State's affiliate in Egypt.
• Nov. 12, 2015: Islamic State claims twin bombs that killed at least 44 people in its first attack in Beirut, targeting a stronghold of the militant Hezbollah group that has been supporting Assad.
• Nov. 13, 2015: Kurdish forces drive Islamic State fighters from the northern Iraqi town of Sinjar, a significant advance in a campaign to regain territory seized by the militant group. The U.S. says it's "reasonably certain" it killed Jihadi John in an airstrike in Syria