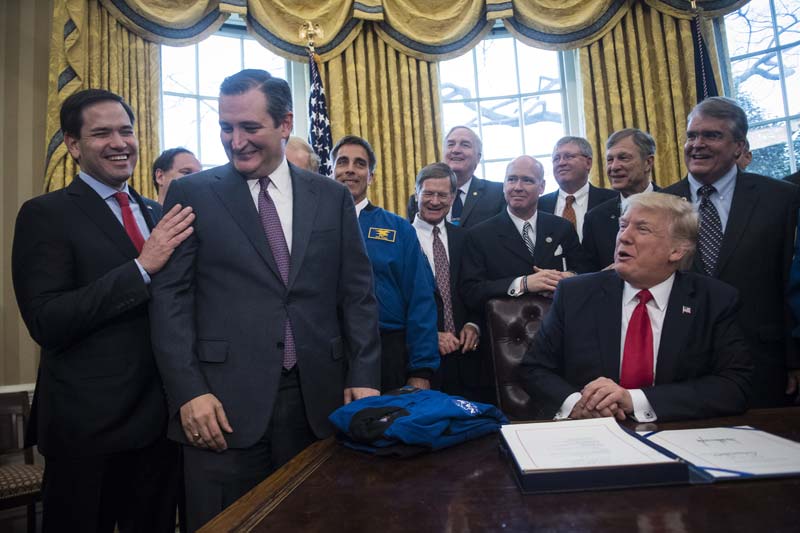 We're now within two weeks of Election Day and the first referendum on the Trump presidency.
So let's keep it simple and focus on two adjectives: "red" and "blue".
You'll notice there's no "purple" in this color scheme. That's because the 2018 election boils down to whether red states that supported Donald Trump in 2016 intend to punish their incumbent Democratic senators – and if House Republicans take a beating in blue states that voted for Hillary Clinton (most notably, California).
Is this a "wave" election?
"Dual tidal action" might be a better descriptor if, as the forecasters now strongly suggest, Democrats capture enough seats to take back the House while Republicans pad their Senate majority.
Or, the experts could be wrong. Democrats could run wild in this election.
Conversely, Republicans could keep the House.
But the experts are never wrong, right? Just ask Presidents Clinton, Kerry and Dewey . . .
On with the "hue" and cry:
"Blue Wave". Democrats need to flip 24 seats to retake the House and only two seats to create a 51-vote Senate majority (presumably, two left-leaning independent senators would caucus with 49 Democrats).
But political math isn't always what it seems — and, in this instance, "plus-two" in the Senate is a far more formidable hurdle than "plus-24" in the House.  
Here's why:
The easiest path for Senate Democrats is stealing Republican-held seats in Arizona and Nevada, while incumbent Democratic senators hold serve across the land.
But that scenario is far-fetched.
North Dakota looks like a GOP gain. Tennessee, once considered in play for Democrats, could be back in the Republican camp. Meanwhile, Republican challengers have picked up ground in races now more competitive than they were a month ago (more on that in a moment).
That means the "blue wave" is more of a House and gubernatorial tidal phenomenon.
So why are forecasters so bullish on a Democratic House?
For openers, 37 House Republicans aren't seeking re-election (12 of them are looking to trade up to governor or senator). Twenty-five House districts voted for Hillary Clinton and a Republican member of Congress in 2016. At same time, only these 13 House districts went with Trump and a Democratic congressman.
Meanwhile, there's the matter of America's gubernatorial contests, which don't get the attention they deserve. The current balance of power: 33 GOP governors and only 16 Democrats (Alaska being home to the lone independent).
If anyone's nostalgic for the Obama years, it would be the Republican Governors Association. From 2009-2016, Republicans won 66 gubernatorial races in 38 states; Democrats won only 41 contests in 23 states.
The 2018 election likely changes that pattern.
Per Real Clear Politics, Republicans will enter Election Night with a baseline of 23 gubernatorial seats. Eight seats hang in the balance – Florida, Georgia, Iowa, Kansas, Nevada, Ohio, Oregon, Wisconsin.
Trump's 2016 record in those battlegrounds: six wins, two losses.
But if Democrats emerge with two-dozen governors after this election, are any presidential material?
"Red Tide". The best-case scenario for Republicans on Election Night: hold the House, gain Senate seats and hope for minimal gubernatorial damage.
But is the House salvageable?
The Cook Political Report presently gives Democrats 192 "safe/likely" seats; Republicans have 194. The bad news: 46 of the 49 "toss-up or worse" seats belong to Republicans.
If you want to follow the game-within-the-game on Election Night, zero in on these 29 House GOP seats. They'll decide the balance of the House in 2019.
As for the Senate, let's start with a history lesson.
Republicans had 56 Senate seats after the 1928 election, 53 after they regained power in 1980 and 1994, and 54 seats after the last midterm vote/power swing.
Should Republicans not lose an incumbent race in this cycle (as was the case in 2014), how many seats can they add? Looking at RCP's map, 50 is the baseline and 56 is the best-case scenario, tying the high-water mark set 90 years ago (hopefully, for the nation's sake, 2019 will turn out better than 1929).
A final note: historical precedent.
Only three times in the last 21 midterms has a president gained seats in the House. Those were the elections of 1934, 1998 and 2002.
But on five occasions in the modern era, the nation's delivered a congressional split verdict.
In 1962, John F. Kennedy's Democrats lost four House seats while gaining three in the Senate.
In 1970, Richard Nixon's GOP lost 12 in the House but gained two in the Senate.
In 1982, the first Reagan midterm saw the loss of one House Republican and the addition of one Senate Republican.
In 1998, Bill Clinton's Democrats picked up five House seats and broke even in the Senate.
In 2002, George W. Bush lost eight House seats but picked up two in the Senate.
Does 2018 follow any of those patterns?
The lone Kennedy midterm was overshadowed by the late-October Cuban Missile Crisis.
Reagan's first midterm came amidst a recession (unemployment peaking at 11% then vs. the current 3.7%, the lowest in 50 years).
Clinton's second midterm was a referendum on Republicans' impeachment zeal.
Bush 43's first midterm was affected by national security and the 9/11 attacks.
But let's take a closer look at the 1970 midterm.
In the run-up to that vote, Richard Nixon and Spiro Agnew campaigned in 23 and 29 states, respectively. They scored some wins: Senate victories in Connecticut, Maryland, Ohio and Tennessee. But they also fell five victories shy of the goal of a net-gain of seven Senate seats.
Meanwhile, Democrats improved on their House numbers and made inroads at the state level in gubernatorial and state legislative contests.
The mixed results gave both sides an excuse to offer up some post-election spin. Nixon claimed he had a "working majority" in Congress on defense and foreign policy matters. Lawrence O'Brien, at the time the Democratic National Committee chair, said his party's regional gains spelled "control of the electoral base that is vital to winning the White House in 1972" (George McGovern would go on to win 18 of 538 electoral votes).
Wednesday morning victory laps by President Trump and Speaker-in-Waiting Pelosi?
Consider yourself warned: it's what the dual tide might bring.
Bill Whalen is a research fellow at the Hoover Institution, where he studies and writes on current events and political trends. In citing Whalen as one of its "top-ten" political reporters, The 1992 Media Guide said of his work: "The New York Times could trade six of its political writers for Whalen and still get a bargain." During those years, Whalen also appeared frequently on C-SPAN, National Public Radio, and CNBC.