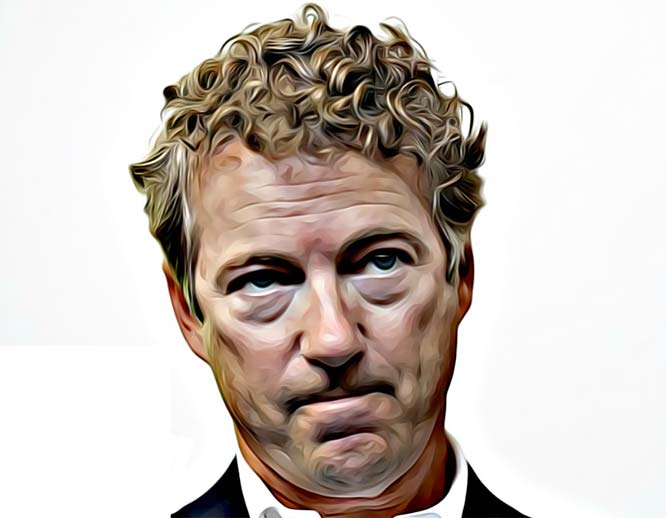 After Donald Trump's performance at last summer's press conference in Helsinki with Russian President Vladimir Putin, many of the U.S. president's fellow Republicans were alarmed. One, however, was encouraged: Sen. Rand Paul, R-Ky. A few weeks later, Paul arrived in Moscow seeking dialogue with his Russian counterparts. Now Paul is enlisting U.S. Ambassador Jon Huntsman Jr. to help convince his American colleagues of the virtues of U.S.-Russian cooperation.
The unusual request is part of Paul's larger campaign to smooth the way for a possible rapprochement between Trump and Putin. A better relationship with Russia was one of Trump's campaign promises, but more recently, Trump's position has shifted. Earlier this month he boasted about his administration's arming of Ukraine. Last weekend, he announced the U.S. was withdrawing from a treaty that banned intermediate range missiles because of Russian violations of it.
Part of this shift is due to Russia's own predations, most recently a nerve agent attack in Britain. But Trump also ran into opposition from his fellow Republicans in Congress, which passed sanctions on Moscow in 2017 without the usual clause that lets the president waive them.
That's where Paul comes in. According to a State Department cable summarizing Paul's Aug. 28 meeting with Huntsman, Paul asked Huntsman to make the case for "the importance of renewed dialogue" on arms-control treaties at the weekly lunch of the Republican Steering Committee. The cable, which was shared with me last week, says Paul told Huntsman that his colleagues have succumbed to "hysteria" when it comes to sanctioning Russia.
After next month's midterm elections, according to the cable, Paul is hoping to get lawmakers from both parties to meet with their Russian counterparts. The plan is for Sen. Edward Markey, D-Mass., to co-chair the meeting.
Sergio Gor, Paul's deputy chief of staff, said Paul "believes that Ambassador Huntsman is one of the most qualified diplomats to brief the Senate on issues relating to Russian-American relations." He also said Huntsman has met with other senators besides Paul but did not discuss specifics of the broader campaign.
In addition to Huntsman, Paul is also using his personal relationship with Trump to make the case for a softer Russia policy. According to the cable, Paul pressed the president and Chief of Staff John Kelly to begin formal negotiations with Russia on two arms-control agreements, the New Strategic Arms Reduction Treaty and the Intermediate-Range Nuclear Forces Treaty, known as the INF treaty. Paul asked the White House to plan talks on the two treaties in the coming months before a visit from Putin tentatively scheduled for the spring.
When he was in Moscow in August, Paul also met with Russian legislators who were sanctioned in 2014 for authorizing the invasion of Ukraine and Crimea's annexation. After returning, Paul began seeking a way to get those Russian lawmakers off the sanctions list so they could come to Washington.
The Daily Beast reported on these unsuccessful efforts in September. Paul's amendment to lift sanctions on these Russian lawmakers was opposed by all 20 of his fellow members of the Senate Foreign Relations Committee. One of them, Marco Rubio, R-Fla., told me last week: "In enacting tough sanctions and other measures, Congress has learned from the last administration's naïve attempts to 'reset' relations with Russia, which failed miserably."
It's easy to see where Rubio is coming from. On Friday, federal prosecutors unsealed an indictment of a close Putin ally alleging she was managing a propaganda campaign to influence this year's midterms. Despite ongoing negotiations, Russia continues to interfere in Syria and Ukraine.
Dan Fried, who was the State Department's coordinator for sanctions policy when Russia invaded Ukraine, said lifting any sanctions now would send the wrong message. It would "convey American indifference" about Russian aggression, he said.
Paul's effort to restart arms-control negotiations with Russia has also run into opposition. He went public over the weekend to protest Trump's decision to pull out of the INF treaty. His fellow Republican senators, however, have been laying the groundwork for the withdrawal for more than a year. Tom Cotton of Arkansas led an effort last year to effectively prepare the U.S. for withdrawal of the treaty by authorizing the research and development of the very missiles it forbids. James Risch of Idaho, who will chair the Senate Foreign Relations Committee next year if Republicans keep control of the Senate, summed up his view of the Russians at a Senate hearing last month. "They are serial cheaters," he said. "They are serial liars."
Rand Paul has a different opinion. He is interested in making a deal with the Russians. A few months ago it looked as if Trump agreed. Fortunately, it appears the president has started to come around to the view of Paul's Republican colleagues on the pointlessness of negotiating with liars.
(COMMENT, BELOW)
Eli Lake is a Bloomberg View columnist who writes about politics and foreign affairs. He was previously the senior national security correspondent for the Daily Beast. Lake also covered national security and intelligence for the Washington Times, the New York Sun and UPI, and was a contributing editor at the New Republic.