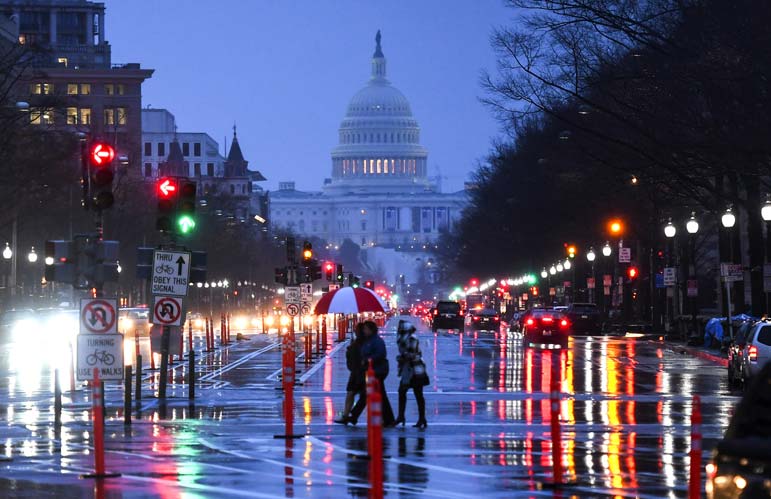 WASHINGTON - The House is undergoing one of the most significant shake-ups in power since the Republican revolution of 1994, no matter who wins the majority in next month's midterm elections.
After capturing the House for the first time in 40 years, Republicans literally had no one on their side in 1995 who had ever served in the majority and had to learn on the fly, leading to some critical stumbles.
"We didn't know where the keys were," recalled Tom Davis, the retired Virginia Republican who won his first House race that year.
Come January, quite a few people are going to be rummaging through the Capitol trying to find those keys.
More than 70 lawmakers who took the oath in January 2017 have already either resigned from office, decided to not run for re-election, lost in primaries or are running for another office. Add 30 House incumbents running for re-election in toss-up races, and it potentially could be a historically large freshman class.
The brain drain is most acute atop the House committees, where eight GOP chairmen have decided to retire and another is passing on the gavel because of term limits.
If Democrats win the majority, their group of likely chairmen have plenty of experience on Capitol Hill, but very little in terms of wielding a gavel.
Just three of the 21 ranking Democrats have ever served as a committee chairman.
And, of course, there will be a new House speaker, as the current occupant, Paul Ryan, R-Wis., is among those heading into retirement.
If Republicans retain control and elevate Majority Leader Kevin McCarthy, R-Calif., in office just 12 years, he would tie Dennis Hastert, R-Ill., as the least-experienced House speaker in almost 100 years. If Democrats win, Minority Leader Nancy Pelosi, D-Calif., would be reclaiming her old job and would be the exception to the trend.
However, Pelosi, 78, faces some internal opposition from Democrats clamoring for a generational change in power - and most of those mentioned as possible rivals for speaker have even less experience than McCarthy.
All things considered, given the broader national political tumult of the last decade, the people's House is reflecting that climate.
Wave elections benefiting the Democrats in 2006 and 2008 were followed by massive GOP gains in 2010 and 2014, sandwiched in between a large number of retirements in 2012 after redistricting prompted many incumbents to bail.
Lawmakers who looked as though they might actually be staffers a few years ago are now seasoned veterans climbing the ranks of influential committees.
In January 2011, Rep. Adam Kinzinger, R-Ill., arrived as a baby-faced 32-year-old, part of the GOP freshman class that flipped control of the House.
Less than eight years later, Kinzinger is No. 217 in seniority, just inside the top half of a fully constituted 435-member House. He's currently 15th in seniority on the House Foreign Affairs Committee and might move into the top 10 next year, depending on how the elections pan out.
Some lawmakers are headed for a big culture shock if Democrats win the majority.
Just a third of the 235 Republicans have ever served in the minority, and only a little more than half of Democrats have ever served in the majority.
Davis knows from experience how difficult the adjustment can be, first seeing the looks on Democratic faces in 1995 and then experiencing it himself when Democrats won the majority.
"Payback is hell," he said.
From that epic 1994 election, Davis noted that there will be more Democrats left in the House next year than Republicans. Reps. Walter Jones, R-N.C., and Mac Thornberry, R-Texas, will be the only revolutionaries left who swept Newt Gingrich, R-Ga., into the speaker's office 24 years ago.
Almost half the Republican Class of 2010 - originally 85 strong - has moved on from the House.
Pelosi has said that her first order of business as speaker would be bringing up legislation that overhauls the campaign finance system, followed by bills to deal with prescription drug costs, gun control and immigration.
Democrats in Washington have promoted some policy ideas under the "Better Deal" banner. Their candidates, however, have run their races largely on their own personal background, distancing themselves from Pelosi and Democratic leadership.
Many are first-time candidates with impressive careers in the military or as prosecutors. "They're not going to want to take orders," Davis predicted.
In 1995, Gingrich focused the first 100 days of the new majority on trying to pass legislation from the "Contract With America," the campaign platform Republicans had embraced the year before.
While most of the "Contract" never went anywhere in the Senate, it at least focused Republican attention on what they had to do.
Pelosi made a similar move in 2007 as the newly empowered House Democrats approved their "Six for '06" agenda, a series of issues that focused their first weeks in the majority.
Now, neither side has such a clearly defined agenda.
One certainty is that whoever claims the speaker's gavel - Pelosi, McCarthy or one of their more inexperienced colleagues - will be elevated into the national spotlight and have his or her every utterance parsed for bigger political meaning.
Pelosi went through this in 2007, the first woman to serve as speaker, and came away from it relatively unharmed for the first three years. By 2010, Republicans turned her into a political caricature of a San Francisco liberal, a campaign that they are trying to repeat now ahead of the midterms.
Gingrich suffered even worse. A rhetorical bomb thrower when he was in the minority, the Georgia Republican struggled to stay focused and often found his pronouncements generating controversy on the political front and consternation within Republican ranks.
After four years, his fellow Republicans turned on him and forced him out as speaker.
The lesson continues to this day, for the next speaker and for whoever becomes the new committee chairmen.
"All of a sudden, people took at what he said seriously," Davis said.
(COMMENT, BELOW)
Previously:

• 10/19/18: Republican candidates rely on stealth campaigner George W. Bush
• 10/04/18: The Senate's two faces: A day marked by bipartisan achievements and character attacks
• 07/02/18: Plenty of drama is coming on Supreme Court nominee --- but not in Senate questioning
• 06/28/18: Powerful Dem's loss divides, stuns about the future of party leadership
• 06/27/18: Crowley's loss leaves gaping void for next generation of Dem leaders
• 03/22/18: How Senate Republicans could cause trouble for Trump's latest Cabinet nominees
• 02/06/18: Paul Ryan's defense of FBI sets him apart from loudest voices within GOP
• 12/02/17: If Cotton moves to the CIA, it would say a lot about how the GOP star views his party's future
• 11/02/17: Senate Majority Leader Mitch McConnell finally has something to brag about: Conservative judicial appointments
• 08/29/17: In the Year of the Deciding Vote, one Dem's corruption trial could change the Senate --- or not
• 08/28/17: President is distancing himself from Hill GOPers to inoculate himself from blame for midterm losses. He may be helping Dems take the House
• 07/27/17: GOP senators warn Trump that getting rid of Sessions would be terrible move
• 05/30/17: Rahm Emanuel on Dem problems: 'You're not going to solve it in 2018'
• 05/29/17: Sen. Lindsey Graham: Comey needs to be 'held accountable' over Clinton investigation decisions
• 05/29/17: Montana election proves liberal outrage isn't enough
• 03/22/17: Gorsuch steals Dems' line of attack
• 02/27/17: 'All politics is local'? Not any more
• 02/01/17: Fight over Supreme Court nominee could forever change the nature of ... the Senate
• 01/23/17: A possible cushion for Trump's Cabinet nominees: Dems with elections in 2018
• 01/12/17: Trump outsmarts Dems and their media sycophants yet again
• 01/11/17: Rubio is the man to watch in Tillerson's confirmation hearing
• 11/08/16: Sometimes even the best Senate candidates can't win
• 07/14/16: The likely end of vice presidents as congressional emissaries
• 05/02/16: Is the 2016 election about to change again? Dem Schumer, a one-man super PAC?
• 03/31/16: And now for some good newsCan Trump become so unpopular that Dems take back the House?