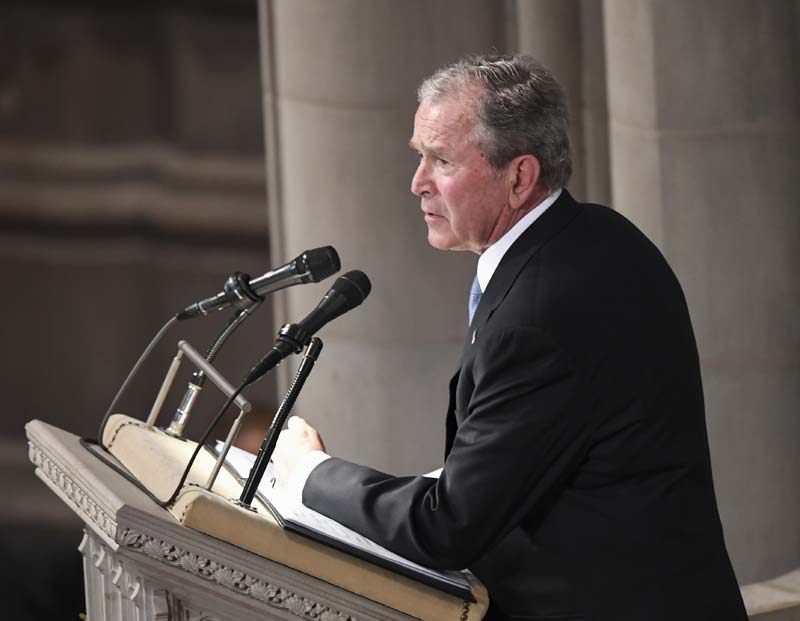 Republican Rep. Martha McSally will spend today with President Donald Trump, trying to rally conservative support for her Senate bid in Arizona.
But Thursday evening McSally hosted another big name in GOP politics who, these days, prefers to do his work behind closed doors: George W. Bush.
The former president was the guest of honor at a Scottsdale fundraising reception for the congresswoman's bid to replace retiring Sen. Jeff Flake, R. On Monday, Bush flew to Indiana for a fundraiser with the Republican Senate nominee, Mike Braun.
And in mid-September, Bush crisscrossed Florida for a lunch fundraiser in Tampa and then an evening dinner reception in Palm Beach to boost Gov. Rick Scott's Senate campaign. He's also hosted events in Texas for other Republican candidates.
At a time when Trump rules the Republican Party, practically choosing winners and losers through his endorsements in the primaries, Bush is in high demand on the campaign trail. He even played a key role in helping shore up the votes of Sens. Susan Collins, R-Maine, and Flake for Supreme Court Justice Brett Kavanaugh's controversial nomination, placing repeated calls to the two wavering Republicans to talk about his former White House aide.
And, as Trump has injected a sense of mania into today's politics, voters have taken a second look at Bush and his presidency.
He left the Oval Office as the most unpopular president since Richard M. Nixon resigned amid the Watergate scandal, but has become arguably the most popular Republican in the nation, with his ailing 94-year-old father his only rival.
According to a CNN poll in January, 61 percent of Americans had a favorable view of the younger Bush and just 33 percent had an unfavorable view. That's a complete reversal of his standing from February 2009 just after he left office amid a deep economic recession and costly, years-long wars in Iraq and Afghanistan.
That level of popularity places Bush on par with the most recent ex-president, Democrat Barack Obama, who was viewed favorably by 66 percent of the country and unfavorably by 32 percent.
Republicans said that in the early years of Bush's post-presidency he understood that he wasn't popular with most voters - he has not spoken at a Republican presidential nominating convention since his own in 2004 - and that he would lend a hand with private fundraisers if that would help candidates.
As popular as he is now, Bush could probably help Republican candidates with big public events - Obama is doing a series of rallies for Democratic candidates, including one Monday in Las Vegas - but operatives said that he does not want that limelight.
His most recent high-profile appearance came in Washington at the Sept. 1 funeral of the late Sen. John McCain. He won praise for his eulogy of his 2000 Republican presidential rival and became a social media meme when TV cameras caught him handing candy to former first lady Michelle Obama in the first row of Washington National Cathedral.
Despite Trump's clear break from the Bush family, the 43rd president still has a reservoir of goodwill among most Republicans: 76 percent of GOP voters have a favorable view of him, and among voters who approve of Trump's job as president, 71 percent also view Bush favorably.
To be sure, that shows that there's a bloc of about 25 to 30 percent of conservatives who do not like Bush, most likely viewing him as the president who bailed out Wall Street and was an interventionist abroad. Those conservatives like Trump's nativist approach.
So that's why Bush does most of his political work in the general election. Braun said in an interview that the former president was a big draw to the business interests in the more thriving Indianapolis area, where he held the fundraiser Monday.
One Republican in attendance said Bush relished being around a crowd of supporters and that he has honed his jokes, hitting the timing and pushing the political point. He told the crowd that he and his wife, Laura, were all in for Braun.
"Of course, that's only $5,400," Bush said, citing the campaign donation limits and asking those to donate the maximum themselves.
By the time the 2016 campaign kicked off, Bush had drifted up above the 50-percent mark in popularity, but that didn't stop Trump from making a central component of his campaign a full-throated denunciation of much of Bush's presidency. It helped that Trump's main rival, at the outset of the GOP primary, was the former president's brother, Jeb Bush, but the enmity between the current president and the former president continues to this day.
In an interview with the Associated Press this week, Trump said that he spoke with Bush about the Kavanaugh nomination - but didn't thank him for helping win over Collins and Flake.
"No, I didn't say thank you, per se," Trump said.
The AP transcript of the interview indicates that the president then spoke off the record before resuming a discussion of the nomination.
Bush's representatives did not respond to a request for comment, but last month told Politico that, while he considers himself retired from politics, Bush "recognizes how important it is to keep the Senate" for Republicans.
Two years ago he spent a day in Ohio raising money for Sen. Rob Portman, R-Ohio, who worked in both George H.W. and George W. Bush's West Wings. The 43rd president gave a pep talk to campaign volunteers. He also flew to Philadelphia to help raise money for Sen. Pat Toomey, R-Pa., who served in the House during Bush's first term.
But this fall, Bush is helping GOP candidates with whom he has no personal connection. Braun had no relationship with him, but one of his supporters, Allan Hubbard, had served as an economic adviser to Bush and sought the campaign assistance.
Bush also helped raise money for Josh Hawley's Missouri Senate bid - the 38-year-old Republican state attorney general was in college during Bush's first presidential campaign.
(COMMENT, BELOW)
Previously:

• 10/04/18: The Senate's two faces: A day marked by bipartisan achievements and character attacks
• 07/02/18: Plenty of drama is coming on Supreme Court nominee --- but not in Senate questioning
• 06/28/18: Powerful Dem's loss divides, stuns about the future of party leadership
• 06/27/18: Crowley's loss leaves gaping void for next generation of Dem leaders
• 03/22/18: How Senate Republicans could cause trouble for Trump's latest Cabinet nominees
• 02/06/18: Paul Ryan's defense of FBI sets him apart from loudest voices within GOP
• 12/02/17: If Cotton moves to the CIA, it would say a lot about how the GOP star views his party's future
• 11/02/17: Senate Majority Leader Mitch McConnell finally has something to brag about: Conservative judicial appointments
• 08/29/17: In the Year of the Deciding Vote, one Dem's corruption trial could change the Senate --- or not
• 08/28/17: President is distancing himself from Hill GOPers to inoculate himself from blame for midterm losses. He may be helping Dems take the House
• 07/27/17: GOP senators warn Trump that getting rid of Sessions would be terrible move
• 05/30/17: Rahm Emanuel on Dem problems: 'You're not going to solve it in 2018'
• 05/29/17: Sen. Lindsey Graham: Comey needs to be 'held accountable' over Clinton investigation decisions
• 05/29/17: Montana election proves liberal outrage isn't enough
• 03/22/17: Gorsuch steals Dems' line of attack
• 02/27/17: 'All politics is local'? Not any more
• 02/01/17: Fight over Supreme Court nominee could forever change the nature of ... the Senate
• 01/23/17: A possible cushion for Trump's Cabinet nominees: Dems with elections in 2018
• 01/12/17: Trump outsmarts Dems and their media sycophants yet again
• 01/11/17: Rubio is the man to watch in Tillerson's confirmation hearing
• 11/08/16: Sometimes even the best Senate candidates can't win
• 07/14/16: The likely end of vice presidents as congressional emissaries
• 05/02/16: Is the 2016 election about to change again? Dem Schumer, a one-man super PAC?
• 03/31/16: And now for some good newsCan Trump become so unpopular that Dems take back the House?