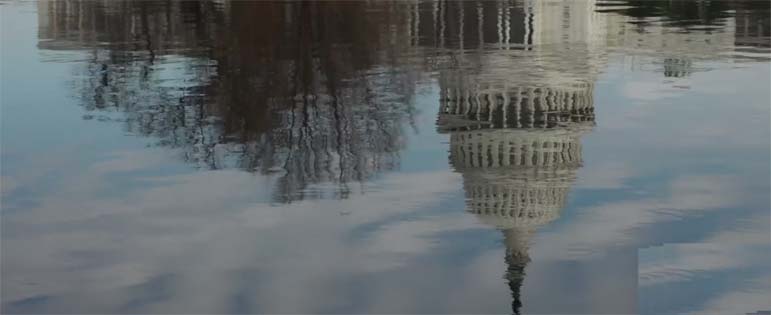 . WASHINGTON - The Senate took on a split-screen image throughout Wednesday - one side showing what bipartisan efforts can achieve and the other dominated by the sort of personal character attacks that are well outside the bounds of even today's partisan standards.
Senate Minority Leader Charles Schumer, D-N.Y., took to the floor in the morning and after suggesting he and Majority Leader Mitch McConnell, R-Ky., "get along," launched into a broadside against McConnell's stewardship of the Senate. He essentially accused him of lying about the Supreme Court confirmation process for Judge Brett Kavanaugh.
"That cannot hold me back from responding to the blatant falsehoods he tells day after day after on this floor," Schumer said, before shouting: "Give me a break."
Yet less than two hours later, on a sweeping 93 to 6 vote, the Senate approved a bill to rewrite federal aviation laws. The Republican overseeing the legislation even heaped praise on the ranking Democrat, Sen. Bill Nelson, Fla., who faces a tough reelection fight in November.
"We can still come together and get things done for the American people," said Sen. John Thune, R-S.D., chairman of the Commerce Committee.
Then the two sides broke into competing camps for closed-door lunches, exiting from the partisan affairs sniping at one another over how Republicans are treating women who have accused Kavanaugh of sexual misconduct.
An hour later the Senate gave final approval to the most aggressive federal effort to combat the spread of opioid addiction, another bill sent to President Donald Trump's desk with a sweeping bipartisan vote of 98 to 1.
It's been an extraordinary few weeks inside an institution senators love to call the world's greatest deliberative body, as the Kavanaugh hearings and follow-up investigations have set the Senate on a hair-trigger.
The tension had been building for weeks as Democrats fought to defeat Kavanaugh's nomination. But it peaked during last week's two days of Judiciary Committee meetings, beginning with Kavanaugh and his main accuser, Christine Blasey Ford, testifying Thursday about her allegation that he sexually assaulted her when the two were in high school.
The next day, as the committee advanced his nomination to the full Senate, the caustic atmosphere went into a committee anteroom as Republicans and Democrats jousted about the allegations. Sens. Jeff Flake, R-Ariz., and Christopher Coons, D-Del., negotiated what they hoped would be a cease-fire, delaying any vote in the full Senate until the FBI could complete a one-week review of "credible" allegations against Kavanaugh.
But rather than leading to a cooling-off week, the two sides have spent the extra time jousting with one another, particularly whenever they appeared before television cameras. Sen. John Neely Kennedy, R-La., a quirky Cajun known for his colorful sayings, questioned whether some Democrats skipped breast feeding as children and went straight to "raw meat."
Republicans on the Judiciary panel released a statement from a former TV weatherman who 25 years ago met Julie Swetnick, who has accused Kavanaugh's high school friends of drugging and sexual assaulting girls at parties. The statement alleged that Swetnick discussed deeply personal sexual preferences in a way that prompted Democrats to call it character assassination.
"President Trump is not alone. Senate Republicans have also engaged in a smear campaign," Sen. Dianne Feinstein, Calif., the top Democrat on the Judiciary Committee, said Wednesday in a statement.
Senators with bipartisan reputations were, like the Senate itself, divided on whether lasting damage had been done during the Kavanaugh wars.
"I actually felt, before last week, that we were moving toward a place of more bipartisanship and working together, getting things done," said Sen. Angus King, I-Vt., who caucuses with Democrats and applauded Wednesday's two big bipartisan votes. "But I have to say what happened last week sort of strained the atmosphere, in terms of relationships. And I just hope we can get by that."
But Sen. Bob Corker, R-Tenn., who sometimes has fought with Trump, recalled the "very toxic" days five years ago just after Democrats unilaterally changed rules on presidential nominations. "After about 60 days, everything just kind of, you know, got back to normal. So I don't really worry about the Senate so much," Corker said.
The battle is set to last through this weekend, at which point McConnell hopes to win at least the minimum 50 votes necessary to confirm Kavanaugh,
The conflagration over Kavanaugh, combining Democratic unrest with Trump and the continued strength of the #MeToo movement, bull dozed into a Senate where Schumer and McConnell were trying to take small steps toward reshaping it into a place where deals get cut.
The aviation and opioid bills were the latest examples, along with last month's 93 to 7 vote for a bill that funded the departments of Defense, Labor and other government agencies.
Passing these bills has decreased the potential for immediate fallout from this confirmation battle, leaving fewer opportunities for clashes ahead.
The next major piece of legislation comes with a Dec. 7 deadline, to fund the remainder of the federal agencies at a time when Trump has said he will demand billions of additional dollars in funding for a border wall that Democrats vow to oppose.
The two Senate leaders have occasionally used "my friend" toward each other as if they meant it, having begun the year with Schumer delivering a speech at McConnell's political center at his alma mater, Louisville University.
But on Wednesday morning that good will was gone, at least for a few minutes.
"I think it's safe to say the national spectacle the professional left has created around Brett Kavanaugh's confirmation process has now reached some kind of fever pitch," McConnell said.
He accused Schumer of supporting an "intimidation campaign" against Republicans and Kavanaugh, leading to "a mudslide of wild, uncorroborated accusations . . . each more outlandish than the last."
Then, in a whiplash capturing the week, McConnell discussed a "completely different matter," heaping praise on senators from both sides of the aisle for the two pieces of legislation winning approval. He said more than 70 senators had contributed to the opioid bill.
"More help is on the way," he predicted.
(COMMENT, BELOW)
Previously:

• 07/02/18: Plenty of drama is coming on Supreme Court nominee --- but not in Senate questioning
• 06/28/18: Powerful Dem's loss divides, stuns about the future of party leadership
• 06/27/18: Crowley's loss leaves gaping void for next generation of Dem leaders
• 03/22/18: How Senate Republicans could cause trouble for Trump's latest Cabinet nominees
• 02/06/18: Paul Ryan's defense of FBI sets him apart from loudest voices within GOP
• 12/02/17: If Cotton moves to the CIA, it would say a lot about how the GOP star views his party's future
• 11/02/17: Senate Majority Leader Mitch McConnell finally has something to brag about: Conservative judicial appointments
• 08/29/17: In the Year of the Deciding Vote, one Dem's corruption trial could change the Senate --- or not
• 08/28/17: President is distancing himself from Hill GOPers to inoculate himself from blame for midterm losses. He may be helping Dems take the House
• 07/27/17: GOP senators warn Trump that getting rid of Sessions would be terrible move
• 05/30/17: Rahm Emanuel on Dem problems: 'You're not going to solve it in 2018'
• 05/29/17: Sen. Lindsey Graham: Comey needs to be 'held accountable' over Clinton investigation decisions
• 05/29/17: Montana election proves liberal outrage isn't enough
• 03/22/17: Gorsuch steals Dems' line of attack
• 02/27/17: 'All politics is local'? Not any more
• 02/01/17: Fight over Supreme Court nominee could forever change the nature of ... the Senate
• 01/23/17: A possible cushion for Trump's Cabinet nominees: Dems with elections in 2018
• 01/12/17: Trump outsmarts Dems and their media sycophants yet again
• 01/11/17: Rubio is the man to watch in Tillerson's confirmation hearing
• 11/08/16: Sometimes even the best Senate candidates can't win
• 07/14/16: The likely end of vice presidents as congressional emissaries
• 05/02/16: Is the 2016 election about to change again? Dem Schumer, a one-man super PAC?
• 03/31/16: And now for some good newsCan Trump become so unpopular that Dems take back the House?