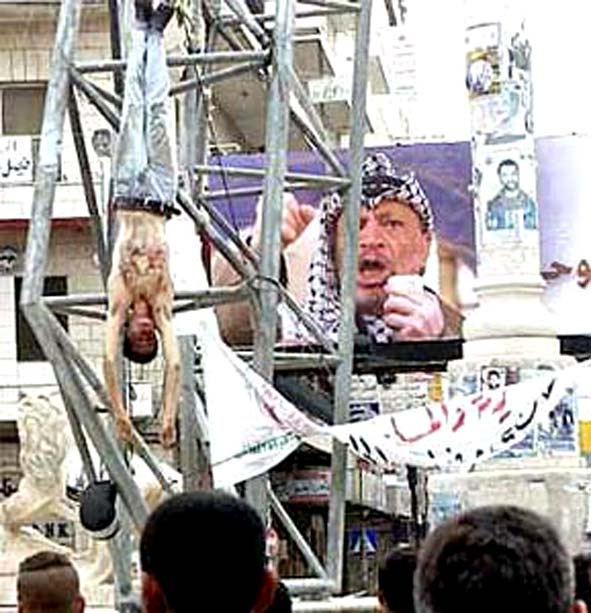 Palestinian leaders in the West Bank and Gaza Strip have established police states that routinely arrest and torture their opponents, Human Rights Watch says in a new report.

The New York-based group found similar practices by the Palestinian Authority, which has governed the West Bank for 25 years, and Hamas, the militant Islamic movement that took over Gaza in 2007, according to a report released Tuesday in Ramallah.

"The attacks by both the Palestinian Authority and Hamas on dissidents and demonstrators, reporters and bloggers, are both systematic and unpunished," Tom Porteous, deputy program director at Human Rights Watch, said in a statement. The report called on the European Union, U.S. and other donors to the Palestinian Authority and Hamas to suspend financial aid to "specific units or agencies implicated in widespread arbitrary arrests and torture" until those practices are curbed and those responsible are held accountable.

Spokesmen for both territories denounced the report as inaccurate.
Human Rights Watch said Palestinian forces often threaten, beat, and force detainees into painful or stressful positions for prolonged periods, even using cables or ropes to hoist their arms behind their backs. Security forces also routinely coerce detainees into providing access to their mobile phones and social media accounts, it says.

Palestinians have gained "only limited power in the West Bank and Gaza, but yet, where they have autonomy, they have developed parallel police states," Porteous said.

Adnan Damiri, spokesman for the Palestinian Authority security services, accused Human Rights Watch of taking a "biased political position" that fits President Donald Trump's emerging Middle East peace plan, which the Palestinian Authority has already pledged to reject as biased to Israel.

"What HRW did is a political act and not a legal act," Damiri said. "I've never heard of human rights groups calling to stop financial aid before."

Hamas Interior Ministry spokesman Eyad al Bozzom said Gaza officials "provided details on the real situation in Gaza with respect to arrests and questioning. Unfortunately, they totally ignored the accurate data we provided."
The report is based on interviews with 147 witnesses, as well as photographic evidence, medical reports, and court documents. The group met with the Palestinian Authority's Intelligence Services in Ramallah, but said it couldn't meet with Hamas officials in Gaza because of Israeli restrictions.

The 149-page document follows longstanding accusations that Human Rights Watch is one-sided in its condemnation of Israel's treatment of the Palestinians. In 2009, a Human Rights Watch founder publicly accused the group of overlooking abuses by authoritarian regimes while it focused on Israel. In May, Israeli authorities sought to kick out Human Rights Watch's local director, Omar Shakir, for having advocated in the past for an international boycott of the Jewish state; an Israeli court ultimately suspended the deportation order.

Human Rights Watch said both the Palestinian Authority and Hamas have mechanisms in place to take complaints from citizens and organizations about alleged abuses, but "these rarely lead to a finding of wrongdoing, much less disciplinary measures or prosecutions for serious abuses."
(COMMENT, BELOW)