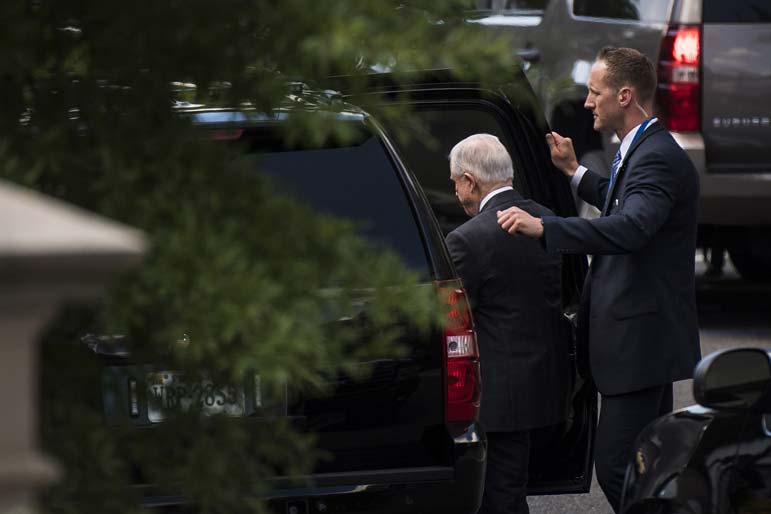 Attorney General Jeff Sessions' longtime Senate colleagues dealt him a bad hand when he advanced through the confirmation process. Absurdist interpretations of passing meetings with Russian diplomats somehow morphed into a recusal-triggering exit from supervision of the Justice Department's most sensitive case and its most critical internal investigation.

After the midterm elections, President Donald Trump is expected to accept Sessions' resignation. To whom should the president turn as a new attorney general?

Deputy Attorney General Rod Rosenstein is very able, experienced and admired, but he is not the best choice. Supposed to have been the "inside guy" who made the paper flow and the department work efficiently, Rosenstein has suddenly found himself saddled not just with a special-counsel investigation that needed protection from outside pressure but also with a crisis at the FBI that is of great consequence though it involves very few of the bureau's professionals, past and current.

The Russia investigation and the parallel investigation into the bureau's conduct during the 2016 election would have taxed the most able of veteran "wise man" lawyers like former White House counsel Fred Fielding or the late Judge Abner Mikva. Rosenstein is a prosecutor thrust into politics.
And while he may yet win back the confidence of Congress, he does not currently have it. That's not a good situation for a bureau looking to restore its bipartisan reputation, nor for a Justice Department on which every American relies to buttress the courts in defending the rule of law and the Constitution.

Lots of names are out there, all very good lawyers, but one is above them all: Judge Michael Luttig. Retired now for a decade from the U.S. Court of Appeals for the 4th Circuit, where he served with distinction, Luttig is now general counsel of Boeing. He is experienced in every aspect of international relations and conflict as a consequence of this, moving easily through the most complicated of situations at the intersection of law, business, politics and national security.

His intellect is vast. Those with any memory will recall that President George W. Bush had a very short list of just three names to succeed Chief Justice William H. Rehnquist - one of which was Luttig. Bush chose now-serving Chief Justice John G. Roberts Jr., and Luttig went off to help defend America in a different way.

Luttig is a tough man. Those acquainted with the facts of his father's murder and the judge's personal journey through the horror that always accompanies losing a parent, spouse or child to violence will understand that makes him uniquely qualified to superintend the Justice Department - not because he is a victim but because he knows that victims of all sorts of crime need the rule of law to serve them as well as protect the rights of the accused.

Trump needs at the Justice Department a person of unquestioned capacity and character, a charismatic leader, and one very smart lawyer, capable of talking straight to Congress and the president, unafraid of an unrelentingly hostile media.

Trump needs an attorney general who can testify without blinking, command the Justice Department's vast resources after thorough analysis and bring both the department and the FBI back to the pinnacle of esteem they have enjoyed in their best of times.

Trump needs a former federal judge with all the esteem that carries, especially one known for populating first the Supreme Court clerkships and now every level of government with his own clerks - "Luttigators," they are called.

Trump should not want a wingman at the Justice Department, as Eric Holder was for President Barack Obama. A relentless advocate of therule of law would actually be Trump's best defense. This president needs someone fearless enough to do the job of upholding the Constitution and understanding which powers belong to which branch and which to the states, and to go about the relentless pursuit of criminal enterprises, especially the vast and growing international cartels of drugs and cybercrime and the gathering menace of thousands of spies with new tools of astonishing capabilities.

We are a nation at risk. The new attorney general has to know how to act in response, and do so within the rule of law.

The national security team around the president is at least the equal of any that has gathered in the post-World War II era. But these officials need a chief law enforcement officer among them who is their equal in ability and intellect.

That's Luttig.

The president should nominate him and dispatch Health and Human Services Secretary Alex Azar or Director of National Intelligence Daniel Coats to serve as acting attorney general in place of the departed Sessions until Luttig is confirmed. And if the Senate doesn't move quickly, use the recess-appointment power.

Justice can't wait.

(COMMENT, BELOW.)