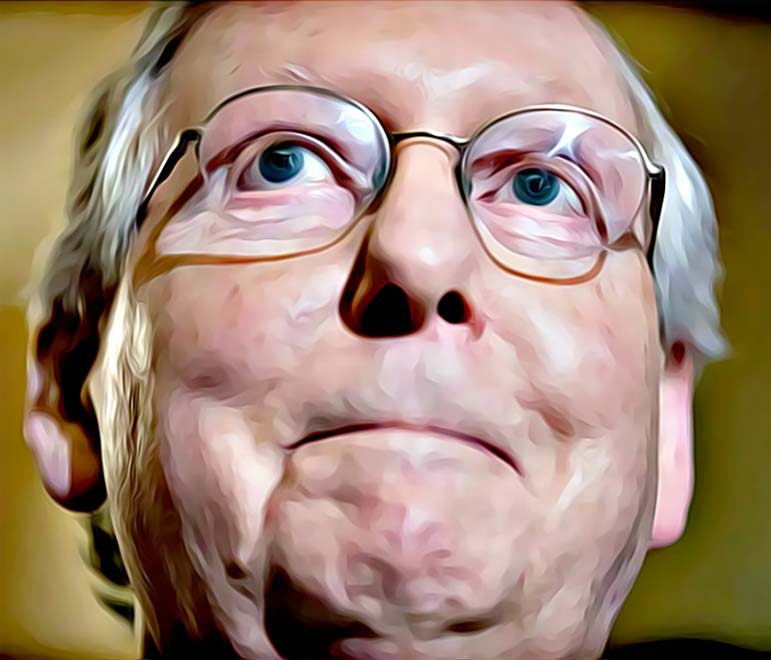 As he appeared at President Trump's side on Monday, Senate Majority Leader Mitch McConnell derided conservative insurgent candidates for the Senate saying that they might win primaries but could never win general elections.
Implicitly knocking the efforts of Breitbart's Stephen Bannon to mount primaries against incumbent senators, he said: "Our primary approach will be to support our incumbents and in open seats to seek to help nominate people who can actually win in November," he said. "That's my approach. That's the way you keep a governing majority."
But McConnell has it wrong. Primaries generally result in eliminating worn out candidates who will fall like ripe fruit to Democrats in November and replacing them with vibrant, young contenders who can breathe vigor into the Party.
McConnell cited four examples of conservative insurgents who blew their chance to win in November after upending Republican Senate incumbents in the primaries: Christine O'Donnell of Delaware, Sharron Angle of Nevada, Todd Akin of Missouri and Richard Mourdock of Indiana.
But these very examples demonstrate the flaw in his reasoning.
Todd Akin and Richard Mourdock were both cruising to likely victories after their improbable primary victories until they self-destructed by saying something very stupid very close to Election Day. Aiken said that if a woman were the victim of a "legitimate rape, the female body has ways to try to shut the whole thing down" and avoid a pregnancy.
Mourdock said that if a woman got pregnant during a rape, it is "something God intended." Seniority in the Senate is no guarantee against foot-in-mouth disease.
With Angle and O'Donnell, McConnell has a getter. O'Donnell defeated perhaps the only Republican who could have won Joe Biden's Senate seat — a former governor and nine-term congressman, Mike Castle.
Although a "Republican in name only," the GOP would probably have won the seat with Castle as the nominee.
In Nevada, Sharon Angle lost to Harry Reid. Running against the Reid organization is never easy. There is no basis for believing that the establishment-favored Republican who Angle beat in the primary — Sue Lowden — would have fared any better in November.
Against this specious argument that we should keep dysfunctional Senators in office so we can win in November, remember the theme of the elections of 2010, 2012, 2014 and 2016 — to throw the incumbents out and to bring new blood into the Congress.
With the obvious refusal of so many of McConnell's senators to embrace the Trump agenda, voters — primary and general election voters alike — will jump at the chance to replace RINOs like Arizona's Jeff Flake and Mississippi's Roger Wicker with strong conservatives like Kelli Ward and Chris McDaniel.
Bannon is right that only by replacing the establishment with strong conservatives can we hope to keep the Trump voters on our side of the aisle.
Dick Morris, who served as adviser to former Sen. Trent Lott (R-Miss.) and former President Clinton, is the author of 16 books, including his latest, Screwed and Here Come the Black Helicopters.