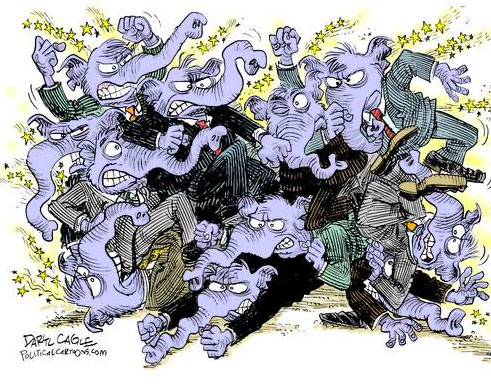 The media news narrative exiting Alabama's GOP Senate runoff was that the selection of firebrand Judge Roy Moore as the Republican candidate for the December general election will probably cause radical changes in his party's control of the U.S. Senate.
Hold on. There are certain to be changes that complicate Republicans' midterm election outlook. But they're actually due to a variety of unusual reasons including chronic party disunity, not just Moore's likely arrival on Capitol Hill come January.
All this turmoil, including an unpredictable, deeply unpopular President Donald Trump vowing to do deals with Democrats, places a very high priority on a successful outcome of the GOP's tax reform effort this fall. Which would launch nationwide job expansion, which would drive economic growth, which would establish an environment of optimism as voters start early voting in just 53 weeks.
The GOP base is angry. In recent years it has granted every electoral wish of the congressional party, most recently sending a Republican to the White House. And so far this year, what's to show for it?
A dramatic drop in illegal immigration and four dozen executive orders launching significant changes. But that's largely Trump's doing.
The likely arrival of Moore in the Senate come January adds another walking uncertainty to the obstreperous pack of 52 that sure doesn't behave like a majority. There's Susan Collins, Lisa Murkowski and John McCain, who together ensured defeat of the Obamacare repeals.
There's Rand Paul, Ted Cruz and Mike Lee, who for now say they will welcome Moore as a strict constitutionalist.
In the Alabama primary, Moore ran more against Mitch McConnell than his actual opponent. All McConnell did was almost single-handedly save the Supreme Court vacancy for Trump to fill. Next June McConnell becomes the longest-serving GOP Senate leader in history.
But many grassroots Republicans revile him - and Paul Ryan - as The Establishment. McConnell needn't care really. His only constituency outside Kentucky is the 51 other party senators and, so far, McConnell remains unchallenged.
Louisiana Sen. John Kennedy explains the powerful party antipathy: "I think the people of Alabama are angry. The people in my state are angry. They believe the people in Washington, D.C., don't care and are not listening. They want someone who will listen to them for a change."
Former Trump strategist Steve Bannon, who helped Trump and now Moore tap that antipathy, has vowed to ignite and support other primary challengers in coming months: "You're going to see in state after state after state people who follow the model of Judge Moore, that do not need to raise money from the elites."
Faced with such challenges Tennessee's Bob Corker will retire next year. Likely challenges also face Orrin Hatch, Susan Collins, Thad Cochran and Jim Inhofe. Arizona's John McCain faces a serious health condition and Arizona's Jeff Flake and Nevada's Dean Heller already have party competitors.
Even if the challengers fail, contests will drain precious money, time and energy from a 2018 midterm that looked initially quite encouraging for the GOP. Of next year's 33 Senate contests, Republicans are defending only eight. And 10 of the states Democrats must defend went for Trump in November.
But the GOP's Senate Leadership Fund spent $9 million in a vain effort to defeat Moore in Alabama. How many others must it defend in coming months?
A recent NBC News/Wall Street Journal Poll confirmed the existence of two Republican parties. Fifty-eight percent of GOP voters said they were actually Trump supporters; 38 percent said the GOP. Put another way, 51 percent of GOP supporters are satisfied with party leaders, while only 27 percent of Trump supporters are.
The party of the president usually loses congressional seats in midterm elections, as Americans express contemporary political displeasure. But, need we note, these are hardly usual times.
How much, for instance, will voters blame a nominal Republican president next year if the record of Republican congressional inaction continues? His 2016 GOP affiliation was a political flag of convenience. And his endorsement of Moore's opponent, incumbent Sen. Luther Strange, was a break - and a mistake - with the savvy tradition of no presidential involvement in primaries.
Trump's favorability hovers around 40 percent, which should hurt him in 2018. But a lot of things in these unusual times should hurt President Trump - and don't.
Andrew Malcolm
McClatchy Washington Bureau
(TNS)
Malcolm is an author and veteran national and foreign correspondent covering politics since the 1960s.