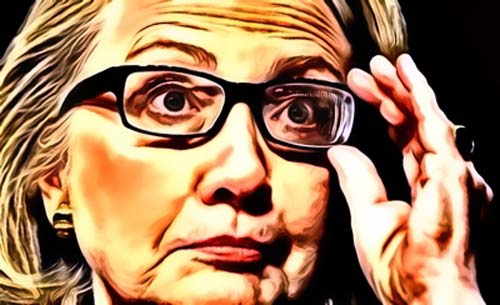 Vice President Joe Biden might have missed his moment of opportunity. In a critical point in her campaign, Hillary Clinton arguably had the best night of her campaign. She was smooth and unflappable throughout. Her best moment was certainly her attack on Sen. Bernie Sanders, I-Vt., for his voting five times against the Brady bill. More important, she received exoneration from Sanders on the email scandal. Ironically, she was the least effective on foreign policy.
She effortlessly evaded the question on her emails, reverting to her talking point that this is all a Republican partisan plot. She bragged that she is still "standing" and insisted that voters wanted to hear about bread-and-butter issues. Challenged that the FBI is not partisan and even the president conceded it is a legitimate issue, she again invoked the "Republican witch hunt" theme. Sanders rode to her defense, suggesting he does not have the will to draw blood. His strong support for her earned a standing ovation, and with that her vulnerability on the scandal is greatly diminished in the primary. The general election is another matter.
She had a rousing riff on early education and the New Deal (!), making certain to show her liberal, pro-government bona fides to the base. Her insistence that the economy does better with Democrats again played well with the partisan audience. Her one weak moment on domestic matters came when she pleaded that all the candidates had changed on a "position or two" since they'd all been around so long. That's a GOP campaign ad that writes itself. And claiming she "never took a position on Keystone until she took a position on Keystone" is likely to call her grief as well.
She, however, did appear uncomfortable on foreign policy topics. She defended the Russian reset on the grounds Vladimir Putin was not in the presidency, a weak argument to put it mildly. Attacked on Iraq, she hid behind the president, citing his trust in her. (That works in a Democratic debate, but could prove deadly in a general election.) She was pummeled for being too aggressive on foreign policy by Sanders as well as former governors Martin O'Malley and and Lincoln Chafee. Former senator Jim Webb weighed in on Iran, citing that as encouragement for Iran and bad actors. She was forced to defend her role in Libya as "smart power at its best." Left unsaid was the neglect that followed and the chaos that ensued.
Indeed, Clinton's area of "expertise" in both the primary and a general election is her biggest vulnerability. (Webb in his strong indictment of the Iran deal and declaration that China should not be allowed to control the South China Sea sounded more like a Republican.)
Sanders was feisty, lauding his identity as a "democratic socialist" and condemning "casino capitalism." His strongest moments came when he reminded the crowd he voted against the Iraq War.
If Clinton was smooth, Sanders was intense, reverting to his tell-tale shouting. His anti-interventionist stance and assurance that Putin will regret his aggression is in sync with the Democratic base. His defense of his conscientious objection to fighting in Vietnam and insistence that war should be the last resort got him cheers from the crowd. In his call for a "political revolution" and invectives aimed at corporate America, Sanders enlivens ultra-liberals, who are a larger share of the party than ever before.
Neither O'Malley nor Chafee showed the verve to present themselves as a credible candidate. It's unclear why they are in the race.
Clinton should be pleased that she had no significant error and a few good moments. However, the debate made clear just how problematic her foreign policy record is.
Sanders has his finger on the pulse on the left-wing Democratic base. He likely reinforced that appeal, which may be critical in traditionally anti-interventionist Iowa. One sensed, however, that he will need much more to topple Clinton - either further damaging revelations or some major slip on her part. He offers no olive branch to moderates in the party, which both limits his appeal and intensifies the affection of left-leaning true-believers.
For now the dynamic of the race remains the same: Clinton is not seriously threatened at this point in the campaign. Unless Biden enters or more damaging information emerges, she is the clear favorite for the nomination.
Republicans would be happy to face her - and her baggage. That said, they would be foolish to underestimate her. She can appear polished, knowledgable and reasonable. They will need a competent, plausible nominee to beat her.
Finally, kudos to the CNN moderator Anderson Cooper and his colleagues. The questions were crisp, substantive and aggressive. Given the debate's excessive length and lack of real fireworks, the audience is likely to be small. And that suits front-runner Clinton just fine.
Comment by clicking here.
Previously:
• 10/13/15: Why Ryan should take the speaker job
• 10/12/15: Here is what to ask Hillary at the first Dem debate