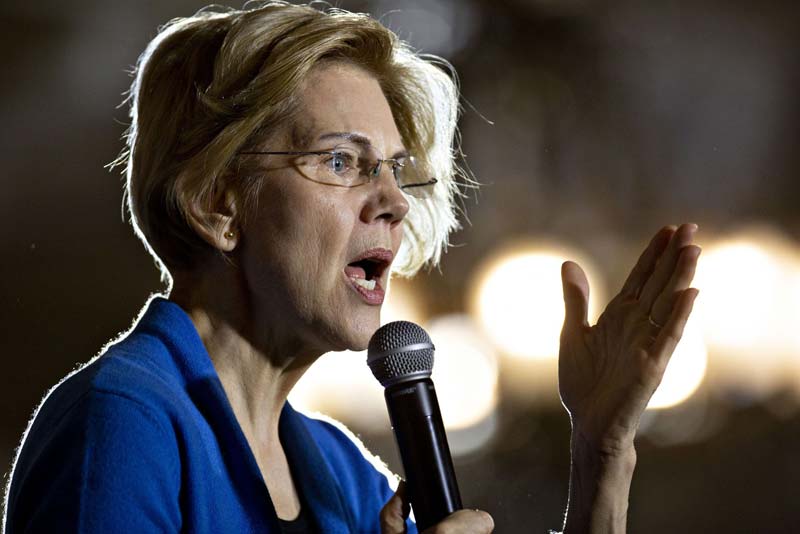 The stellar news for Massachusetts Sen. Elizabeth Warren:
this Des Moines Register/CNN/Mediacom Iowa poll
that has her leading in the Hawkeye State for the first time (at 22%, she holds a two-point advantage over former Vice President Joe Biden and an 11-point lead over Vermont Sen. Bernie Sanders).
Her delicate move forward: not only avoiding the present track of Sanders, whose star seems to be in decline (apparently, for young voters, it's "once Bern-ed, twice shy"), but also the ignominious failure of that other son of Vermont, former Gov. Howard Dean. For his is a cautionary tale of peaking too early in Iowa, the home of the nation's first presidential caucuses next winter.
At first glance, Warren and Dean have more in common that New England geography.
In the leadup to the 2004 presidential election, Dean changed the way candidates raised money, with 40% of his $50 million war chest coming from Internet contributions.
Warren likewise is a fundraising maverick — she's avoided traditional liberal fat-cats, relying instead on a small-donor network (in late July, the Warren campaign surpassed one million donors).
And there's the not-so-trivial matter of the two New Englanders trying their best to change the brand of the Democratic Party.
Dean burst upon the political scene in 2003 and picked a fight with prominent centrist Democrats (yes, there was such a creature back then).
In 2019, it's Warren's turn to throw caution to the wind — picking up where Sanders left off in 2016 with calls for bigger government, social engineering and otherwise putting a fright into Wall Street.
Granted, there's one big difference between Howard Dean and Elizabeth Warren: insider versus outsider status.
In 2003, Dean had the luxury of running as a non-conformist against a field that was top-heavy with Washington insiders. Warren, despite the populist message, is a Washington regular as a second-term U.S. senator running in a field likewise to-heavy with Washington regulars.
Now, the one thing Warren doesn't want to be remembered as: the Howard Dean of 2019 — the Democrat who came on strong in the third and fourth quarters of the year leading up to the primaries and caucuses, only to see the momentum vanish as the calendar turned to a new year and Iowans readied to vote.
A little primary history — and a reminder of why polls taken at this point in a presidential election aren't set in stone: in August 2003, a CNN/USA Today/Gallup survey found then-Connecticut Sen. Joe Lieberman (Al Gore's running mate in 2000) at the front of the Democratic presidential field. Dean, at 12% in that poll, trailed by 11 points.
A month later, the same poll put retired Gen. Wesley Clark in the lead, with Lieberman relegated to fifth place (Dean was now second in the pack at 13%, some nine points behind Clark).
By December: Dean surged ahead of the field at 31%, some 18 points ahead of Clark and 21 points in front of Massachusetts Sen. John Kerry.
But come mid-January and the first-in-the-nation caucuses: Kerry was the winner (37.6%), followed by former North Carolina Sen. John Edwards at 31% and Dean the third-place finisher with a disappointing 18% (made worse by his "I Have A Scream" speech on the night of the vote).
What went wrong for Dean?
First, he was the victim of something he couldn't control (and maybe this is why the hard-left hates the super-rich) — Kerry's access to family wealth (more to the point: the wealth possessed by his wife, Teresa, who inherited about $500 million her first husband, the late Sen. John Heinz, the heir to the Heinz ketchup fortune). Kerry loaned his campaign $6.4 million soon before the caucuses, making possible a late advertising blitz in Iowa.
Second, Democrats weren't necessarily in the mood for an outsider in the 2004 cycle. Polling by Dean's campaign suggested that there wasn't much of a numerical gap between Democratic voters who preferred members of Congress versus Democratic voters who preferred a governor. Voters far preferred the generic label of "Vietnam veteran/senator" (Kerry's real-life description) versus "medical doctor/governor" (Dean's job description).
But what Dean also couldn't control: a fickle Democratic electorate.
While the former Vermont governor surged in the polls in late 2003, the number of undecided voters also grew — from 23% in a November CBS News poll to 28% in December. Given a chance to go shopping in January, Democratic voters in Iowa changed their minds yet again and went with a product other than Howard Dean.
Keep this in mind as more surveys of the Democratic field come forward: what does the number of undecided voters tell us?
If that number is close to where the frontrunner is polling, as was the case in late 2003, does it suggest that we could be in for a surprise next winter?
Such has been the nature of the Democratic nominating process in the modern age. Early Democratic poll leaders won only four out of eight open contests between 1960 and 2004 (that includes JFK, Mondale, Gore and Kerry, who led in some early 2003 polls — all going on to secure their party's nomination). Republicans have been far more predictable, with the frontrunner going wire-to-wire in six of seven open elections (the 1964 contest being the lone outlier). Trump, who entered the race in the summer of 2015 and zoomed to the front of the pack, kept with that pattern.
Democratic primary voters were treated to what were, in effect, binary choices in 2008 and 2016 (though both were multiple-candidate fields, the races quickly tapered to two principals). In the more populated Democratic race at present (11 candidates on the debate stage in October), is history correct and there's at least a 50-50 chance of the frontrunner not lasting the race?
The new Iowa poll means that the Warren campaign is having arguably its best weekend yet — story after story featuring the same narrative of Elizabeth Warren on the rise and Joe Biden in descent.
Maybe Howard Dean can remind them: as of the penultimate Sunday in September, it's still another 134 days until the Iowa caucuses.
Fortunes can change.
Sign up for the daily JWR update. It's free. Just click here.